In this week's roundup: the Telegram ban was likely the most discussed development in the liberal corner of the Russian internet, while the rest of the political discussions focused mainly on the aftermath of the Syria strikes and the Kremlin's plans to counter the latest round of U.S. sanctions.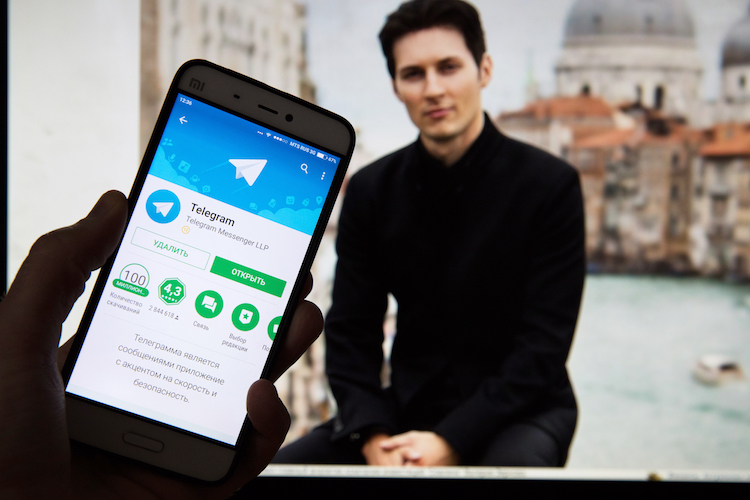 The "New Reality"
Following the latest round of U.S. sanctions, the Russian government has launched work on a set of counter-measures.
The gist: according to the draft legislation, Russia is planning to ban food and agricultural imports, imports of alcohol, tobacco, drugs and other goods (the list is to be determined by the government).
Various bans will also include visa entry and employment of foreign citizens, cooperation with foreign countries in nuclear, space and aviation industries, Russian state procurements of foreign software, international rating agencies' work in Russia, foreign participation in privatization, exports of special equipment from Russia. Overflight fees for international carriers will likely increase, too. [Meduza]
Will Counter-Sanctions Hurt the U.S.?
Russia's export to the U.S. has been steadily growing since 1992 (peaking in 2011), while U.S. imports to Russia have been noticeably smaller and declining since 2014.
Russia's shares in both U.S. exports and imports are statistically insignificant—0.3 and 0.7 percent; while the U.S. shares in Russia's exports and imports amount to 4.8 and 3.1 percent respectively.
45 percent of Russian exports to the U.S. are crude and oil products, but this is only 1.8 percent of U.S. oil consumption. [Republic]   
The most sensitive item in the proposed Russian imports ban is drugs. The U.S. share in Russian drug imports is about 10 percent, including high-end drugs used to treat rare forms of cancer. About 45 percent of these U.S. drugs have no analogues. [New Times].
Conclusion: Comparative analysis of U.S.-Russia trade shows that Russia will likely suffer more than the U.S. from the proposed counter-sanctions.

However, the Kremlin is determined to exploit any vulnerability in the U.S. economy it can find. One is Boeing's dependence on Russian titanium (35 percent is supplied by the Russian titanium company, VSMPO-AVISMA). Still, sanctioning Boeing will be more disruptive for the Russian producer, which exports half of its product to the U.S. and for its 20,000-strong workforce.
The Kremlin's Thinking:
The Kremlin is preparing for the worst-case scenarios in the West's sanctions policies, including measures against Russia's sovereign debt, switching off the country from SWIFT and sanctioning the largest state bank, Sberbank and VTB.
In terms of sovereign debt protection, the Kremlin considers establishing a special state bank (e.g. on the basis of Vnesheconombank) to purchase Russia's federal loans; buyer identities could be protected. Another solution is to establish a mechanism to sell federal loans directly to the Russian people.
As for SWIFT, Russian officials fear that switching the country off would lead to the collapse of the Russian banking sector. Iran's 2012 experience can be used to overcome the cut-off through engaging "bridge companies" (mediators). [RBC]
Political dimension: According to political scientist Mikhail Troitsky, the U.S. posits that the new round of sanctions will raise the Kremlin's costs for "malignant behavior." However, Moscow interprets these measures not as an incentive to sit down for negotiation, but as a сoercion leading to the destruction of the Russian state.
Further sanctioning Russia may bear greater risks for the West than direct strikes in Syria. Moscow might respond asymmetrically: "multidimensional fights lead to multidimensional costs." [RBC]
After the Syria Strikes 
The situation: on April 15, a coalition of U.S., French and British military forces struck Syria's chemical facilities for the alleged use of chemical weapons in an attack on the city of Douma controlled by the rebels.
In this limited attack no Russian or even Syrian citizen was hurt, thus avoiding a potentially disastrous escalation toward a direct confrontation between the U.S. and Russia, which vehemently protested the announced Western retaliation.
What does it all mean for U.S. and Russia? 
Alexander Baunov, Moscow Carnegie Center: The worst-case scenarios were not realized. The limited airstrikes in Syria suggest that the West took seriously Russia's threats to retaliate if any Russian citizens were to get hurt in these strikes.
The international order, though crumbling, appears stronger than one may fear. One side's interpretation of the story is enough to carry the strikes, but still insufficient to overthrow the Syrian regime over strong allegations of a chemical weapons attack, which, however, is yet to be established as an indisputable fact.
Western media often present a distorted picture of the Syrian conflict: a brutal regime killing its own people vs freedom fighters. Russia, on the other hand, treats all Assad's opponents as terrorists, on a par with ISIS. The truth is that the civil war in Syria has claimed about the same number of casualties on all sides—a fact grossly underreported by the media and humanitarian organizations.
The lesson: In the U.S. vision of the world (traumatized by Russian interference), keeping Assad intact means giving in to Russia, which is unacceptable. [RBC]
Vladimir Frolov, international affairs expert: The limited strikes by the Western coalition signal a de-escalation course.
The goal of the operation was thus entirely political—to confirm Western commitment to enforcing "red lines." The Trump administration showed restraint to avoid an escalation with Russia, while Moscow escaped the danger of being cornered into retaliation by its own hawkish rhetoric.
As a result, the U.S.-led coalition improved its reputation in the West, while Russia lost a few points because it became clear that the power balance was clearly not in its favor. As of now, other regional players saw that Russia can't become an alternative-to-U.S. center of power in the region.[Republic]
Marianna Belenkaya, Kommersant columnist, expert in Arab studies: Washington lacks a Syria strategy, but still needs to assert its influence in the Syrian conflict.
The Syria debate in the U.N. is deadlocked due to Russia's veto in the Security Council, as Moscow fears the West's proposal to deal with chemical weapons allegations may be transformed into a mechanism for removing Assad from power.
The Council's work will remain paralyzed unless all participants find some common ground. Bundling issues like chemical attacks in Syria and the Skripal poisoning in the UK, as the current resolution draft does, will not help to move the discussion forward. [Carnegie.ru]
What's Next for Russia?
Fyodor Lukyanov, Russia in Global Politics: "Russia faces a difficult question: responding to power pressure with similar measures means imminent escalation with unpredictable consequences. Russia needs to revise its goals and real possibilities in Syria... This is about strategy, including withdrawal from Syria, as [Russia's] vulnerability will grow." [Interfax]
Banning Telegram
The laydown:
On April 16, following an official announcement, Roskomnadzor, Russia's communications watchdog, banned the popular messaging app Telegram.
The ban affected Telegram's 15 million Russian users, including hundreds of organizations from hospitals and banks—and even state websites.
The decision followed months of government attempts to force Telegram founder Pavel Durov (who had previously created VKontakte, Russia's version of Facebook) to comply with Russia's draconian data localization law.
As a hindrance to those attempting to circumvent the restriction, a blanket ban was implemented, leading to the blocking of millions of IPs, including some services of Amazon and Google, and disruptions of many other online services and websites. [Novaya Gazeta]
What Does It Mean?
Anton Merkurov, B2Chain partner: banning information on the internet is a meaningless exercise. Forbidding the tools to access information is doubly senseless. There are millions of IP addresses for internet users to switch to at any time. Besides, in an act of defiance, Telegram devotees are installing VPNs and other encrypted services that can bypass the restrictions with proxy, third-party servers, which are harder for governments to block.
As a result of the ban, Telegram moved from the eighth most popular free app in the Google Play store to the sixth between April 13 and April 16. And in contrast to Russia's LinkedIn ban, Telegram is used to communicate with friends and family. [Republic]
Andrei Pertsev, journalist: The Telegram ban sharply politicized a common social app. Savvy internet users already knew how to use VPNs and Tor to circumvent Russia's blocked sites, but now the general public that wants to continue using Telegram will have to use these tools as well, and will be making a patently political choice in doing so.
Two important takeaways: First, unlike other government bans (food sanctions or charter flights to Turkey), many Russians are deliberately refusing to observe the restriction. Second, as the government continues to impose bans, critical voices in business and society will grow louder. There won't be protests because of Telegram, but it creates an opening for citizens to question the authorities and their intentions—some of which ironically live on Telegram's anonymous channels. [Carnegie.ru].
Is There a Life Without Telegram?
Ilya Varlamov, blogger: The ban is good advertising for Telegram. Roskomnadzor's decision is a huge win for the company, whose main market is already outside Russia and whose Russia roots—and hysteria about Russian hacks and trolls—have already severely hindered its brand.
Grigory Grinberg, software developer: Russia's ban is ineffective—in China the government both blocks  VPNs and pursues their creators.
Anton Kaplan, Israeli Internet security expert: Always use a VPN to preserve anonymity—especially if you can't trust your provider, and especially if you're in Russia. Aside from extremely strong encryption, nothing can protect correspondence on messaging apps, most of which is stored on servers.
Sergey Kuznetsov, programmer: If a service isn't already blocked in Russia, it's either already complying with the authorities, or will be banned soon. [New Times]
Sergey Solonin, Qiwi Group co-founder and main investor in Telegram: Russia is depriving itself of new technologies to its own detriment. Though Russia is only a small portion of Telegram's usership, the company remained completely neutral politically and the ban is both strange and insulting. [Kommersant]
P.S. Snowden Speaks Out: Edward Snowden, whose asylum in Russia was extended for another three years in January 2017, spoke out against the ban, calling it "censorship" and a "totalitarian demand." He showed support for Durov, who called the ban incompatible "with the protection of privacy." [RBC]
Other stories that mattered this week (in Russian)