Several stories took center stage in Russian politics this week. Roskomnadzor is trying to reinforce the Telegram ban across the country while many Russians push back against the restrictions on Internet freedom. With Putin's inauguration to be held on May 7, experts continue the discussion of his fourth term. After the Duma introduced a new counter-sanctions bill and thus seized the initiative in Russia's foreign policy development, the feuds inside the elites have intensified.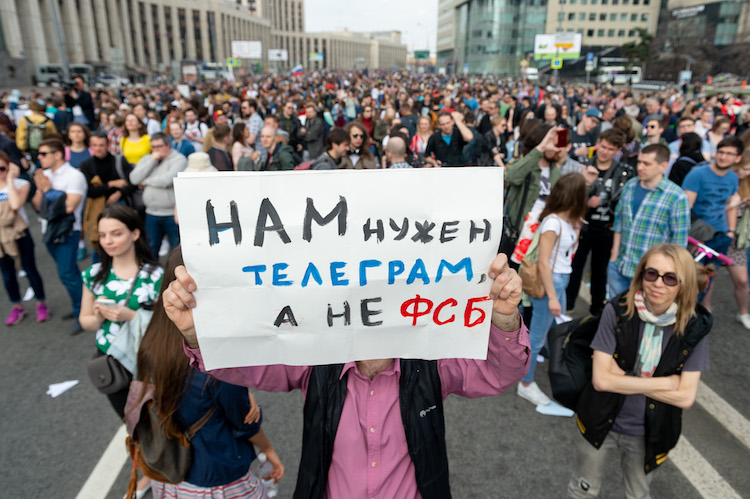 The Telegram Paradox 
The story: on April 16, Russia's communications watchdog Roskomnadzor officially blocked Telegram, a popular messenger created by Pavel Durov. In recent weeks, the ban has sparked vivid discontent among Telegram users and caused protests across the country.
What is happening now?
On April 30, the Libertarian Party organized a demonstration titled #DigitalResistance in support of Telegram and an open information policy, which brought approximately 10 thousand attendees. A similar protest took place in St. Petersburg on May 1.
Sergei Smirnov, editor-in-chief of MediaZona: "[The authorities] want to build two Russias. One where everything is possible for them, and a second with bans for us."
Anonymous attendee: "Do something every day to stop this [regime]. This is not even an authoritarian democracy, it is a monarchy. Down with the king." [Novaya Gazeta]
Alexei Navalny: "I will not tolerate this silently! I turn on the TV and there's news that some fat-face guys suddenly decided that they have a right to read everything I write in Telegram. This is their state position… Will you tolerate it? I won't tolerate it." [MBK Media]
Earlier Navalny called for an anti-Putin protest under the slogan "He is not our Tsar" to be held on May 5, two days before Putin's inauguration. [Meduza]
Dig deeper: Pavel Durov is the founder of the most popular Russian social media VKontakte (VK), which has over 100 million users. He left the company and the country in 2014 after clashing with VK's Kremlin-linked owners. In 2013, he also created Telegram, which currently has over 200 million users worldwide.  
Durov, who now resides in Berlin, commented on the April 30 protests: "Someone will say that a demonstration will not change anything. It is not true. Russia is at the crossroads—censorship has not been introduced yet." After the protest he addedthat it was unprecedented and that he is proud of his compatriots who are fighting for Internet freedom.
What the Telegram protests mean:
Kirill Rogov, political commentator: Regulating the Runet is a Russian fantasy inspired by China.
While the Kremlin would like to wield total and direct control over the entire Runet, Russia has no firewall like China, which is why a post-factum repressive strategy was chosen over pre-censorship. The infrastructure of the Chinese Internet was created with built-in restrictions, as opposed to the existing open infrastructure of the Runet, therefore emulating the Chinese model is impossible for the Kremlin, albeit tempting.
In a political sense, the blocking attempts showed that total control can lead to chaos and major losses for the economy and the public. The only way to recreate the Chinese model in Russia would be to roll back all the open infrastructure laid as the foundation of the Russian model and its economic institutions. But such reforms may cause another political crisis. [RBC]
Dmitry Marinichev, Internet ombudsman: The state needs to change its information strategy.
Marinichev plans to appeal to the state about the ban, which he believes doesn't solve anything and could be the start of a confrontation between Roskomnadzor and Telegram that lasts forever. He compares the ban to taking away vaccinations—a backward strategy that only allows a disease to fester. [Kommersant]
Putin 4.0: Expect More of the Same Putin 
As Vladimir Putin prepares for his inauguration scheduled for May 7, experts discuss his legacy and the key parameters of his new presidential term.
Leonid Mlechin, writer and journalist: Russia is threatened with "old-age egoism."
Autocrats who manage to rule until they die are successful because they take good care of their inner circle—advisors, security and apparatus. As long as the team is sure of its privileges, the regime is invulnerable. Aging dictators cannot afford their weaknesses to be seen. Therefore, they continuously tighten the reins, as we see now with Putin. [The New Times]
Andrei Kolesnikov, Moscow Carnegie Center: Today, Putin's ideal government appointees are security guards and clerks; the evolution of his personnel policy is a path to self-preservation.
Like any seasoned autocrat, Putin no longer needs to pretend he is a democrat, and thus he can promote his former security guards or clerks, whom he trusts the most, to government positions. Putin's personnel policy is not just about the government, it covers all key positions in the parliament, business, state corporations, etc. It is purposefully unpredictable and multidirectional to keep the "blood flowing."
Going forward, Putin will keep the mechanics behind his transfer of power covert until the very last minute. But Putin's successor will inevitably be Putin himself. [The New Times]
Boris Makarenko, Center for Political Technologies: Any attempt at reforms can be dismantled as long as Russia's policies are separated from its politics (political will).
Three factors stand in the way of Russian modernization, and a "breakthrough" cannot be expected unless they are overcome [RBC]:

1) betting on human capital with a goal to move beyond a commodities-based economy is pointless without painful social and other reforms, which the Kremlin has managed to avoid for years;
2) lack of political will to implement painful reforms because: a) despite public demand for change, Russian people have a very vague vision of the future; and b) the elites will only support reforms that don't threaten their interests.
3) bureaucracy, which is supposed to manage reforms, lacks initiative and only follows instructions from above;
Alexei Makarkin, Center for Political Technologies: Russians believe they have "sufficient freedom."In 1991, 43% of Russians considered themselves "free"—by 2015, the numbers had risen to 66% regardless of the restrictive laws and the general crackdown on basic rights. Why is that? [Republic]

1) Many Russians see their freedom in a narrow way (i.e. number of TV channels, availability of consumer products) and in comparison with the Soviet deficit times, thus they are content with what they have.
2) Many are alienated from politics following the broken illusions of the 1980s. They see Putin as a figure to whom they can delegate their political decision-making.
3) The widely spread distorted perception that if one personally doesn't need something (a second party, Telegram, etc.), "normal people don't need it either."
4) The majority of Russians are not interested in integration with Europe.
5) Russian youth usually follow the perception patterns of their parents.
 Russian Counter-Sanctions: the Duma's New Status? 
The story: Following the latest round of U.S. Treasury sanctions imposed on April 6 against Russian officials and oligarchs, Moscow did not waste too much time on mulling over the response.
Within one week, Duma speaker Vyacheslav Volodin and leaders of key parliamentary factions introduced a bill to limit imports of almost any type of product from the U.S. and its allies. The bill's first reading is scheduled for May 15. [The Bell]
Last week, Russia's Federation Council generally approved the bill, suggesting a few amendments (e.g, a relaxation on the import of foreign medications).
The bill, however, received some criticism within the liberal group of the elites, notably from Alexei Kudrin,who called it a "hasty decision with potentially serious consequences."
Deputy Chief of Staff of the Presidential Administration Sergei Kiriyenko pushed back on the proposed restrictions on cooperation between the Russian nuclear industry and foreign entities. [Interfax]
What does it mean? 
Tatiana Stanovaya, political scientist: The rules of Russian domestic politics have changed, as the Duma emerges as a new player on the geopolitical field.
The most curious part of the bill is not its contents but the fact that it was not developed inside the Duma, and not by the Kremlin administration as one would expect. This shows Volodin's bold ambitions and growing political power.
A larger interpretation points to a demonopolization of the policy-development system (but not yet the decision-making). As Putin's priorities and interests appear more vague, large political players try to seize opportunities to advance their own agendas [RBC].
Alexander Baunov, editor-in-chief of Carnegie.ru: The U.S. sanctions caused tensions inside Russia's fragmented, competing elements of the power vertical—not between the oligarchs and Putin.
Russia's principle of the retaliation can be boiled down to a simple "eye for an eye." The Duma seized the counter-sanctions initiative to mirror the Congress' actions. By taking a stance on Russian foreign policy, the Duma and its speaker automatically elevate their status and claim the role of a major political institution of Putin's fourth term.
The unprecedented anti-American bill is so broad that no government will be able to implement it in full, which makes the Duma a co-author of the presidential course and sidelines the government.
All these developments inside the power vertical are invisible to ordinary Russians and to any outsider. They do not create new tensions but rather fuel the existing feuds. Should the bill succeed, it will benefit some factions while damaging others, which will only cause more rifts in the inevitable political transit. [Carnegie.ru]
Other stories that mattered this week (in Russian)
New Times: "Everything that happens in the world is perceived as a special operation by an enemy." Political scientist Gleb Pavlovskydiscusses Putin's last 18 years in power.
Svoboda: "Non-love." Political scientist Lilia Shevtsovaexplains how the world fell out of love with Russia. The turning point happened after the "Crimean gambit."
InLiberty: "Anatomy of a Triumph." Political experts Sergei Shpilkin, Alexander Kynev, Kirill Rogovand Gleb Pavlovskyanalyze the structure of the Russian elections against the background of Putin's landslide victory.