This week has seen three crucial developments that highlighted long-term trends in Russian politics. On May 5, anti-Putin protests took place across the country, resulting in 1600 detainees. On May 7, Putin was inaugurated for his fourth term as Russia's president and immediately reappointed Dmitry Medvedev as prime minister, thus ending weeks of speculation regarding a possible liberal shift. On May 9, Russia celebrated Victory Day, but it seems that after the holiday was highly politicized, it eventually started to lose its appeal.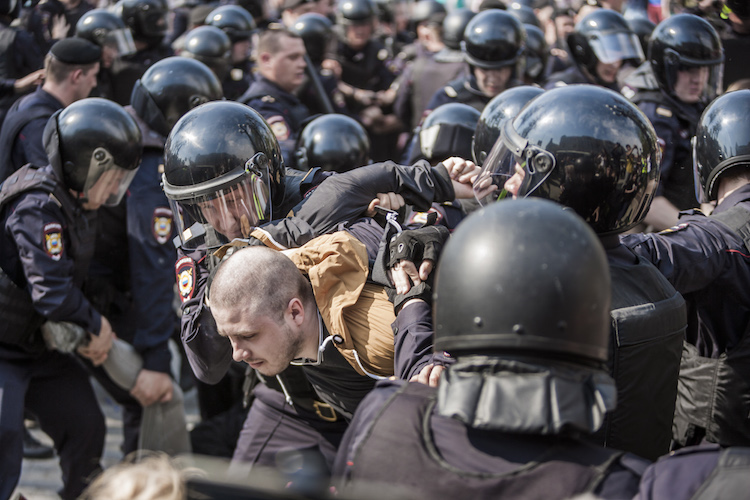 The May 5 Protests
The story: On May 5, two days before Putin's fourth presidential inauguration, peaceful protests broke out in 50 cities across the country, with crowds chanting "Putin is a thief!" and "Russia without Putin!" The last protests of this size occurred on Bolotnaya Square in 2012 with tens of thousands of people rallying against Putin's previous re-election.
In Moscow, 1,600 people were detained at Pushkin Square during Alexei Navalny's rally under the banner "He is not our tsar"—more than ten times the number arrested at Navalny's pre-election rallies in October 2017 and January 2018.
One of the more unexpected players on the square were the Cossacks, whom Moscow Mayor Sergei Sobyanin employed to maintain order at the rally—some did so by attacking protesters with their signature horse whips.
Photos of OMON, the riot police, seizing children and other young protesters were disseminated across media channels—an unsettling symbol for Putin's new term on the eve of his inauguration. This led United Russia party to submit a draft bill to the Duma that would punish the guardians of minors involved in protests. [New Times]
Though the May 5th protests are of interest against the backdrop of this week's Armenian protests that unseated the country's president and elected the opposition leader, the Russian authorities are not afraid to suppress dissent.
However, the failure in Moscow to compromise with the protesters could mean that the government recognizes that these protests could have a lasting effect. But if anything, Armenia proves that the opposition needs to be a unified and coordinated force that goes to the streets again and again to make a difference. [New Times]
What does it all mean?
Oleg Kashin: Today the Russian state wants to look like the police, which it needs to combat the revolutionary threat. This allows the authorities to ensure political stability, regardless of whether there is a threat. On the flip side, protest remains the only form of political representation for Russian citizens today. [Republic] 
The Cossack Factor: 
Alexei Makarkin: In tsarist Russia, Cossacks were part of the army; now the state is trying to make them into a paramilitary force. But while the Cossacks may help maintain public order, their ambiguous status actually erodes the state's monopoly on violence.
The Cossacks have a long history, but in modern times they are united by a shared Russian imperial impulse. They were revived in the 1980s after some barriers to social activism were lifted and have continued cooperating with the Kremlin ever since.
The Cossacks were utilized during the Sochi Olympics in 2014 (when they attacked Pussy Riot) and during the Crimean annexation. While more militarized Cossacks have recently undergone a sort of renaissance in Donbas, those who are registered face a problem of relevance, controlled by a state that doesn't know what to do with them. But the recent rally shows that if the authorities permit them, the Cossacks will work to quell the opposition. [RBC]
According to Novaya Gazeta, the Cossacks were provocateurs. It's unclear if they were under an agreement with Moscow's municipal authorities to manage the protest—they allegedly have a contract to be trained on preserving public order and ensuring security during mass events, but the paper couldn't verify this. [Novaya Gazeta]
New Cabinet
The story: After his fourth inauguration, Putin immediately re-introduced Dmitry Medvedev as his new prime minister. As the list of new appointees was announced, experts began to decipher what the new Cabinet members signal to the country's political system.
Medvedev's reappointment proves that Putin trusts him the most (after the swaps in 2008 and 2012) and considers him a stabilizing factor in his system
The new cabinet appointees, however, form what looks like a "transition government." Most of them are familiar technocrats, whose goal is likely to groom a new generation of government officials. This government lineup will hardly survive until the end of Putin's six-year term
First Vice Prime Minister Igor Shuvalov is replaced by Finance Minister Anton Siluanov, who will keep his current job as well. This signals that in the current political cycle monetary policy is prioritized over development. [RBC]
Alexei Kudrin, who was rumored to be in line for a top-level appointment,has been offered to head the Audit Chamber, which, as this goes to press, he hasn't agreed to yet. The position is outside the government, which means that Kudrin's influence on its policies would be very limited. [Vedomosti]
What the experts say: 
On Kudrin
Tatyana Stanovaya: Kudrin, a close associate and informal economic advisor to Putin, returned to the political sphere in 2016, following Putin's failure to create an anti-terrorist coalition with the West and Russia's need to adapt to the reality of sanctions.
Kudrin proposed an action plan to develop the economy and improve the effectiveness of public administration, but his position in the Economic Council—a dormant institution, unused by the authorities—prevented many of his ideas from taking hold.
Kudrin will likely be kept outside the cabinet as a "floater" in order to avoid conflicts with his ideological opponents like Andrei Belousov and Medvedev, and allow him to carry out individual tasks assigned by Putin. [RBC]
On Medvedev
Alexey Makarkin: Medvedev's reappointment is a "decision without a solution"—Putin's favorite tactic.
Putin has always tried to balance possible gains and losses from liberals and conservatives, without embracing either agenda fully. Medvedev is valuable in that he can conduct absolutely any policy—this in turn allows Putin to postpone the question of making any definite decisions. [Republic]
Tatyana Stanovaya: Medvedev will not be an eternal prime minister.
Why does Putin keep Medvedev around? For one, Putin has effectively devalued the political importance of the prime minister's post, which neutralizes opposition to the president and strengthens his vertical.
Second, while Medvedev could easily be replaced (perhaps by a young technocrat), he retains his role because he showed in 2011-2012 that he was capable of challenging Putin's stance. Therefore, Putin does not trust Medvedev's behavior outside of the president's inner circle.
Medvedev is necessary only for the first half of Putin's new term as someone who can assume full political responsibility on what will likely be painful social decisions. It's hard to say what awaits Medvedev in the second stage. [Carnegie.ru]
Konstantin Gaaze: Russia needs an independent prime minister.
Putin is satisfied with a weak government, but a few more years without a functional government will lead to the disintegration of executive power.  
The paradox is that Putin's fourth term doesn't need to invent anything or even rewrite the Constitution—it only needs to appoint a strong and independent prime minister who will become successor. Over the next few years, Putin will try to convince Russians (and himself) that he is ready to leave his post in 2024 and is searching for one.
But it will only be a smokescreen. This is already apparent in how Putin discusses reforms with members of government. When he asks for a consolidated position from the Ministry of Economic Development, for instance, he gathers the deputies without their immediate superior—the prime minister. [Carnegie.ru]
Victory Day  
The story: On May 9, Russia celebrated the 73rd anniversary of its victory in the Great Patriotic War. The holiday that has been highly politicized in recent years, with some experts arguing that its meaning was hijacked by the Kremlin.
The cult of Victory, encouraged by the state, turned this holiday into a political and commercial brand, an opportunity to gain political and material capital.
Political privatization and monopolization of the war history produces new myths and unnatural propagandist slogans.
Mass market patriotism imposed by the authorities is superficial and has nothing to do with "the heroic deeds of the Russian people and the most tragic pages in the history of the country" [Vedomosti]
The cult of Victory, along with the jingoism that spiked after the annexation of Crimea, created an explosive mixture. But any campaign of such absurd intensity eventually wears off, and this year already saw fewer Saint George ribbons, which used to be everywhere, as they fall out of fashion, along with historical memory. [MBK Media]
"Monopoly on history"
On May 10, Agora International Human Rights Group published a new report titled "Russia against history. Punishment for revision," which shows a disturbing trend.
Since 2012, the number of cases invoking Article 20.3. of Russia's Code of Administrative Offenses ("Displaying Fascist Attributes and Symbols") has increased ninefold, while the number of arrests under this article has grown sixfold. Overall, 6,622 people were prosecuted based on this article.
The report studies 100 cases of prosecution based on statements regarding topics of history: 17 cases are criminal offenses; 41 are bans on books and Internet publications and their inclusion in the federal registry of extremist materials.
"Lack of access to historical documents along with an actual ban on the assessment of certain historical facts, prosecution of historians and authors, as well as bloggers and civic activists against the backdrop of the courts' full solidarity with the decisions of the special services—this is the context that modern Russia lives in," concludes the report.
Read the full report here.
Other stories that mattered this week (in Russia):