These past two weeks, the reshuffle in the top echelons of the Russian political system continued, with several more governors losing their seats, including heavyweight Georgy Poltavchenko. Levada's latest poll showed that Vladimir Putin's rating had dropped by 20 points to 39 percent, most likely as a result of the pension reform. Finally, Chairman of Russia's Constitutional Court Valery Zorkin proposed a limited constitutional reform, but it was not clear if the Kremlin supported the idea.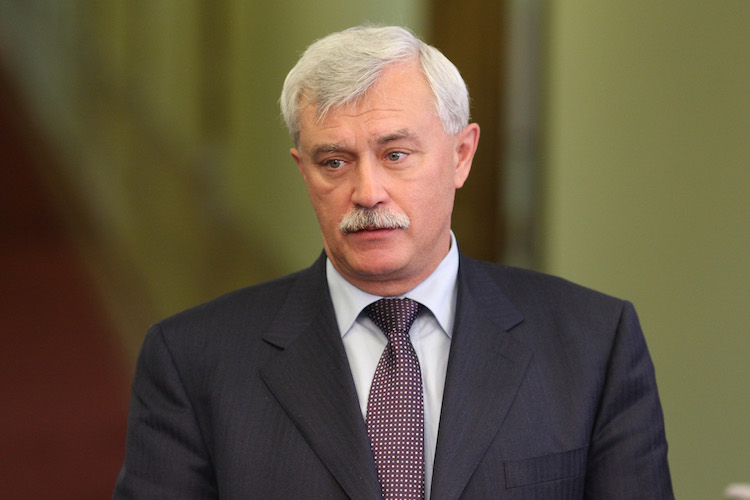 Fall of the Governors
The story: On October 3, President Vladimir Putin replaced long-term St. Petersburg Governor Georgy Poltavchenko with former presidential aide Alexander Beglov, who will remain until next September's elections. Beglov was Vice Governor of the city from 2002 to 2003 and served as acting governor in 2003 for three months after then-Governor Vladimir Yakovlev resigned.
The breakdown:
This was the latest reshuffling by the president, after a string of three governors were replaced in Primorye, Astrakhan and Kabardino-Balkaria, following a long list of replacements in both fall 2017 and February 2018.
Poltavchenko, who had governed St. Petersburg since 2011 and whose term was set to expire in 2019, will now head the United Shipbuilding Company, the largest shipbuilding holding in Russia, 100 percent owned by the state. [The Bell]
On October 11, two more governors resigned: Kursk's Alexander Mikhailov and Bashkortostan's Rustem Khamitov. The Kremlin, reportedly, was unhappy with the poor performance and low ratings of the two. They were replaced by Roman Starovoyt and Radiy Khabirov as acting governors, respectively. [RBC] 
What it means:
Ivan Davydov, columnist: Experts have discussed myriad theories about the logic behind the ongoing personnel shuffling: Putin was said to be replacing stale leaders or old-timers, giving seats to "real politicians," or removing those too marred by corruption and scandal.
But the majority of long-time leaders stayed in place, and neither a criminal record nor lack of experience made any difference in the appointments. There was no special meaning—the only necessity was that they rendered regional elections redundant.
But now, spurred in large part by negative reactions to the pension reform, the reason behind the new gubernatorial shifts is clearer. Sergei Morozov is replacing the old-timer Zhilkin in Astrakhan; the authoritative Kazbek Kokov will replace Yuri Kokov in Kabardino-Balkaria, who brought the region to the brink of a minor civil war; and a new face will take over St. Petersburg.
This doesn't mean that the next elections will be without falsification, or that there will be real opposition. But it does mean that the government has to think about its citizens more so than before, and is therefore moving from an unnatural selection of candidates to one that at least has a more natural feel to it. [Republic]
On the other hand, editor Anton Mukhin argues that Beglov is no better than Poltavchenko—he's just new. With this in mind, the real question is who will become the new plenipotentiary representative. [Carnegie.ru]
Dig deeper: Listen to Alexander Baunov, Natalya Zubarevich, and Andrei Pertsev on why the protest vote in the last gubernatorial elections wasn't just about the pension reform. While the protest vote did not favor any particular party as long as it reduced United Russia's electoral victory, experts note that more voters aligned with the Liberal Democratic Partyrather than the Communist Party, reflecting their experience during the nineties. [In Russian, Carnegie.ru]
Pension Reform Brings Down Putin's Rating
The story: Putin's approval rating has fallen to 39 percent, according to a September poll by the Levada Center.
The Russian leader's rating has dropped 20 points since November 2017, when 59 percent of respondents viewed Putin favorably, and analysts say that the sharpest decline occurred in the last three months.
Other ratings—for Minister of Defense Sergei Shoigu and Foreign Minister Sergei Lavrov—also fell significantly. People still trust Putin more than any other state player or institution, but the percentage has declined from 75 percent of citizens in 2017 to 58 percent in 2018. [Znak] 
What is going on?
Lev Gudkov, director of the Levada Center: "People feel that the state is attempting to solve its problems at the expense of the population… There was a great expectation that Putin would call off the [pension reform]"—the details of which were supposed to be published this month, but have been delayed.
Enthusiasm for mobilization against foreign enemies and the post-Crimea euphoria have also declined, as more people turn their attention to socioeconomic problems at home. [Vedomosti]
What it means:
Dmitry Kamyshev, political editor: The federal government treats Russian citizens like children, broadcasting presidential messages about nuclear-powered missiles and giving the appearance that it has the best interests of the population in mind by purposefully unveiling a pension reform plan it knows will receive harsh criticism only to soften it.
In return, citizens act like children, stomping their feet in rallies, cursing their "parents" in the polls, and voting for inexperienced scholars instead of Kremlin appointees. For a long time, the brain of the average Russian has repeated the same simple formula: "Without Putin, there is no Russia." But this latest survey asked if respondents respect the president—a question they won't be able to answer until everyone behaves like adults. [Vedomosti]
Boris Grozovsky, economist: One of the main issues with the pension reform is that accumulating a larger fund is not in the interests of the people, but serves to grow the pension industry and pour money into the domestic economy. This forced investment has nothing to do with providing pensioners a minimum level of wealth, and everything to do with carrying out infrastructure and bank projects with state companies and businesspeople close to Putin. [Republic]
Constitutional Reform?
The story: On October 10, Chairman of Russia's Constitutional Court Valery Zorkin published an op-ed in the official publication of the Russian government, Rossiyskaya Gazeta, suggesting selective reforms of the country's Basic Law in the light of "growing external challenges."
Zorkin criticized the Constitution, among other things, for the lack of due "checks and balances," the tilt in favor of the executive branch, the lack of clarity in the distribution of powers between the president and the government, and in the definitions of the powers of the presidential administration and the prosecutor's office.
He rejected radical reforms but offered more targeted changes in order to uphold Article 7 of the Constitution proclaiming Russia as a "social state."
According to Zorkin, the key sources of the current social tensions in the country are: excessive social stratification, unfair distribution of the burden of economic reforms, corruption and increasing rightlessness of workers. [New Times]
Zorkin called for a legal system based on the ideas of the Russian philosophy of the 19th-early 20th centuries with the addition of solidarity, togetherness (sobornost) and collective responsibility. [RBC] 
What it means:
Changing the Constitution may help Vladimir Putin to address the 2024 problem (the "no three consecutive terms" rule) and to launch a transition mechanism. According to Ne-Zygar Telegram, this may allow an early election to be called.
Gleb Pavlovsky, political technologist: It seems unlikely that the Kremlin is behind this initiative, because Putin is against constitutional reform. It is more likely that Zorkin is just being proactive in declaring his loyalty.
Abbas Gallyamov, political commentator: The op-ed does not mean a reform is imminent. It is just one of the ideas being discussed around the 2024 problem. [Bell]
Kirill Martynov, political editor: It is the second initiative addressing the 2024 problem this year. In May, a group of deputies in the Chechen parliament introduced the idea of lifting the constitutional ban on the president's re-election three times in a row. If no third initiative emerges to back up the constitutional reform within the next five months, one may assume that the first two are just random attempts to test the political waters. [Novaya Gazeta]
Other stories that mattered this week (in Russian):
"Farewell to Revolution: Why was the [Russian] White House shot at": Political scientist Vladimir Pastukhov recaps the events of October 1993 in Moscow. He defines them as the "bifurcation point" from which the contemporary "Russian World" has emerged.  [Republic]
"The Kokorin-Mamayev Case: The cost of the scandal involving sports celebrities": Journalist Alexander Bogomolovaddresses the recent incident in which Russian soccer stars beat up several people in the center of Moscow, including senior official of the Ministry of Industry and Trade Denis Pak. The two may face up to 10 years in prison. [RBC] Meanwhile, one of Russia's leading sports publications, Sport Express, writes that this affair is a GRU operation aimed at distracting the public from the Petrov-Boshirov case.
Civic Initiatives Committee (founded by Alexei Kudrin) released a report titled "Signs of Public Mood Changes and Their Possible Implications" (Признаки изменения общественных настроений и их возможные последствия). The authors, including political scientist Mikhail Dmitriev and sociologist Sergei Belanovsky, argue that the Russian people have lost trust in the authorities, no longer demand the "strong hand" of leadership, increasingly rely on themselves, are more interested in social justice, and still see no opposition leaders who could help them solve their problems. [CIC]