In this week's roundup, Russian political commentators focus on the latest developments in the Putin regime's structure, including the latest congress of the United Russia party and the celebration of the 25th anniversary of the 1993 Russian Constitution. On a different front, both Russian activists and government officials were remembering Lyudmila Alekseeva, a symbol of the Russian human rights movement, who passed away on December 8.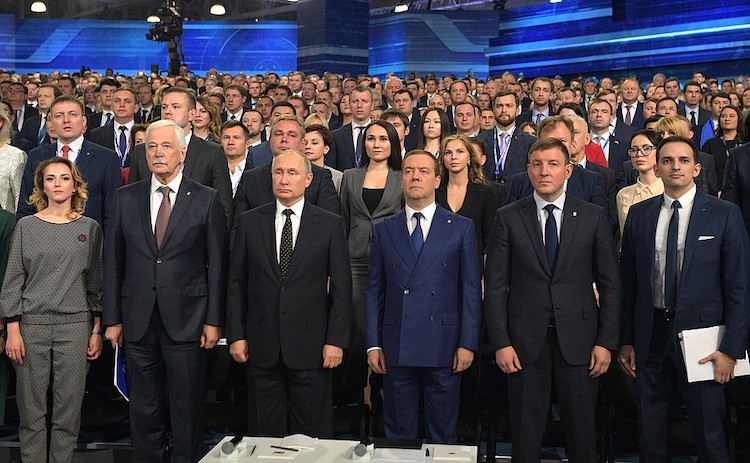 What Next for Sistema?
The story: On December 8, Russian President Vladimir Putin reasserted his ties to United Russia, attending and giving a speech at the United Russia congress. Observers were anxious to hear the congress' developments, given the leadership's falling ratings and mounting social discontent. 
Speaking to United Russia members, Putin cited the leadership's "higher responsibility" for the historical fate of the Motherland, encouraging the party to "listen and hear the people" and to never allow impertinence, arrogance or contempt to get in the way of a dialogue with them.
He noted that the world is in a state of dramatic transformation and that if Russia does not orient itself in time, it will likely stagnate forever. [Kommersant, TASS] 
Experts weigh in:
Tatyana Stanovaya, R.Politik: United Russia is now caught between two stakeholders: Putin, who is working to curate domestic politics (and depoliticizing the party) and the people, who are increasingly expressing their dissatisfaction, protesting in elections. But the more actively the Kremlin corporatizes United Russia, the more frequently the party will be eyeing simple voters, who are already evidencing their ability to teach the authorities lessons. [Carnegie.ru]
Journalist Andrei Pertsev asks how adequate the application of corporate methods, KPI and team-building in the government is in domestic politics, but more importantly in a crisis situation, as negative perceptions of government in society mount. He argues that politics is about dialogue and compromise, not rigid corporate rules. [Carnegie.ru]
Denis Volkov, Levada Center: Surveys show that Russians in the majority are convinced that the state is working not for others, but for the sake of its own interests. In July 2018, while 62 percent of respondents stated that the state should care for all of its citizens, providing them a decent standard of living, 58 percent claimed that the people they elect to government quickly forget about the problems and interests of the general public.
This reaction about the sincerity of the state is a symptom of the rising tensions that are starting to spill out in the form of criticism and protests, which may not be taken seriously now, but might grow down the line. [RBC]
Dmitry Travin, European University in St. Petersburg: Russia's personalist authoritarian regime is weaker than it may seem to us today—and it is very difficult for this type of regime to survive a change of leader without a serious upheaval of the elite.
The non-systemic opposition must be prepared morally to take advantage of a split in the elite and create an at least temporary alliance with forces interested in democratizing the Putin system or at least transforming it (preventing those who have the allegiance of the armed forces from entering a power void). [Republic]
The Legacy of Lyudmila Alekseeva
The story: On Tuesday, journalists commemorated 91-year-old Lyudmila Alekseeva, a symbol of the Russian human rights movement, and the head and co-founder of the Moscow Helsinki Group, who passed away on December 8. The ceremony attracted a wide range of mourners, from President Vladimir Putin to oppositionist Alexei Navalny, who both attended the ceremony, though the two didn't cross paths. [Kommersant]
Alekseeva will be remembered for a lifetime of defending human rights. In 1966, she began speaking out in defense of the dissident writers Andrei Sinyavsky and Yuri Daniel, later advocating for Alexander Ginzburg and Yury Galanskov, which culminated in her expulsion from the Communist Party of the Soviet Union in 1968.
In 1976, Alekseeva co-founded the Moscow Helsinki Group, a leading human rights organization, her work leading to forced emigration to the U.S. in 1977. She returned to Russia in 1993 and joined the Human Rights Commission under the President of Russia in 2002, a precursor to the Human Rights Council.
Alekseeva was an organizer of the 2009-2010 Triumfalnaya Square protests, advocating for freedom of assembly, for which she was briefly detained. In 2012, she resigned from the Human Rights Council in protest, returning in 2015. Her work seemingly had no boundaries, as Alekseeva hosted anyone from Vladimir Putin to organizers of the Bolotnaya Square protests in her Moscow home.
Despite the president's appearance at Alekseeva's memorial, her long-time friend and fellow human rights activist, 77-year-old Lev Ponomaryov, was unable to attend the funeral due to his own detainment. Moscow's Tverskoy court arrested Ponomaryov on December 5 for 25 days for calling for a protest in October.
Just days after Alekseeva's death, Putin attended a meeting of the Human Rights Council where he stated it could be possible to amend the law on rallies—a reform called for by HRC head Mikhail Fedotov in light of Ponomaryov's arrest. The president spoke about compromises, noting that "no one wants [Russia] to have similar events to Paris," referring to France's recent "yellow jacket" protests. [Kommersant]
In memoriam:
Journalist Yuri Rost laments the mortality of humans, but believes that if an eternal person existed, it would be Lyudmila Alekseeva. "There is a feeling that she will always be [with us]. She came to the human rights movement as a free person, she participated in the movement as a free person, and she left life as a free person. She wasn't afraid of anyone in this life." [Novaya Gazeta]
Leonid Gozman, president of the Union of Right Forces, a Russian public movement, recalls Alekseeva's tireless work and zest for life: "She never left her post for a second, never for a moment forgot about her mission, but she was not at all a stern prophet. She loved life, loved get-togethers… She knew how to be happy… She knew how to admire." [Novaya Gazeta]
Journalist Andrei Kozenko remembers a conversation with Alekseeva, when he asked her whether she was in politics or human rights. Her calm response was: "I am against being dragged into politics. We defend the highest human values, not the interests of any party or individual." [Meduza]
25th Anniversary of the Russian Constitution
The story: December 12, 2018, marked the 25th anniversary of the Russian Constitution, which was adopted following a national referendum (Tatarstan and Chechnya, however, did not participate in the vote).
Back in the early 90s, the new Russian political elite faced numerous issues of transition from totalitarianism to democracy, many of which were not properly addressed. As a result, the text of the Constitution reflects the political struggles of 1992-1993 and prioritizes presidential powers over the legislative branch. [Kommersant]
What it means:
Yelena Lukyanova, constitutional lawyer: While it may seem sometimes that the Constitution is dead, it is still functioning, albeit selectively, despite all the obstacles created by the government and thanks to the resilient society, the European Court of Human Rights, and the remaining independent media.
This Constitution draws upon the best examples of the 20th century, but it was affected by the so-called "birth trauma" (the political circumstances under which it was adopted), resulting in its contradictory nature: some chapters are pro-democratic, others set the stage for autocracy. [Republic]
Karina Pipiya, sociologist: Levada polls consistently show that one third of the Russian people have never read the Constitution, while another third don't remember its contents even if they have read it. Of note is that in 2017, the share of young Russians (18-27) who haven't read the Basic Law was higher than that of the older generation (55+).
At the same time, over two-thirds of Russians believe that the Constitution plays an important role in the country's life, and about 50 percent say that it guarantees their rights and liberties. [Vedomosti]
Boris Vishnevsky, columnist: The Constitution was adopted after the 1993 crisis—following the dissolution of the parliament, the shelling of the (Russian) White House, and the destruction of representative power in the country. Back in the 90s, the majority of Russian democrats who supported "Yeltsin's Constitution" sincerely "wanted the best, but you know the rest." [Novaya Gazeta]
Context:
Amendments to the 1993 Constitution had been made before, but this year two articles authored by top government officials signaled that more changes may be coming to reflect the regime's reaction to the key challenges: Putin's continuity of power and antagonism with the West.
One, titled "The Letter and the Spirit of the Constitution," was writtenin August 2018 by Chairman of Russia's Constitutional Court Valery Zorkin. Zorkin argued that there is no need for a "cardinal reform" of the country's Basic Law; however "target changes" are in order to address "growing external challenges."
The second article was penned by Prime Minister Dmitry Medvedev and published in Law (Zakon) magazine on December 12, 2018. Medvedev argues that while certain changes to the Constitution can be made, they should not undermine human rights and liberties. However, he reiterated that the Basic Law does not protect rights that are in evident conflict with the traditional values of the Russian society.
Medvedev also underscored that this year marks Russia's 20th anniversary of membership of the Council of Europe, but despite certain accomplishments, dialogue can bring results only if it is free of "politicizing, double standards, and baseless accusations."
Other stories that mattered this week (in Russian) 
"How the Russians Got Tired of Sitting in the Pit": Levada Center sociologist Alexei Levinson details the shift in Russian public attitudes to the issue of Western sanctions and Russian counter-sanctions. Over the last four years, public anxiety over sanctions has dropped from 56 to 30 percent. However, the World Cup "opening effect" changed the views of many Russians toward foreigners and renewed their fear of isolationism. [Vedomosti]
"Courtiers and Their Monopolies": Alexandra Prokopenko explains how the sanctions changed Russian economic policy. The sanctions regime made public the names of the people from Putin's inner circle. In response, the state offered help to those affected by sanctions. [Carnegie.ru]
"The Public Begins to Push Back": Sociologist Ella Paneyakh observes the growing conflict between the Russian state and the maturing society. While the government is still on the offensive, the public pushes back more often, which can result in either an escalation of the repression or a "thaw" of sorts. [New Times]