The cancellation of the bilateral meeting between Barack Obama and Vladimir Putin that had been scheduled for next month is being seen as a long-awaited acknowledgment from the White House that its "reset" policy had failed. Donald N. Jensen, Resident Fellow at the Center for Transatlantic Relations at the Johns Hopkins School of Advanced International Studies, argues that a new rapprochement between Washington and Moscow is unlikely any time soon.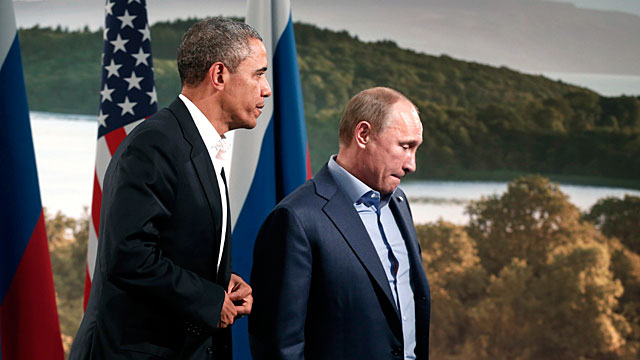 At his press conference on August 9, President Obama said that it was appropriate for the United States to pause and reassess its relationship with Russia in the face of President Putin's anti-American rhetoric and "backwards" thinking. It was in this spirit that last week, Obama canceled a planned September summit between the two presidents. He noted that there were several "emerging differences" behind the downturn in relations—including disagreements over Syria and human rights—in addition to the recent spat over the extradition of Edward Snowden. The US president discounted widespread speculation that the personal chemistry between the two men is bad, but added that Putin sometimes has the slouch of "the bored kid in the back of the classroom."
Obama took office in 2009 promising to "reset" ties with Russia and arguing that he could make headway where the Bush administration had failed. However, the cancelled summit represents a White House acknowledgment that the effort to mend ties with Putin has come to a dead end.
Both sides are trying to contain the considerable diplomatic damage. Obama will still travel to the G-20 summit in St. Petersburg next month (though he will not meet with Putin one-on-one). He rejected calls for a boycott of the Sochi Winter Olympics next February, a project in which Putin has invested significant personal prestige. Obama's press conference also coincided with the so-called 2+2 meeting in Washington of US and Russian officials to discuss security issues, including Secretary of State John Kerry, Defense Secretary Chuck Hagel, and their Russian counterparts Sergei Lavrov and Sergei Shoygu. In the day-long talks on August 9, in which Russia invited the United States to take part in forthcoming military exercises, the two countries agreed to cooperate, despite—in Kerry's words—"collisions and moments of disagreement." Lavrov said the United States and Russia had laid a solid foundation for future work, but that additional cooperation would not be forthcoming until Obama and Putin met in person. Such an encounter is unlikely to take place anytime soon.
By all signs, Russian officials did not expect the snub. Yuri Ushakov, Putin's foreign policy advisor, said that the Kremlin was "disappointed" by the cancellation of Obama's visit and blamed it on the controversy over Snowden, "which we did not create." But the cancellation and Obama's comment about Putin's juvenile behavior struck a long-standing Kremlin raw nerve: its insecurity at not being treated by the West as an equal partner. Putin seemed to take the news that there would be no meeting personally. On August 8, he pointedly sent a telegram to Obama's predecessor, George W. Bush, wishing him a quick recovery from heart surgery. Nevertheless, Moscow's official reaction was relatively muted. The story was buried in most of the state-controlled television news broadcasts.
The White House has downplayed Putin's authoritarian course and the Kremlin's anti-Western propaganda. The US has gained little in return and has lost the trust of Russia's opposition.
Outside the government, many Russian commentators blamed the cancellation on pressure from the "cold war lobby" in Congress and "anti-Russian prejudice" in US media that forced Obama to get tough with Moscow. Among the Russian elite, Obama has long been seen either as weak or as someone with whom the Kremlin can do business. Still other Russian observers, like their US counterparts, insisted that there wasn't much to talk about anyway. But underlying many Russian comments was a common theme: that America is in decline. Andranik Migranyan noted that "not all roads lead to Washington. The participation or non-participation of the United States in this or that international political, sports or cultural event has, for a long time, ceased being perceived as a special honor (or punishment). The world, friends, has moved to a new phase of developments in international relations."
Cancelling the summit with Putin is probably as close as the Obama administration is likely to get to a long-overdue acknowledgement that its "reset" with Russia, a product of the Medvedev era and the US president's first term, is no longer working. In trying to promote a mutual broad-based agenda on arms control, antiterrorism, and trade, the White House has downplayed Putin's authoritarian course and largely ignored the Kremlin's anti-Western propaganda in support of that repression. The United States has gained little in return and has lost the trust of Russia's opposition, which once saw it as an ally in the struggle for democracy.
The "reset" had some achievements, including allowing Russia and the United States, along with its European allies, to step back from a tense deadlock after the Russian invasion of Georgia in 2008. But successes usually occurred when they were also in the Kremlin's interests—for instance, cooperation on Afghanistan—and were sometimes oversold, as with the flawed New START Treaty, which gave Moscow an incentive to go up, not down. Above all, as British Russia expert Sir Andrew Wood correctly points out, the "reset" encouraged Moscow's delusion that Russia is still a great power with a roughly equivalent international status to that of the United States. The Kremlin's call for an equal relationship with the United States, a leftover of cold war thinking, was a coded demand to give Russia a privileged status and accept Moscow's view of its rights and international standing. A focus on the bilateral relationship is also politically convenient for the Kremlin in dealing with its internal problems, Wood adds, because it allows the Kremlin to spread the falsehood that the United States is somehow "hostile" to Russia.
The two sides are likely to keep talking, though at lower levels, inaugurating a new phase in the relationship begun by the 2+2 ministerial meetings. But the positive momentum of the early days of the "reset" is unlikely to return. Should Putin decide to push back, there will be many opportunities: in the Middle East, there are several conflicts the Kremlin could exploit to tie down the United States or drive it toward a deal; in the Caucasus, Georgia is tilting toward Moscow. The Russian leader is courting Azerbaijan, long a US ally (Putin's visit to Baku on August 13 was his first trip there in seven years). Beginning in October, Russia and Belarus will stage joint, large-scale military exercises in both countries to demonstrate their capacity to respond to the deployment of a ballistic missile shield in Europe. Moscow could also withdraw from the Intermediate Nuclear Forces Treaty or interfere with the efforts of the West to denuclearize Iran and North Korea. In whatever way the complex relationship between the two countries unfolds, domestic politics in an increasingly unstable Russia is likely to be a key factor.