Russia's relationship with the West seems to have hit its lowest point since the Cold War, with rhetoric becoming tougher and more emotional on both sides. According to Donald N. Jensen, resident fellow at the Center for Transatlantic Relations, in the standoff with Europe, Vladimir Putin is unlikely to blink first.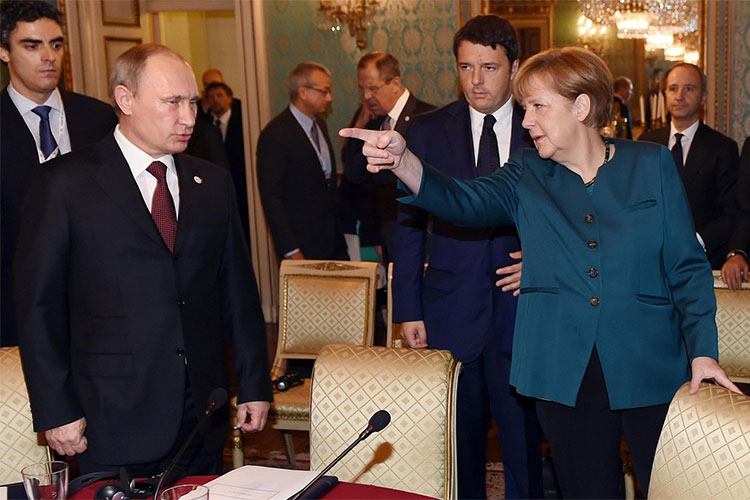 Russian foreign minister Sergey Lavrov predicted on October 20 that the chill in U.S.-Russian relations brought about by the Ukraine crisis is likely to last a long time. In a public lecture in Moscow, he slammed what he called Washington's "double standards in order to implement geopolitical designs." In an interview on Russia's NTV television channel the previous day, he criticized Western sanctions for seeking to change Russia rather than settle the Ukraine crisis, saying that Moscow would not accept Western conditions to end the sanctions after talks in Milan failed to produce a breakthrough regarding the shaky truce in Ukraine's war-torn east. Even before the talks, Russian president Vladimir Putin made clear his disdain for his former Western "partners." Putin stopped in Belgrade for a military parade, questioned Kosovo's sovereignty, criticized U.S. president Barack Obama, and arrived in Italy so far behind schedule that he was hours late for a private meeting with German chancellor Angela Merkel.
In his lecture, Lavrov also said he hoped Russia's relationship with the U.S. would begin improving after hitting what he felt was rock bottom. "There is always a temptation to find a metaphor, a word. For instance, people ask me about a second Cold War. Of course, it is not a Cold War." In large part, Lavrov is correct: unlike in the Cold War, there is no ideological rivalry; Russia is no longer a superpower; and the international system is no longer bipolar. But Washington and Moscow so profoundly differ on key issues—from human rights to arms control—and the diplomatic atmosphere is so negative, that it's fair to say their relations are at their lowest point since the fall of the USSR.
Three recent media interviews by top Russian leaders—prime minister Dmitry Medvedev, presidential administration chief Sergei Ivanov, and security council secretary Nikolai Patrushev (the former two likely have aspirations to succeed Putin)—appear designed to show Kremlin unity against the West.
In an interview on CNBC on October 15, Prime Minister Medvedev (seen abroad as a member of the liberal wing of the Kremlin) said a reset of relations with the U.S. is "impossible," as ties have been damaged by the "stupid" and "destructive" sanctions imposed on Russia for its role in Ukraine. He expressed dismay at President Obama's speech before the United Nations General Assembly in which the U.S. president labelled Russia a key threat, second only to the deadly Ebola virus and ahead of the terrorist threat posed by the Islamic State. Medvedev suggested Obama is suffering from a "mental aberration."
In Komsomolskaya Pravda, PA Chief Ivanov warned of the dangers of political extremism both in Ukraine and at home, thereby distancing the Kremlin from the conflict in Ukraine, probably in the hope that sanctions would be lessened even as Moscow kept its leverage there. Ivanov replayed an argument made by Putin: former Ukrainian president Viktor Yanukovych wanted to delay signing a trade deal with the European Union; the current president Petro Poroshenko has done the same thing. Was all the bloodshed worth it?
Secretary Patrushev, by reputation the most hardline of the three, emphasized the threat from the West in an interview in Rossiyskaya Gazeta. He mentioned the role of low oil prices in bringing down the USSR and repeated allegations that the U.S. encouraged trends that bankrupted the Soviet state, including bringing down oil prices while provoking a renewed spending spree on weapons.
Putin knows European dependence on Russian energy gives him a key lever of influence. And Europe is far from unified on the issues of sanctions and how hard a line to take with Russia.
These comments mark a shift in diplomatic tone. Throughout September Moscow appeared to play a more constructive diplomatic role in the Ukraine crisis, in large part to induce Washington to ease economic sanctions. Moscow helped engineer the Minsk ceasefire, though the separatist forces Russia backed continued to violate it on the ground. Putin pledged to withdraw Russian forces from the Ukrainian border, though some Western observers claimed the pullback was only cosmetic. The Kremlin also made genuine progress on gas negotiations with Kiev.
Moreover, there were signs that the U.S. and Russia might cooperate more closely over Syria. On September 28, Lavrov even called for a "Reset 2.0" in U.S.-Russian relations, though he blamed the Obama Administration for their poor state. The Obama Administration concluded, however, that Russia's de-escalation in Ukraine was not good enough to warrant the lifting of sanctions. U.S. assistant secretary of state Victoria Nuland said during her visit to Kiev in early October that the U.S. will maintain sanctions on Russia and will give economic and financial aid to Kiev, but no weapons.
With little to show for its short diplomatic campaign, Moscow has again toughened its rhetoric and played down prospects of cooperation with the U.S. Russia has increasingly accused Washington of seeking regime change, not just a settlement of the Ukraine crisis. Before leaving Italy, Putin gave a news conference at which he repeatedly referred to eastern Ukraine as "Novorossiya," an imperial, nineteenth-century term that carries the implication that the region should rightly be ruled from Moscow. He had used the term rarely since the peak of the crisis in late summer. The "U.S. will not support sanctions forever" is the message some insiders say is being sent to those oligarchs targeted by the sanctions (even as the Kremlin bails them out). But those who wish to see them lifted will have to wait for the next U.S. administration.
For now, the Kremlin's focus is on Europe. It seeks to undermine the sanctions regime by dividing the EU internally, and from the United States. Putin has apparently calculated that European outrage over Russia's invasion of Ukraine has its limits and that memories of the shoot-down of Malaysian airliner MH-17 in July may be fading. He also knows European dependence on Russian energy gives him a key lever of influence, and that many in Europe's far left and right camps are more suspicious of U.S. influence than Russian. Europe is thus far from unified on the issues of sanctions and how hard a line to take with Russia. German Chancellor Merkel has staked out a firm position, stating, "There's a long way to a ceasefire, unfortunately." Russia would have to respect Ukraine's territorial integrity "not just on paper." It is uncertain, however, if her European allies will back up her tough words.
Moscow seems prepared for peace with Kiev if Kiev makes peace with Donbass. At least that was the Kremlin's position going into the unsuccessful Milan talks. But Putin could also put diplomacy on the back burner again and try to make good on his boast that Russian tanks could get to Kiev in two weeks. It is not clear who will blink first, Moscow or the West. But there is little sign that Putin will veer off course just now.