The year 2014 proved to be a dramatic one for Russian-Ukrainian relations. In a short timespan, the two neighboring countries virtually ceased to understand one another. Olga Melnikova reflects on the events of the past year and their ramifications for both countries.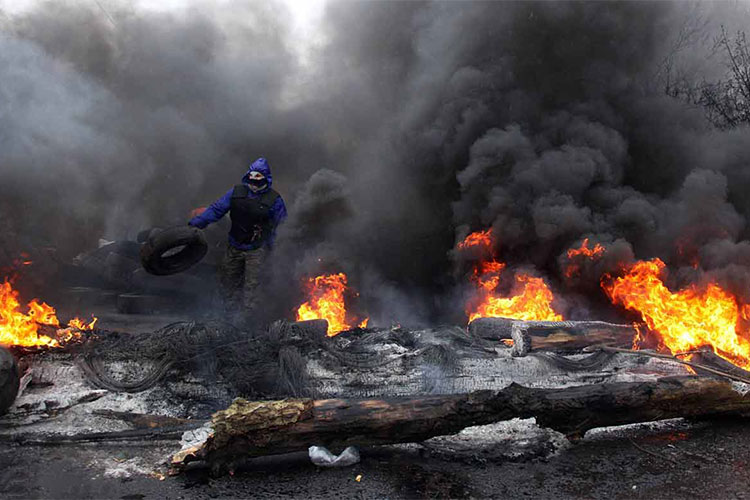 The year 2014 will be remembered in history books as a landmark year for both Russia and Ukraine. The power shift in Kiev, which Russian authorities refused to take seriously; the annexation of Crimea; the Donbass conflict, with the incursion of the Russian military (still denied by Moscow); the Malaysian Boeing shot down near Donetsk; international sanctions against Russia; and an economic crisis, which is now gaining momentum—these are just some of the momentous events of the past year. Let us revisit the main ones and compare their concussive repercussions for both countries.
Winter 2013–2014
On November 21, 2013, the then Ukrainian president Viktor Yanukovych declined to sign an association agreement with the European Union. His unexpected decision set off a wave of protest rallies across Ukraine, with tens of thousands of people gathering in Maidan Nezalezhnosti (Independence Square) and refusing to leave. On December 1, they seized Kiev City Hall and the Trade Unions Building, after which followed the first scuffles between Maidan demonstrators and Berkut brigades (Ukraine's specialized police force under the Ministry of Internal Affairs).
Both Ukrainians and supporters in Russia would follow twenty-four-hour live coverage of Maidan, broadcast by Espreso TV, a private Ukrainian TV channel. During the night of December 11, 2013, the Hromadske TV Internet channel provided live footage of the Maidan crackdown. After these broadcasts, the Maidan protests grew more numerous, with thousands of people attending from all over the country, and famous Ukrainian politicians and international diplomats congregating in Kiev. Following initial riots for European integration, Maidan protesters started demanding Yanukovych's resignation. Watching these developments from Russia, it seemed inconceivable that the president would resign just because the people demanded it.
Yet Maidan appeared to be gaining momentum. One minute, Maidan was a place for eating and chatting, and the next, all hell broke loose with thousands of tire fires. In January 2014, the Ukrainian parliament, Rada, passed a law increasing government control over mass media, bloggers, and the Internet. In Russia, a similar law was met with criticism on social media; on Kiev's Maidan, people chanted "Revolution!" At the end of January, the Ukrainian government rescinded the law.
The month of January also saw the first bloodshed caused by skirmishes between Maidan protesters and the Berkut and internal security troops. Serhiy Nigoyan and Mikhail Zhyznevskyi, two protesters killed on the barricades on Grushevski Street, marked the point of no return. The abduction and killing of Yuriy Verbytskyi, an activist from Lviv, shocked the entire country. Maidan was bracing for a military crackdown. Fierce fights, shootings, snipers on rooftops, and the death of the Heavenly Hundred—these images from downtown Kiev resembled scenes from a disaster movie.
President Yanukovych finally conceded, and on February 21, 2014, with the participation of European diplomats, he signed an agreement to try to end the months-long political crisis. But it was too late. On February 22, Ukraine's much-beleaguered president fled the country. "There was a military coup d'état in Ukraine," announced Russian president Vladimir Putin. Months later, in October, Putin would explain that Yanukovych was taken to Crimea and then to Russia by the Russian intelligence services.
In the wake of Yanukovych's escape, Ukraine declared victory, witnessing an escalation in patriotic zeal. However, the Ukrainian economy, already made bankrupt by the former president and his associates, continued to sustain serious damages. Many important business ties with Russian partners were abruptly severed.
While Ukraine was engulfed in a violent revolution, Russia was busy manufacturing a different vision of reality. Admittedly, the events in Ukraine headlined on Russian TV channels, but these channels offered a unique interpretation of the crisis. December 2013 marked the beginning of an unprecedented information war that Russia waged against its neighbor.
"Ukraine was seized by the Nazis," Russian mainstream media reported in chorus, trying to intimidate the Russian public with the nationalist Right Sector Party, followers of World War II nationalist Stepan Bandera, and abundant reports of discrimination against Russian-speaking people in Ukraine. The number of lies, false reports, and wild fantasies streaming from Russian channels reached an absurd magnitude. The majority of Russian citizens believed the official reports and TV programs, and voiced what was, in their opinion, just indignation about what was unfolding in Ukraine.
Spring 2014
In spring, a new government formed in Kiev, a government that included some of the Maidan activists. Alexander Turchinov was appointed interim president. The new Ukrainian leadership had to confront a wide range of burning issues. The new head of the National Bank, Stepan Kubiv, found himself at a loss, having realized that the bank reserves would cover only a few more days, since the previous government had fled the country with all its money.
Ukrainian policy maker Lesya Orobets, who is also sometimes called "Ukraine's Navalny," had averred during winter that a Russian invasion of Crimea and Ukraine's eastern areas was quite possible. During the first few days in March, Crimea reported a number of unknown troops on its territory who wore no insignia and were later referred to as "polite men" or "little green men." On March 17, Crimea held a referendum to become independent and join Russia. President Putin promptly signed a decree legalizing the annexation of Crimea and Sevastopol by Russia. The Crimea annexation became official.
Initially, Putin flatly denied the presence of Russian troops in Ukraine. Later, however, he openly admitted to being proud of the bloodless land takeover operation. Crimean residents genuinely embraced unification with Russia, since many of them were used to travelling regularly to Russia to buy provisions and find work. Yet, almost immediately, the peninsula was struck with frequent power outages because its power is supplied from Ukraine. Now people in Crimea might go without electricity for days, an almost weekly occurrence. Many are forced to relocate to their relatives' residences in other parts of Ukraine.
The slogan "Our Crimea" marked another important milestone for Russian society. Those who emphatically refused to condone the backstabbing annexation of another country's land ended up breaking ties with those friends and relatives who were happy to see "that historical record set straight." Social tensions reached the boiling point. The majority of Russians, however, received the news of Crimea's annexation with great passion and patriotic enthusiasm. Putin's approval ratings soared to record highs. Nevertheless, the heightened sense of patriotism was primarily of a rhetorical nature: For the first time in many years, the tourist season in Crimea was a complete disaster. Russian "patriots" would spend their summer vacations in Turkey or Montenegro.
In March, former Russian political prisoner Mikhail Khodorkovsky visited Kiev. He met with Maidan activists and expressed his support for the new Ukrainian leadership, outspokenly criticizing Putin's policy. At the end of April, with the support of Khodorkovsky's Open Russia Organization, Kiev hosted a Russian-Ukrainian forum that brought together intellectual elites from both countries.
The history of Russia is the history of an empire, remembered for numerous conquests and territorial ambitions. In 2014, Russia continued this tradition by following the imperial ambitions of its authoritarian leader, only to find itself losing a major geopolitical battle.
By that time, it had become clear that Russia was not going to let go of Ukraine even after the annexation of the Crimean peninsula. The southeastern areas of Ukraine were next to face social uprising and large-scale violence. In April, pro-Russian separatists proclaimed the formation of the Luhansk and Donetsk People's Republics, the LPR and DPR respectively. In return, interim president Turchinov launched an anti-terrorist operation there, which resulted in violent skirmishes and bloodshed. In May, both self-proclaimed republics held their independence referendums; however, even Russia— despite having sponsored and backed the Donetsk and Luhansk separatist movements—would not recognize their plebiscites and did not want them to join Russia. The situation in southeastern Ukraine quickly escalated into a humanitarian disaster, with thousands of refugees abandoning war-torn areas and escaping to the western parts of Ukraine or Russia.
On May 25, Ukraine held early presidential elections, which announced the victory of Petro Poroshenko, president of Rochen Confectionery Corporation.
Summer 2014
Come summer, Ukraine was bracing for the officially declared intervention of Russian troops. People stayed up late at night, frantically following the latest news and updates from residents of southeastern Ukraine. International communities debated the implications of satellite images of the Russian humanitarian convoy, following its daily progress. War had never been officially declared, but it had been in full swing for quite some time. All parties involved in the conflict suffered significant casualties, including the Ukrainian army, separatists, and the Russian military (the latter allegedly travelled to Ukraine either as vacationers or as volunteers). There were reports of hundreds of civilian casualties and thousands of refugees.
Having agreed to disclose some information on their involvement in military attacks, a small number of Russian soldiers revealed to the media that they would file vacation reports, receive weapons, and then be dispatched across the Russian-Ukrainian borders instead of participating in field training exercises in Rostov oblast. Soon "Cargo-200" vehicles were spotted crossing the Russian borders. Russian solders were buried expeditiously without names or markings on the graves. Journalists investigating the causes of their deaths received multiple threats, as did activists for the Committee of Soldiers' Mothers.
The centuries-old relationship between Russia and Ukraine had suffered a dramatic rift. Somehow, the two related nations could no longer understand each other. On one side were the Russian people, affected by the Kremlin's cynical lies and vicious propaganda. On the other side were the Ukrainians, under the influence of their own government propaganda. The most egregious example of the massive information war was a story aired by the Russian Channel One about a boy crucified by Ukrainian soldiers. The falsehood of the report was repeatedly exposed; however, so far, no one has claimed responsibility for it, nor has anyone issued a formal apology.
On July 17, the Malaysian Airlines Flight MH17 crashed near Donetsk. All 298 people on board died, the majority of them citizens of European countries. Unable to disregard the military conflict and violence ravaging its neighboring country, Europe could no longer maintain its neutrality. The passenger plane catastrophe in July the breaking point for Europe, as its dialogue with Russia came to an abrupt halt.
At the end of July, Western nations imposed a string of economic sanctions against Russia to punish the country for waging a military conflict in Ukraine, an allegation still rebuffed by the Russian leadership. In return, Russia imposed its own sanctions: a full embargo on food imports from the EU. Russian patriots were quick to declare that they "would never sell themselves for kielbasa" and that they would be able to provide enough food for the country. Lost in that patriotic cacophony were the pleas of many Russian farmers trying to explain that Russia does not manufacture its own fodder for cattle and fish, nor does it have the resources and equipment to develop local production.
Russia is now experiencing an exodus of people and capital (totaling $130 billion). According to official Rosstat numbers, in January—February 2014, more than 203 thousand Russians emigrated from the country, compared to only 186 thousand people in 2013, a year that registered a maximum outflow of people since 1999.
Fall—Winter 2014
Russia's annexation of Crimea has become a powerful unifying factor for the majority of Russians, as well as the cause of unbelievable public support for the current Russian leadership and President Putin's astronomically high approval ratings. Nevertheless, in the face of increasingly empty grocery store shelves and higher food prices, people in Russia are beginning to question whether they are paying too high a price for Crimea. The slump of the Russian ruble in the fall of 2014 caused prices to go up by 30–50 percent, and according to market analysts, this is only the beginning. Russia will soon plunge into deep banking and food crises. In the worst-case scenario, the country will have to revive its black market. Scared by the ruble's free fall, many Russian consumers have spent the last of their savings on home appliances, cars, and other goods. Major Russian retailers reported the return of record-long lines.
Russia is paying a dear price for its risky gamble in Ukraine, including economic sanctions, capital outflow, and decreasing foreign investment coupled with falling global oil prices, which have painfully jeopardized Russia's famous stability. In this new year, Russia will be heading toward a new recession. Predictably, it looks like the Kremlin is planning to resolve these issues at the expense of the Russian people. In the meantime, the largest Russian state-owned companies and banks run by Putin's associates are the recipients of a multimillion-ruble bailout from the Russian National Wealth Fund.
Russia was not the only country to see its currency depreciate. In Ukraine, the current exchange rate is 20 Ukrainian hrivnas to one dollar, whereas only a year ago, it was 8.15 hryvnas to the dollar. There is a growing sense of disappointment among those who were inspired by the Maidan victory last year and hoped to receive support from Western nations. The Ukrainian people are now exhausted by war, uncertainties, and a deepening economic crisis. There are few who call for a new Maidan-style revolution, and there are many who flee the country. It has become obvious to Ukrainians that social turmoil, devastation, and perhaps war will be their reality in the near future.
There has been no consistent approach to dealing with the conundrum of the self-proclaimed Donetsk and Luhansk People's Republics. Some specialists urge Ukraine to do away with the heavy burden of two separatist regions. Others remind people that both areas are home to Ukrainian citizens. There are those who propose uprooting the people who want to live in Ukraine in order to move them to other regions, and then building a wall along the southeastern borders with Russia to mimic the one in Israel. Occasionally, supporters of eastern partnership will hesitantly suggest a proposal that would strike a deal with Russia giving special status to the two southeastern areas in Ukraine, thus resolving any related military and financial issues. Only some inveterate optimists predict an "economic wonder" in Ukraine similar to the one in Poland.
***
Throughout its history, Ukraine has been known for its ongoing, centuries-long fight for independence. The history of Russia, on the other hand, is the history of an empire—from pre-revolutionary Russian times to the modern Soviet era—remembered for numerous conquests and territorial ambitions. In 2014, Russia continued this tradition by following the imperial ambitions of its authoritarian leader, only to find itself losing a major geopolitical battle. The Kremlin is likely not fully aware of this loss, but history has a way of putting things in the right perspective. How events unfold in Russia in 2015 will directly affect Ukraine, and vice versa. As evidenced by their shared past, both nations will forever be intertwined in the most lamentable and damnable manner.