On April 13, Russian president Vladimir Putin cleared the way for the long-postponed delivery of Russian S-300 missiles to Iran. He thus demonstrated his determination to boost Russia's economic and security ties to Tehran in the wake of a new interim deal curbing Iran's nuclear program. Donald Jensen, resident fellow at the Center for Transatlantic Relations, argues that Russia is likely to be the big loser from such a deal over the long term.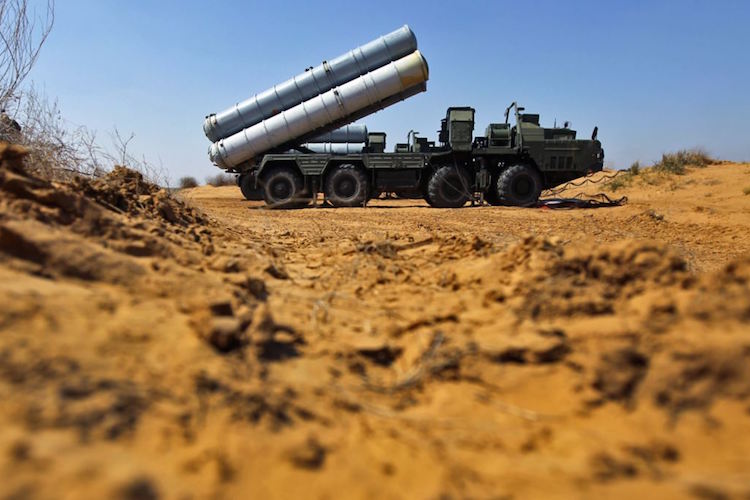 Russia's planned sale of Russian S-300 missiles to Iran was cancelled in 2010 under pressure from the West, but the recent lifting of the ban has removed a major irritant in bilateral relations between the two countries. A senior Russian official has stated that Russia has also begun supplying grain, equipment, and construction materials to Iran in exchange for crude oil—an arrangement that could eventually be worth up to $20 billion to Russia. The announcement of this deal coincided with the arrival of a high-level Iranian delegation in Moscow for a meeting of the security secretaries of the Shanghai Cooperation Organization (SCO). While Russia and China are key members of SCO, Iran has observer status and is moving toward joining, but is currently blocked by United Nations sanctions.
The announcement that Moscow would proceed with the sale of the S-300s crossed a so-called "red line" established by the Obama Administration in 2010, according to senior United States officials. At that time the White House hailed the ban as a major achievement of the now discredited "reset" in U.S.-Russian relations and as an example of President Obama's ability to rein in Russian assertiveness. After the Kremlin decision on the missiles, U.S. secretary of state John Kerry called Russian foreign minister Sergei Lavrov to object, but with little result. The White House also expressed concern about the proposed "oil for food" deal, arguing that it would undermine international sanctions (which Washington wants to remove gradually) after a final agreement on Iran's nuclear program has been reached.
As the antagonism between Iran and the United States dragged on in recent years, Moscow's policy toward Tehran followed the bifurcated pattern of much of Putin's foreign policy elsewhere. On one hand, the Kremlin tried to play an important role in international affairs—in this case in the negotiations over the fate of Iran's nuclear program—and sought to be a broker in the dispute. On the other hand, Moscow took advantage of Iran's status as a pariah in the West to strengthen bilateral ties with Iran at the expense of the West. Thus, Russia was a key trade and energy partner (and weapons supplier) to Iran, even as Moscow approved the various rounds of international sanctions.
But the contradictions between these two vectors eventually undermined Moscow's approach. Although Iran needed better ties with Moscow to offset its international isolation, it was keenly aware there were limits to Russia's help. In addition to withdrawing from the S-300 deal, for example, Russia dragged its feet on completing the Bushehr nuclear reactor and spurned the overtures of Mohammad Ahmedinejad, the Iranian leader who was ideologically close to the anti-American worldview that Putin espouses today. Many Iranian officials privately admitted they did not trust the Kremlin, according to a variety of media reports.
Moscow has tried its best to present the new interim nuclear agreement as a triumph for Kremlin diplomacy. In fact, Russia played a secondary role in the negotiations, and Foreign Minister Lavrov was not even present on the last day of talks. (One observer claimed that Russia "tried its best" to keep the Americans and Iranians apart so they would not reach an understanding.) Evidence suggests, moreover, that Russia had been preparing an intensified courtship of Iran for months due to its misgivings about the evident progress in the negotiations. Since the beginning of 2014, for example, Lavrov has met a half dozen times with his Iranian counterpart Mohammad Java Zarif.  
Although Russia still plays a major role in the Syria crisis and Iraq, elsewhere its influence is on the wane—a casualty of a weakening economy, Russia's unattractive international image, and an increasingly authoritarian course at home leading to erratic foreign policy. 
Russia's attempts to woo Iran are in part due to their common goal: limiting the political influence of the United States in Central Asia and the Middle East. Both countries want to exclude any outside (especially U.S.) presence in the Caspian Sea. Both are concerned that Islamic extremism will spread and destabilize Afghanistan and Central Asia after Coalition forces leave. And Russia and Iran are the primary supporters of the Assad regime in Syria and have taken steps to help the Baghdad government combat the Islamic State in Iraq.
Moreover, if the sanctions are indeed lifted, Russia stands to benefit significantly from Iran becoming a "normal" country. With the restrictions gone Russia might be able to strengthen its position as an arms supplier to one of the leading regional powers. Since Moscow's relations with the U.S. are strained, Russia also would be able to use closer ties with Iran to more clearly define itself as a non-Western power, solidify its relations with other regional powers, and realize its aspirations to challenge the global order.
Despite the short-term benefits for Moscow, if a final nuclear agreement is reached, the big loser over the long term will likely be Russia. Iran is apt to prefer a variety of international partners, or even lean westward rather than toward Moscow, as it puts a high priority on acquiring cutting-edge technology for the modernization of its economy as well as for trade and investment. Russia and Iran also disagree on important issues. Although they agree that external powers should be excluded from the Caspian, their views differ on how its waters and mineral resources should be used. Russia's positive relations with Israel would also be damaged if it moved closer to Tehran. Finally, and perhaps most importantly, as the Iranian oil and gas industry gets back on its feet, it is likely to be a major competitor to the Russian energy sector, putting further downward pressure on energy prices.
Negotiating a final nuclear agreement will be challenging. No official text has yet been published. The U.S., EU, and Iran disagree about the meaning of specific clauses and about when sanctions should be lifted. The agreement's verification procedures, moreover, have been widely criticized. The framework's primary enforcement mechanism, the "snapping back" of sanctions, will almost certainly be neither as clear nor as automatic as the phrase implies, in part because Moscow, seeking to protect its S-300 sales and advance its other objectives, will use its UN veto.
But changes are pressing against Russia's usual high profile in the region. Despite the many shortcomings of the interim agreement, Russia's S-300s sales mattered more when prospects for a deal on Iran's nuclear program appeared distant and the U.S. needed to maintain a credible military deterrent. Although Russia still plays a major role in the Syria crisis and Iraq, elsewhere its influence is on the wane—a casualty of a weakening economy, Russia's unattractive international image, and an increasingly authoritarian course at home leading to erratic foreign policy. "While Iran appears to be recognizing the need to reform its domestic politics," political scientist Pavel Baev has written, "Russia is turning into a massively corrupt police state and is apparently thriving in an atmosphere of confrontation." Putin is trying to keep up an image of confident statesmanship, but it is difficult to maintain such a profile when he is eager to violate international law, both in Ukraine and elsewhere.