The conflict in eastern Ukraine has been simmering for months, but speculation has risen that the Kremlin could order a major attack on Ukrainian positions in the coming weeks. Independent journalist Luke Johnson interprets the mixed signals coming from Moscow and the separatist "people's republics," finding that there may be strategic logic behind the rebels' current holding pattern.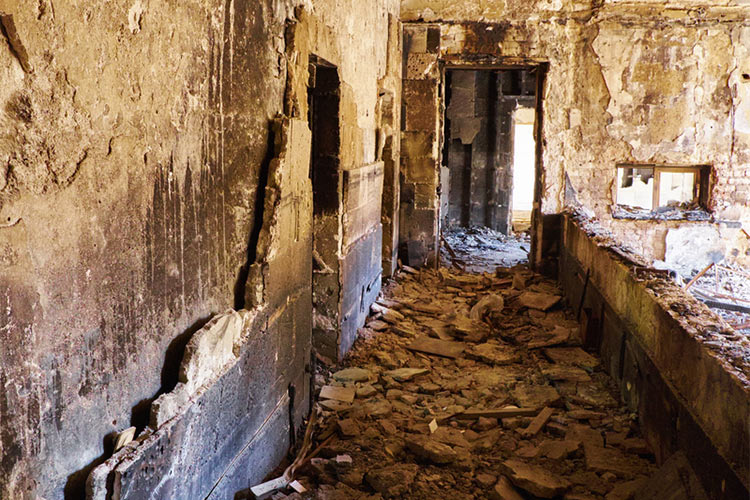 KIEV — On July 1, Russian-backed rebel forces announced their withdrawal from the empty, war-torn village of Shyrokyne on the Azov Sea, about 40 kilometers from the Russian border. The rebels called the retreat an "act of good will" and declared the heavily mined town a demilitarized zone. But the gesture seems to have been fleeting: pro-Russian forces repositioned themselves a mere 1.5 kilometers away on higher ground. On July 8, separatist leader Alexander Zakharchenko called Shyrokyne a "trap" for Ukrainian troops and said that his forces repositioned themselves at a "commanding point." Ukrainian volunteer battalions continue to hold their positions in Shyrokyne, just east of Mariupol, a symbolically important Ukrainian-held port city of over 400,000 people.
This contradictory sequence of events is in many ways a microcosm of all the recent fighting and political maneuvering in eastern Ukraine. Russia and its proxies have been intensifying their military efforts in some cases and halting them in others, not opting for either a real pullback or a dramatic escalation. A significant retreat would grant a victory to Ukraine and its Western-leaning government in Kiev, while an all-out escalation could provoke Western powers into slapping more sanctions on Russia and make Russia's involvement in Ukraine all but impossible to deny. The stakes are therefore high—Russia could suffer significantly if it chooses one or the other path outright.
As a result, the Kremlin appears to have decided that something in the middle is ideal, while it continues to use non-military means to weaken the Ukrainian regime as much as possible. It has been exactly a year since the crash of MH17, an incident in which Russian-backed rebels are strongly implicated, but neither that tragedy nor continued fighting has led Moscow to back down. The West and Ukraine have chosen not to confront Russia more aggressively either in recent months, instead allowing the Kremlin to keep the situation low-key but unstable.
This kind of managed instability—or, for Russia, the Goldilocks ("just right") principle—has been on display in recent military and political moves by Moscow and its proxies in Donetsk and Luhansk. Russian-backed separatist forces have continued to fight the Ukrainian Army and volunteer battalions in several hotspots in the East, but there have been few signs that a full-scale offensive is on the horizon. In the political arena, separatist authorities have announced their own local elections in an attempt to move the territories further away from Kiev, but without making them a part of Russia.
While the fighting has not involved much territory changing hands, it has been bloody and near-constant, despite the Minsk-2 ceasefire agreement signed in February between Ukraine and the separatists. Daily reports by the Organization for Security and Cooperation in Europe detail shelling, artillery, and weapons fire coming from both sides. According to the United Nations, at least 400 more casualties have occurred since the agreement was signed, and a July 11 report by the OSCE listed 617 cease-fire violations just in the area of the Donetsk Airport, which rebel forces took from Ukrainians in January after four-and-a-half months of heavy combat.
At least one prominent military analyst has predicted that Russia will launch an offensive this summer, arguing that July-August is the perfect time for it because Russian draftees with a year of service under their belts, including many stationed near the Ukraine border, are scheduled to demobilize in the fall. But if the Kremlin does order an attack, it appears unlikely that it would target a major city. The most obvious symbolic choice for separatists would be Mariupol, with its port, two large steel factories, and its location as a possible link to the isolated Crimean peninsula. Speculation that separatists were planning to invade the city increased when the pro-Ukrainian Dnipro-1 Battalion found what it said was a Russian military encampment north of the city in June. An assault on Mariupol would require troops and tanks far beyond what was observed at that base, however, and it would blatantly expose Russia's denied involvement in the East.
"If there was an attempt on Mariupol, [Russian President Vladimir] Putin would lose many of his soldiers," said Roman Sokolov, head of the civic organization Defense of Mariupol, in a recent interview. "You need to use airpower, possibly use the sea. If you use airpower, it's already open aggression against the territory of Ukraine, and there you will not be able to say that it's just 'rebels.'"
Ukraine is perhaps most vulnerable to Russian aggression in the areas of economy and finance. Kiev faces an economic crisis that is at least partially Russia's making: it has imposed trade sanctions on Ukraine, even while denying that they are political, and helped wage the destructive conflict in the country's east.
Putin may be willing to sacrifice Russian lives in such a battle, but first he has to convince his soldiers to fight, which is apparently becoming more of a challenge. Earlier this month, news website Gazeta.ru quoted a junior sergeant in a contract unit in southern Russia as saying that he saw people dressed in camouflage with no insignia trying to convince enlisted men to fight in the Donbass. The soldiers were offered 8,000 rubles ($142) per day to fight, according to a lawyer representing some of them, an amount that on a monthly basis would be far above the average salary in Russia of 30,620 rubles ($537). Even this pitch of impressive pay did not garner great results—some soldiers still didn't want to go, partly due to miserable field conditions. After recruiters tried to force them to "volunteer," they deserted their units. This has become a trend: there were 62 desertion cases prosecuted by a military tribunal court in southern Russia in the first half of 2015 alone, compared to 35 in all of 2010-2014.
On the political front, the so-called Donetsk and Luhansk People's Republics have announced their own local elections, moving them away from Ukraine but not necessarily joining them with Russia as Crimea has. This step came after Ukraine announced constitutional amendments on July 1 that did not include "special status" for the regions. Moscow criticized this move as not granting the republics their rightful autonomy, and the Russian-backed Donetsk and Luhansk governments said they would conduct their own elections on October 18 and November 1, sandwiching Ukraine's local elections on October 25. This week, Ukraine's parliament approved constitutional changes allowing for more self-government of the regions, but so far the separatist elections remain on schedule. Ukrainian President Petro Poroshenko said explicitly that the government would not decentralize authority more via federalization, as Russia has called for, while separatist negotiator Denis Pushilin said they would continue to demand "special rights."
Ukraine is perhaps most vulnerable to Russian aggression in the areas of economy and finance. Kiev faces an economic crisis that is at least partially Russia's making: it has imposed trade sanctions on Ukraine, even while denying that they are political, and helped wage the destructive conflict in the country's east. According to economist Anders Aslund, Ukraine has lost 16 percent of its GDP because of the conflict with Russia. He estimates that 7 percent of that loss is due to trade sanctions imposed in 2013, 3 percent from the loss in direct foreign investment because of the war, and 6 percent due to decreased output in the Donbass. Russia has distanced itself from the trade sanctions by placing responsibility on "customs authorities" and saying that it was not a decision made at the "level of government."
The Kremlin is also continuing to demand repayment of a $3 billion loan it gave Ukraine in 2013, before the EuroMaidan revolution, while ignoring the fact that the country's lower economic output limits its ability to make good. So far, Russia has successfully resisted attempts by Ukraine to have the debt restructured as part of private creditor debt, which is the focus of separate ongoing negotiations. The IMF agrees with Russia that the debt should be qualified as official rather than private, while Ukraine argues that the loan should be considered private and therefore subject to terms reached with private lenders. Western countries have so far been reluctant to give Ukraine billions more in aid, which may be needed to soften the blows delivered by Russia.
Besides the economy, and the war zones, there are starting to be other signs of instability in the country. On July 11, Ukrainian police and Right Sector nationalist forces engaged in a shootout in the sleepy western Ukrainian town of Mukacheve, providing fodder for Russia to paint Ukraine as a disorderly country with right-wing elements running amok. "Kiev just can't break up with neo-Nazis, trying to mute them. Soon it will be too late," tweeted the Kremlin's envoy for human rights, Konstantin Dolgov. Government-run TV channel RT has covered the situation heavily, starting a live blog to cover it and running an op-ed proclaiming that a "second coup" is possible.
Garry Kasparov, a longtime Russian opposition figure, argues that Moscow is using the conflict in eastern Ukraine to destabilize the rest of the country. "Putin currently continues to see Donbass as a cancerous tumor on the body of Ukraine," he said in a recent interview. "He hopes that he will succeed in somehow implanting this malignant growth into the tissue of the Ukrainian state and in influencing Ukraine, which he considers part of his imperial project."
If the Donbass is a "cancerous tumor" on the body of Ukraine, the result may not be so positive for Russia. Given that Russia's leadership sees the country as forever linked to Ukraine, the malignancy may spread to it as well. As Putin said ominously in June, "in the long run Russia and Ukraine are doomed to a common future."