On January 29, the U.S. Treasury released the so-called "Kremlin report," which includes a list of Russian officials and businesspeople who may be sanctioned under Article 241 of the Countering America's Adversaries Through Sanctions Act (CAATSA). As the Treasury underscored in its official statement, "this report is not a sanctions list." Which means it "does not impose sanctions on [the included] individuals or entities. Nor does it create any other restrictions, prohibitions, or limitations on dealings with such persons by either U.S. or foreign persons."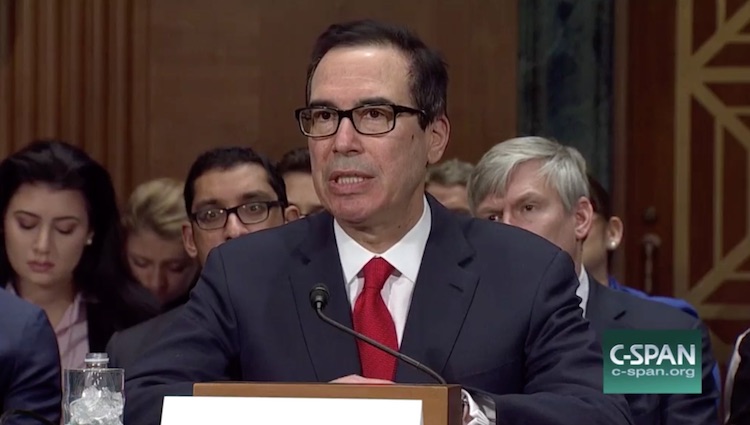 The unclassified part of the report includes 114 Russian officials and 96 businessmen whose wealth exceeds $1 billion as estimated by Forbes Russia. This is a much bigger list than what had been recommended by a number of sanctions experts, which caused a great stir among many Russia observers. Since the Treasury report is required under CAATSA, it is worth remembering that the act was signed into law last August by Congress by an overwhelming majority in response to the Trump administration's persistent refusal to address the problem of the Kremlin's interference in the 2016 U.S. elections. 
In the morning of January 30, right after the Kremlin report was released, U.S. Treasury Secretary Steven Mnuchin faced fierce criticism from senators when he showed up at the U.S. Senate Committee on Banking, Housing & Urban Affairs to testify on the country's financial stability issues.
Senator Sherrod Brown (D-OH), ranking member of the Committee, noted with sarcasm that the unclassified part of the Treasury report looks very similar to the list of the wealthiest Russians published by Forbes Russia. He also pressed Mnuchin to specify when the sanctions against the individuals on this list would be imposed. Mnuchin tried to eschew a direct answer, suggesting that the Treasury had done a "substantial amount of work" on this list, both unclassified and classified parts, and that he was willing to continue working on them together with Congress. However, Brown remained unimpressed, adding that "there is a lot of belief on both sides of the aisle <…> that this Congress and the American people don't trust the president on Russia, his closeness to Putin… Your delay, your slow walk on this just enforces this [belief]." 
Responding further to more pressuring by Senator Bob Menendez (D-NJ) on the issue of the sanctions delay, Mnuchin shed some light on the classified portion, which, in his words, is an "extremely thorough analysis" that contains "hundreds of pages." He also noted that "there will be sanctions that come out of this report."
Some members of the House of Representatives also expressed their frustration with the Treasury report. Rep. Eliot Engel (D-NY), ranking member of the House Foreign Affairs Committee, issued a statement stressing that the Trump administration "chose… to let Russia off the hook yet again." He also said that he is "fed up waiting for this Administration to protect our country and our elections. They've now shown us they won't act, so it's time for Congress to do more." As a potential action Engel proposed to work on passing the bill called "SECURE Our Democracy Act" (of which he is a co-sponsor) with the goal of going after "those who interfered in our election." 
Meanwhile, chairman of the House Foreign Affairs Committee Edward Royce (R-CA) forwarded an official letter to Secretary Mnuchin, highlighting the fact that "President Vladimir Putin relies on corruption to retain power, foster instability in the Middle East, and attempt to destabilize Western democracies—including the United States." Given the fact that some individuals included in the Treasury report have already been sanctioned, Royce requested that the Treasury clarify whether others should be sanctioned under existing U.S. sanctions, such as the Magnitsky Act.
However, as this publication went to press, the Treasury had not yet issued any further official statements.