Page 2 of 3
"All the Best—to the Children"
In early March of this year, Russian State Duma Deputy Dmitri Gudkov attended an IMR conference in Washington DC. He is one of eight lawmakers who voted in the Duma against the adoption ban. Prior to the conference, Gudkov visited a few American families who had adopted Russian orphans. We visited one of these families together.
Rob and Mitzi Whittenburg live in a typical American town with the common American name of Andover (New Jersey). They have a beautiful two-floor house with a wooden porch and a vast lawn. In 2000 and 2001, the Whittenburgs adopted two girls from Russia: first Savannah (Galina) from Magadan, and then Victoria (Natalia) from Revda, near Yekaterinburg.
Rob, the man of the household, meets us at the door and welcomes us to a vast, light-filled living room, where we are introduced to his wife Mitzi and both adopted daughters. Savannah is 13, and she looks like an average American teenager: jeans, sneakers, and a hoodie. She is slightly shy and is sitting in the corner of the couch, throwing glances around. Victoria is 12, but she is so tiny that she looks eight or nine. She has been diagnosed with autism. She is also completely deaf, but despite all her disabilities, she sits through the whole conversation without showing any fear.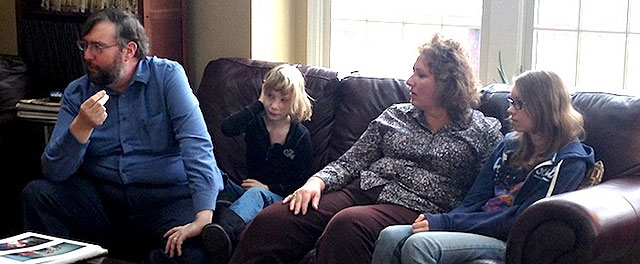 "Thank you for having us here," Gudkov says. "And thank you for taking care of our kids. We are very grateful to you."
The Whittenburgs shyly smile, pleased.
I ask them how they arrived at their decision to adopt children from Russia.
"When we realized that we cannot have our own children, we contacted an international adoption agency," recounts Rob. "They showed us a few programs, but at the time Russia had the best program. It was in 2000. We did all the paperwork, and in May of the same year we went to Magadan. And at that time they still had snow in Magadan! We come from southern states, and it was something that we'd never seen before."
"On our first trip to Russia, we spent two months there," continues Mitzi. "We stayed at a Russian family's apartment in Magadan; they shared their food with us, and we had time to visit all the museums. When we first saw Savannah, we knew immediately that this was our daughter. She was the happiest child in the orphanage; everyone just loved her. We brought all the clothes for her and some gifts. And we also met the director of the orphanage and the doctors. It was a good orphanage, and the children were well taken care of. There was nothing wrong with them—they just needed Mom and Dad. . . . At the time, we were afraid that if we left the country, they were going to give Savannah to someone else. While we were waiting for the court decision, we had to fly from Magadan to Moscow three times. But we made up our minds: I said then that I'm not going anywhere without our baby."
By the end of summer 2000, the Whittenburgs came back home with their daughter Savannah. As Rob notes, when the family came back home (at the time they lived in Minnesota), he called his mother in Texas to let her know that everything was okay. His mother was very ill then, and Rob told her that he and the family would be coming to Texas soon. As he was later told, his mom passed away the moment his plane touched the Texas ground. "She might have felt that we came and that everything was alright," Rob says, "and she left."
A year later, the Whittenburgs decided that they wanted to adopt another girl so Savannah could have a sister. The story of Victoria's adoption turned out to be quite different. By 2001, Russian adoption laws had changed, and the couple had to travel to Russia twice.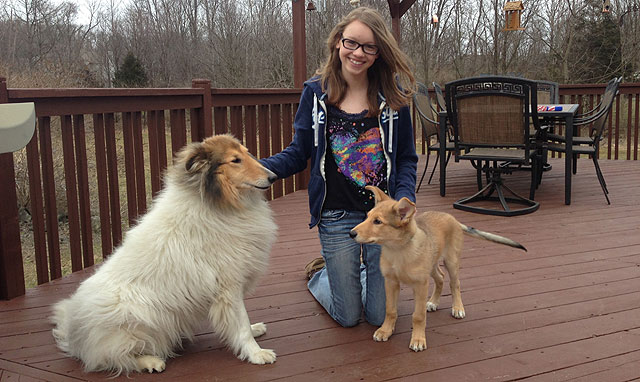 "When we went to Russia for the second time, it was right after 9/11, and we didn't know what was going on in the world, what we had to expect, and we were very worried," recollects Mitzi.
Carrying on with her story, she takes out two large scrapbooks—one is about Savannah's adoption from Magadan, and the other one is about Victoria's adoption from Revda. Photographs are interspersed with postcards and memorable trinkets like bus tickets and Russian candy wrappers.
"Savannah knows her story. So if at some point she wants to go to Russia, we've kept all this information for her."
"Initially we thought we were going to adopt another girl," says Rob, "but when we came to Revda, we found out that she had already been adopted by a Russian family. We were upset at first, but then we were shown Victoria. Something happened, and we decided to adopt her."
While we are talking, Victoria is pulling at her parents. She leans in, turns to Rob and Mitzi, claps their hands lightly, and gets kisses and hugs in return. This intimate family ritual continues during the whole conversation. At times Victoria cries out, but her anxiety is quickly relieved by the calm and kind attention of her parents.
"When we were adopting Victoria, they told us a whole list of her medical conditions," remembers Mitzi. "But we were speaking with doctors through the interpreter and couldn't understand half of those terms. When we returned home, we realized that she had serious health issues. But it didn't matter, because she was our baby and we had to deal with what she had."
According to the rules of international adoption, after an adopted Russian child leaves the country with his or her adoptive family, all records are sealed, and no one can obtain access to that information. In the case of Victoria's illness, the Whittenburgs would really like to get such information: they need her medical records, family history, or anything that could help to treat her. Since Victoria came to the United States, she has undergone about 20 surgical procedures, but the doctors have still not been able to make a full diagnosis.
"We don't know why she went deaf," Mitzi says. "At first, we knew she could hear, but after a while she just stopped. And our doctors couldn't say why it happened."
The Whittenburgs brought a lot of memorable things from Russia as reminders of their trips: a Gzelian dinner set, a children's table and chairs painted in the style of Khohloma, folk costumes for the kids, photographs, and other souvenirs.
"We don't try to hide the girls' past," says Rob. "Savannah knows her story. By the way, she has two older sisters who were also adopted by American families. We keep in touch, send them photos and Christmas cards. So if at some point she wants to go to Russia, we've kept all this information for her. It's more difficult with Victoria, because she can't hear. . . . We try to teach her sign language so she can communicate."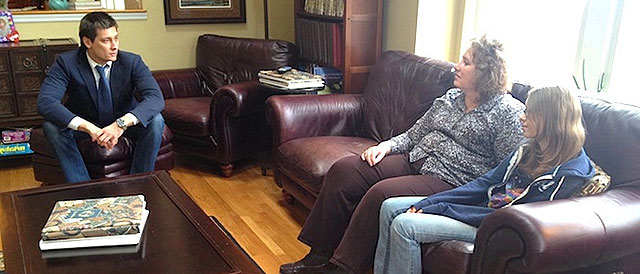 "Do you speak Russian?" Gudkov asks Savannah.
"No," she replies.
Mitzi throws her a quizzical look: "But you know that one word?"
"No." Savanna remains firm.
"Typical teenager," Mitzi smiles.
"we love these children as our own, we take care of them as our own, and we want to give them every opportunity here."
Meanwhile, Gudkov continues: "You know, I met one girl in Tambov, who was also adopted by an American family when she was two or three. She grew up in the US, went to college, learned Russian there, and then returned back to Russia. Now she teaches English."
"Awesome story," says Rob.
"Savannah?" Mitzi turns to her older daughter.
"No," the latter replies with a sly smile.
"Our girls are very different, but we try to do all the best for them, so that they have everything. Savannah, for example, is a big fan of animals—she has two dogs, a cat, and a couple of jerboas. For now, we decided to stop expanding the zoo," Mitzi laughs.
"I'd like to point out two things," says Rob, switching to a serious note. "One is that we love these children as our own, we take care of them as our own, and we want to give them every opportunity here. The other is that we are proud that they are Russian and try to preserve their legacy. I hope the Russian government will repeal this law and will let US families take care of the Russian kids."
"We'll try," Gudkov promises.
When we are saying goodbye at the door, Savannah has already gone to play with her dogs on the porch. Rob is holding Victoria, and they clap hands and Rob kisses her. Then she wants Mitzi to hold her, and they repeat the same ritual as the girl squeaks with joy.
It is impossible not to see that these children are happy and loved.