This November, Russian foreign minister Sergei Lavrov and defense minister Sergei Shoigu visited Egypt to meet their Egyptian counterparts. The holding of bilateral talks on military and technical cooperation intensified earlier speculations about the renewal of Russian military assistance to Egypt. Daria Mattis reviews the Russia–Egypt rapprochement.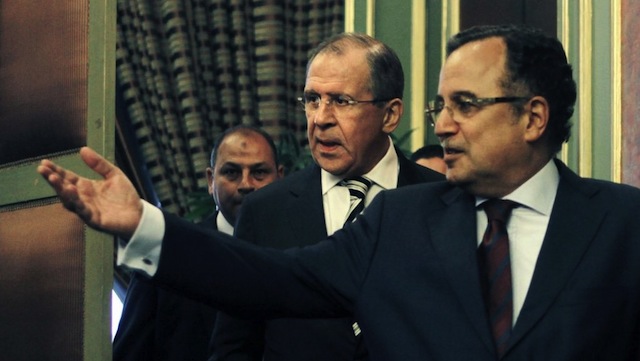 The Talks
After the July 2013 coup, in which Egypt's military overthrew Islamist president Mohamed Morsi, Egypt has been navigating turbulent waters. The country's economy has declined and remains unstable, as Egypt's relationship with the United States, which for the past three decades has been the country's strongest financial aid provider, has deteriorated. The crackdown on supporters of Morsi's Muslim Brotherhood, violent battles, and the killing of thousands of protesters in Cairo instigated the Obama administration to cut roughly one-third of its $1.3 billion in annual military aid to Egypt. The United States has also frozen the delivery of F-16 fighter jets, M1A1 Abrams tank kits, and Harpoon missiles. According to Al Jazeera, "Washington has said it would consider resuming some of the suspended aid depending on Egypt's progress in following the interim government's plans to hold elections."
Unlike the U.S. administration, which backed the Muslim Brotherhood's assumption of power in 2012, Russia abstained from any explicit support and refused to publicly criticize the debacle that brought the military back to power in July. While U.S. diplomacy is stumbling in the Middle East, Russia is carefully working to restore its reputation among Arab countries. Russian diplomats are attempting to portray their country as a reliable partner capable of resisting international pressure. In that context, Russia has certainly scored some points with its handling of the recent Syrian crisis.
In the last few years, the Arab Spring revolutions have dramatically undermined Russian military and technical cooperation with the Middle East, while Putin's support for Bashar al-Assad's regime in Syria has caused tension between Moscow and the Gulf states. Today, in consequence, Russia is particularly interested in reinforcing its relationship with Egypt, the most populous country in the Arab world. "Resetting" its relationship with Egypt could provide Russia with another opportunity to strengthen its foothold in the region.
In a diplomatic push for rapprochement with Egypt, top Russian officials—Foreign Minister Sergei Ivanov and Defense Minister Sergei Shoigu, went to Cairo this November to meet with their Egyptian counterparts, Nabil Fahmy and Colonel General Abdel Fattah el-Sisi. The high-level talks included discussion of military collaboration (including the provision of arms), and the sides agreed to hold joint military drills to counter terrorism and piracy.
According to Russian media reports, Shoigu might have also raised the possibility of Russia supplying modern weaponry to Egypt, including MiG-29 fighter planes, air defense systems, and anti-tank missiles—a package worth up to $4 billion. However, no agreement or pact on arms sales has been reached so far. Russia's supplies are contingent on Egypt's ability to finance the purchases. As Nabil Fahmy told an interviewer with RT before his official meeting with Russian diplomats, "the issue of purchasing new Russian weapons should be carefully examined."
Russia's drive to increase its presence in the Middle East is not rooted in strategic interests to increase military or economic cooperation, but is rather caused by the urgent need to divert public attention from the real problems at home.
It is noteworthy that, to some extent, Russian arms deals resumed back in the 2000s when Moscow upgraded the systems it had supplied to Egypt in the 1960s and early 1970s: the S-125 Pechora surface-to air missile system (which was upgraded to the Pechora-2M version), the Kvadrat surface-to-air missile system (which received additional missiles and some control elements from the modern Buk complex), and the self-propelled anti-aircraft Shilka weapon systems. The latter were upgraded with portable infrared surface-to-air Igla systems. Egypt also received a new medium-range Buk-M1-2 missile system and a short-range Tor-M1E system.
The total volume of military trade between Russia and Egypt is not large by world standards, but it is nonetheless significant, accounting for $1.85 billion from 2005 to 2012 (19.4% of Egypt's total military supply), second only to the U.S.–Egypt military trade, which totaled $6.87 billion (71.8%).
The Argument
Some foreign policy experts have viewed the Russia–Egypt conference as a message to the United States implying that Egypt has options besides Washington in terms of military cooperation: if Washington continues to withhold its support, Egypt can simply do business with Russia. Other commentators have claimed that Russia's revival of friendship with several Middle Eastern countries is yet another sign of its backslide into the Cold War era.
Neither argument is viable. Russia's return to the Middle East does not mean that Moscow's overtures are an attempt to oust Washington from the region—the United States will not allow Russia to take control of this strategically important area. Besides, Egypt is not strong enough to completely cut ties with Washington. As Badr Abdelatty, a spokesman for the Egyptian Foreign Ministry, emphasized after the talks, "[Egypt is] not replacing one party with another. We want to strengthen the independence of our foreign policy. We want to diversify. And Russia is a very important global power." Considering Egypt's weakened economy, there is a big question mark over the prospective import of relatively expensive Russian armaments.
As for a possible revival of the Cold War, the common argument is that Russian is by no means a superpower and, driven by its imperialist ambitions, is reaching out to the Middle East in an attempt to take on the role of mediator, thereby boosting its, inter alia, international prestige. But this policy, though allowing Russia to score some quick points, will not be successful in the long term. By allying itself with the unpopular Assad regime, Moscow has alienated the other major power players of the region—Turkey, Israel, and Saudi Arabia.
As some analysts point out, Russia's drive to increase its presence in the Middle East is not rooted in strategic interests to increase military or economic cooperation, but is rather caused by the urgent need to divert public attention from the real problems at home. Russia's role as a solid international mediator—in the Middle East and elsewhere—is a major factor in establishing the regime's credibility both at home and abroad.