On July 9, the Kremlin formally approved the appointment of John Tefft as the next U.S. ambassador to Russia. In an atmosphere of crisis between Russia and the West not seen since the end of the Cold War, Tefft faces a hard task. However, as Donald N. Jensen, resident fellow at the Center for Transatlantic Relations, argues, no ambitious new campaign to improve the U.S.-Russia relationship is on the horizon. On the contrary, the United States is likely to seek to minimize cooperation with Russia.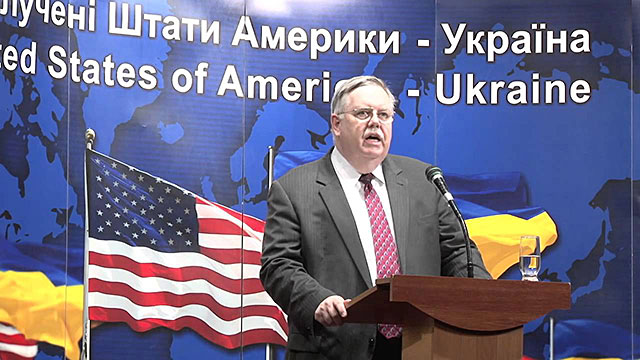 The Moscow post is one of the most prestigious in the U.S. State Department. Past luminaries who have held the position include Thomas Pickering, Averell Harriman, George Kennan (who lived in the official residence, Spaso-House, only one year), and John Quincy Adams. The inspiring but intimidating legacy of Kennan, author of the containment doctrine, the U.S. Cold War strategy regarding the Soviet Union, still looms large for U.S. diplomats serving in Moscow today, many of whom seek to craft reports that approach those of the master in elegance and lucidity.
On July 9, the Kremlin formally approved John Tefft as the new U.S. envoy to Russia. In an official announcement to the press, foreign policy advisor Yuri Ushakov noted that Tefft is a "professional diplomat" who has worked in the country before and speaks the Russian language. As of now, Tefft's appointment must be confirmed by the U.S. Senate.
Tefft, a career diplomat with more than 40 years of experience, is an expert in the challenges faced by the countries of the former Soviet Union. Between 1996 and 1999, he served as deputy chief of mission at the U.S. Embassy in Moscow and witnessed firsthand the unraveling of the Yeltsin government. He helped Lithuania prepare for its admission to NATO as ambassador to that country between 2000 and 2003. In 2004–2005, as deputy assistant secretary of state for European affairs, he oversaw U.S. relations with Russia, Ukraine, Belarus, and Moldova. As ambassador to Georgia between 2005 and 2009, Tefft worked with Mikheil Saakashvili after the Rose Revolution and guided U.S. diplomacy there during Russia's invasion in 2008. During his ambassadorship to Ukraine between 2009 and 2013, Tefft worked with the now-disgraced president Viktor Yanukovych on issues such as preparations for the association agreement between Ukraine and the European Union that Yanukovych ultimately rejected.
Tefft's arrival is likely to mark a formal break in tone and style from that of his predecessor, Michael McFaul, who is a product of academia and the world of think tanks. McFaul was the first U.S. ambassador in almost two decades to come from outside the foreign service and was an unusual envoy. Hardworking and engaging, despite continued harassment by Russian authorities, McFaul also was open and honest—qualities that endeared him to his many friends in Moscow, who frequently belonged to the liberal intelligentsia. McFaul often reminded people that he was not a professional diplomat, one of many reasons he was highly esteemed by the human rights lobby in Washington. But more traditional hands in the Russian sector of the State Department were infuriated by what they considered his glibness, his carelessness about diplomatic protocol, his habitual use of Twitter, and, according to some, his naiveté about Russia.
Tefft's arrival is likely to mark not only a formal break in tone and style from that of his predecessor, Michael McFaul, but also a change in the substance of U.S. policy toward Moscow. It intends to send the message that the Obama administration will start an ambitious new campaign to improve relations.
More significantly, the Tefft appointment marks a change in the substance of U.S. policy toward Moscow. McFaul's tenure probably was doomed from the start because of the impracticality and internal contradictions of the Obama administration's failed reset policy, which McFaul authored. Despite some successes, the reset proved much more difficult to carry out in practice than on paper. So long as Russia's civil society remained dormant, the Kremlin could afford to take lightly the reset's pledge to promote human rights. Russia focused instead on pursuing those aspects of the initiative that served its interests. After the street protests of 2011–2012, however, U.S. engagement with Russian civil society became potentially more threatening to the Kremlin. McFaul, who was by then in Moscow, thus became a convenient target.
One State Department source quoted by Kommersant stated that Tefft's selection likely is intended to send the message that the Obama administration will not seek to craft an ambitious new campaign to improve relations. During the remaining two and a half years of Obama's term, the United States will likely try to minimize cooperation with Russia.
Some Russian officials reportedly view Tefft as an anti-Russian "in your face" selection by President Obama intended to convey Washington's displeasure with Moscow's invasion of Ukraine. In Moscow's loudly anti-American circles (a large group indeed these days), Tefft has erroneously been accused of being an expert in "color revolutions" whose task in Moscow will be to foster regime change. Internet attacks on him have already been launched. In any case, during Tefft's tenure U.S. policy toward Russia is likely to be set in the White House, not in the U.S. embassy in Moscow. There were signs that this was the case even after McFaul moved to Spaso-House and the reset began to falter.
Tefft's job will be made more difficult because of the Kremlin's inconsistent approach toward the United States. In a speech to assembled Russian diplomats on July 1, Putin blasted the United States for its alleged role in the Ukrainian revolution and its efforts to "contain" Russia. He labeled U.S. sanctions against Russia attempts to "blackmail" Russia and, as in the past, criticized the "unipolar world order" led by Washington. Around the same time, a congratulatory letter written by Putin to Obama in recognition of the U.S. Independence Day called for better relations between the two countries, noting that they had a "special responsibility" to ensure global security—though on a basis of equality. In an interview with Kommersant last week, Deputy Foreign Minister Sergei Ryabkov stressed the positive achievements of the Russia-U.S. relationship during the Obama years.
The Kremlin's leitmotif at the moment, however, is unpredictability—or, more precisely, rashness, if we are to judge by its annexation of Crimea, invasion of Ukraine, and the popular fervor against invented foreign enemies whipped up by government propagandists. In such an atmosphere, the Obama administration is probably correct to make relations with Russia less of a priority, and right too to put the U.S. embassy in Moscow in the hands of an experienced problem-solver accustomed to dealing with crises, no matter how unexpected.