As the United States continues its retreat from the Middle East and Africa, Russia's increased influence in these regions is creating a new geopolitical reality. A case in point is the Russia-Africa summit held in Sochi a few weeks ago. While some experts point to the Kremlin's lack of a long-term African strategy, it is a political vector worth watching.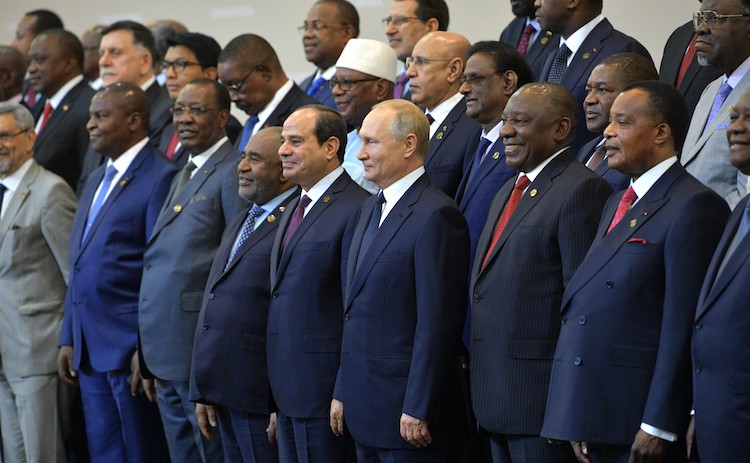 Last month, one of the largest international events in Russia—the joint Russia-Africa Summit and Economic Forum—was held in the southern resort of Sochi. Each of the 54 African countries sent a high-profile delegation, many including presidents and prime ministers. Vladimir Putin was asked by several African leaders to visit their home countries, but only accepted the invitation of Egypt's president Abdel Fattah al-Sisi (currently presiding over the African Union) to attend the Aswan Forum for Sustainable Peace and Development in December. This comes as no surprise, as Egypt is Russia's largest trade and economic partner in Africa.  
The event itself marked a month of outstanding Russian diplomatic activity. Only a few weeks ago, Putin visited Riyadh and Abu Dhabi—traditional U.S. allies in the Middle East—to negotiate lucrative energy and agriculture deals. While Russia is still a long way from forming strategic alliances on a par with those that Saudi Arabia and the Gulf States enjoy with the United States, the Russian president is in no hurry. 
Russia's overtures to Africa follow a similar pattern. In recent years, Russia has been building up its presence in the "Dark Continent"—notably, by increasing arms exports. Today, it stands as the largest arms exporter to Africa, slightly overtaking the U.S., China, and Europe. On other fronts, Russia has been trying to move into strategic industries, such as seaports and mining. Russian security companies, notably the notorious Wagner Group, operate in the Central African Republic and Congo. They were also seen during the recent uprising in Sudan, apparently trying to save the regime of Omar al-Bashir, who had signed an agreement on establishing a Russian port in this country shortly before his ouster from power.
Having lost interest in Africa after the collapse of the Soviet Union, Russia is not trying to revive its ties with friendly African regimes by playing the anti-imperialist card. As Russian Foreign Minister Sergei Lavrov noted in June at a meeting of shareholders of African Export-Import Bank, "[Russia] has never participated in colonial conquests in [Africa] or been involved in the barbaric looting of its natural resources." He also underscored the idea that Russia's relations with the continent have been "traditionally friendly, developing on the principles of equality, mutual respect, and consideration of each other's interests," and  highlighted the idea that Russia and African states are all against "unilateral sanctions, coercive measures, and trade wars" brought about by "a narrow group of states," alluding to the West.
However, according to Africa experts interviewed by Kommersant, despite an ostensibly winning political message, Russia still lacks a long-term African strategy, as well as a holistic understanding of its national interests in this region. In the African press, perceptions of the Russian strategy varied significantly, with some headlines saying: "Russia-Africa Summit features historic friendship ties: Egypt's Sisi" (Egypt's pro-government Al-Ahram); "Russia's scramble for Africa" (South African independent Daily Maverick); "Moscow woos Africa with cash and security" (Kenya's privately owned The East African).
Still, Russia's rising—and America's diminishing—influence in both Africa and the Middle East is shaping a new geopolitical agenda. Russia considers these regions its natural playground and important areas for its economic, strategic, and geopolitical interests, especially in the context of Western sanctions. The Kremlin is striving to build a new, Russia-led regional order, cultivating close relations with all relevant actors. It remains to be seen whether Russia's aspirations can breed any success considering its limited financial sources, but its activities need to be watched closely.
Ksenia Svetlova is a Senior Research Fellow at the Institute for Policy and Strategy, IDC Herzliya, and a former member of the Knesset. This article is based on a piece that originally appeared in Maariv; the English translation was revised and edited for clarity.