If Joe Biden wins this November election, his VP Kamala Harris will likely take on a substantial foreign policy role in his administration. While she lacks international experience, Harris's background and political views are good policy predictors. When it comes to Russia, she is expected to be tough on human rights violations and а staunch advocate for arms control.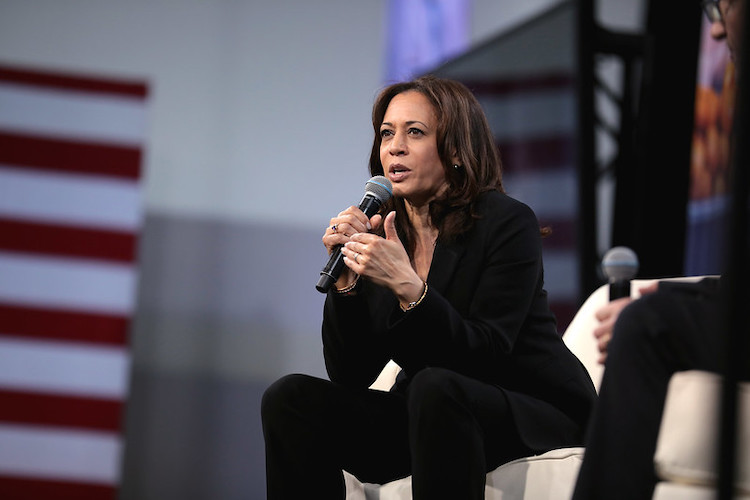 Harris can become the U.S. president in 2024
During her four years in the Senate, Kamala Harris rose to the frontlines of partisan debate over Russian interference, using her spot on the Senate Intelligence Committee to expose and verbally prosecute, although her questions were unlikely to change the outcome. Memorable back-and-forths with Attorney General Jeff Sessions and Deputy General Rod Rosenstein showcased Harris's role as a litigator in the committee's hearing on Russian interference in the 2016 election. Her power was rhetorical. In 2019, her questioning of AG William Barr's methodology in the Mueller report investigation led to multiple embarrassing revelations, including that he had done no background research to verify the report, but rather "accepted it as accurate." 
Harris also served on the Judiciary and Homeland Security Committees, but besides some significant stabs at criminal justice reform, including hesitant support for the landmark First Step Act, critics say that Senator Harris lacked a real legislative cause. Her voting record on Russia falls in line with the Democratic establishment—Congress passed laws that she supported, such as 2017's CAATSA—the Countering America's Adversaries Through Sanctions Act, which lumped together sanctions for North Korea, Iran, and Russia.
A one-term U.S. senator, Harris's record on foreign policy pales next to the considerable domestic legal and political work she has done in California. But because she will likely take on an active foreign policy role in a Biden administration, analyzing her public statements on topics like arms treaties, Ukraine, and U.S.-Russia diplomatic relations is not political navel gazing. Oftentimes, with the vice-presidential debate in the rearview mirror, the VP candidate tends to fade out of sight. But if Kamala Harris's favorability ratings remain higher than Biden's, Trump's, and Pence's, we can expect her to stay in the spotlight. 
Moreover, Biden has implied that he may voluntarily be a one-term president; if so, a Biden-backed Harris bid in 2024 could well be in the cards. Fourteen U.S. vice presidents have ascended to the presidency. Joe Biden is angling to become the 15th, and Harris could become number 16.
Harris will work to repair U.S. global standing
Like Joe Biden, Kamala Harris is perforce a liberal internationalist who can be expected to act in a similar fashion: loyal to America's longstanding foreign allies and committed to upholding international laws and treaties.
On the campaign trail, Harris and Biden have aimed to build the broadest coalition possible, using their mix of moderate backgrounds and progressive platforms to unify the left. The campaign's refrain of "honor and decency" speaks volumes about their vision for America. Harris would lead the country out of Trump-era isolation, particularly in the area of human rights. Harris's "honor and decency" would require the active development of new arms treaties, while isolation would be seen as ethically problematic—a dereliction of U.S. ideals. 
 If Donald Trump is defeated in November, Biden and Harris's top priority globally will be to regain American "dignity." This might sound like an abstract concept, but diplomacy is power wrapped in decorum. Biden will certainly aim to recapture the courtesies of U.S. diplomacy, but the disruptions made by the Trump administration, such as his dismembering of the State Department, may make this exceedingly difficult to pull off in one term. Should Harris take over after Biden, she will continue to rebuild and repair U.S. global standing.
Harris will be tough on Russia
While Harris's foreign policy experience remains limited, in a 2019 interview with the Council on Foreign Relations, she directed a few harsh statements at Vladimir Putin's Russia. Speaking about Russia's undeclared war in Ukraine, she claimed she would "stand up" to Putin and support Ukraine's territorial integrity, calling Russia's annexation of Crimea "a severe violation of international norms." Earlier, in 2018, Harris supported increased foreign aid through the National Defense Authorization Act (NDAA) to build civil society and prop up Ukraine's military. In 2019 and 2020, however, she voted against increased spending, backing the amendment to the NDAA that would have redirected 10 percent of Pentagon funding to domestic civil society programs, and, in 2020, to COVID relief: a signal that Harris will strive, perhaps struggle, to balance her response to international and national concerns
In the same CFR interview, Harris outlined other general foreign policy objectives for her would-be administration, such as working towards denuclearization in North Korea, and ending U.S. support for the war in Yemen. She has stated that the United States' ultimate objective must be complete denuclearization. In 2018, Harris signed a letter to President Trump asking him to extend New START—a nuclear arms reduction treaty with Russia due to expire in February 2021, one month after the next presidential inauguration—while criticizing his 2019 withdrawal from the Intermediate-Range Nuclear Forces (INF) Treaty. Signed in 1987 by Soviet General Secretary Mikhail Gorbachev and U.S. President Ronald Reagan, the INF Treaty constrained the development of both nuclear and conventional missiles with ranges between 500 and 5,500 kilometers. With the INF's collapse and New START's slated demise, the Trump administration's disregard for international security has alarmed even Putin, who, when Washington rejected his offer of an automatic extension, stated, "It would be extremely sad if [New START] ceased to exist and was not replaced by another fundamental document of this kind." The absence of any arms treaty between the U.S. and Russia, security experts agree, would constitute a severe threat to international security.
Harris has also lamented the U.S. withdrawal from the 2013 Iran deal, offering a glimpse of potential cooperation with Russia, one of the key supporters of the agreement. "We were in the Iran nuclear deal with friends and allies around the world," she stated in the CFR interview, "and because of Donald Trump's unilateral approach to foreign policy, coupled with his isolationism, he pulled us out and has made America less safe." Russia's ambassador to the UN, Vassily Nebenzia, concurred, calling Trump's view of the Iran deal "absurd." Viewed from this vantage point, it is logical to assume that Harris will take a much more strategic stance on the international security architecture compared to the Trump administration's disruptive, revisionist policies.
During the October 9 vice-presidential debate, Harris raised another security threat posed by Russia, one which has gone largely ignored in this election cycle. "I serve on the Intelligence Committee of the United States Senate," she said. "America's intelligence community told us Russia interfered in the election of the president of the United States in 2016 and is planning to in 2020." Indeed, both the CIA and the FBI have confirmed this, but recent memories of the fruitless "Russiagate" impeachment of Donald Trump have discouraged any serious political response to these threats besides sanctions against individual actors, and so the U.S. remains largely unprepared.
When it comes to sanctioning Russia—an arguably sensitive issue for the Kremlin—President Harris can be expected to utilize this foreign policy instrument under the Magnitsky Act and CAATSA. Evidence of further election interference and more human rights violations like those against gay men in Chechnya would certainly garner sanctions from a Harris administration.
Russia will be tough on Harris  
Kamala Harris's upbringing was shaped by social justice ideals. Her mother and father, from India and Jamaica respectively, met as human rights activists in Oakland, California. First hired as an assistant district attorney in 1998, Harris worked her way up the ladder to head the office when, in 2004, she was elected San Francisco's first black woman D.A.
As the first black woman serving as vice-president—and, potentially, president—Kamala Harris will receive intense scrutiny. In the recent past, conservative black American political figures like Colin Powell and Condoleezza Rice were respected in Russian political circles. As Biden's successor, however, Harris will find herself less well-received. She is already the target of sexist and racist commentary from the current U.S. administration. In Russia, state-owned media outlets have also sought to malign her in bluntly misogynistic and racist terms. The Kremlin's propaganda and misinformation campaigns aimed at Harris will certainly intensify if she is elected.
Putin recently criticized the Biden/Harris campaign for employing "sharp anti-Russia rhetoric." Indeed, a large aspect of Harris's foreign policy may be the sanctioning of human rights abuses in countries like China, Saudi Arabia, and Russia. While Harris's relative inexperience in foreign policy puts her at a disadvantage, her legal acumen, tendency towards international cooperation, and commitment to global human rights, would make her a thorny opponent for Vladimir Putin.
* Dante Matero is a political analyst writing about US-Russia relations, forced migration, and LGBTQ issues. He recently graduated from the Harriman Institute for Russian, Eurasian, and East European Studies. Follow him on Twitter @MateroDante