Last week, Alexei Navalny's team announced that they would focus on achieving his release not through more street protests but through international policy tools such as sanctions. While more sanctions against Russia are likely, they remain a foreign policy tool with serious limitations.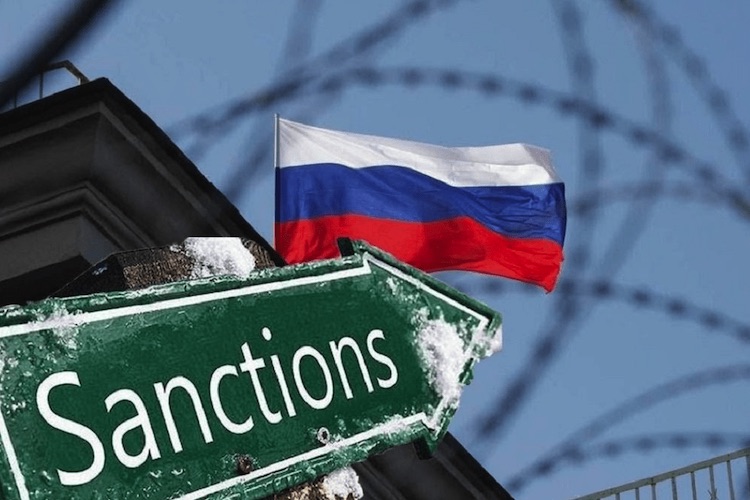 On February 4, addressing supporters on the Navalny Live YouTube channel, Navalny's top aide, Leonid Volkov, explained that further street protests would lead to thousands more arrests and the paralyzation of Alexei Navalny's regional offices. Accordingly, Navalny's team will instead focus their efforts on September's parliamentary election and work toward Navalny's release using "foreign policy methods"—meaning, first and foremost, sanctions.
Sanctions on Russia are not a new phenomenon. Since 2014, Russia has been under a complicated set of multilateral sanctions imposed in reaction to a number of events, including its invasion of Ukraine, malign cyber influence (on the 2016 U.S. presidential elections and beyond), use of chemical weapons, human rights abuses, support for the regimes in Syria and Venezuela, and trade with North Korea. In the U.S., sanctions are the result of both executive orders and legislation passed by Congress under Presidents Obama and Trump. The sanctions include measures such as asset freezes and visa bans for designated individuals, as well as economic measures targeting Russia's defense, financial, hi-tech, and energy sectors, and secondary sanctions which hinder Russia's ability to export oil and natural gas to Europe among other measures. Like the U.S., in addition to specific sanctions against individuals and entities, the European Union's sanctions target Russia's energy sector by banning the export of certain technologies, and restrict access to European capital markets for Russian banks and companies.
Navalny's team is hoping to add to this sanctions regime. In late January, after Navalny's arrest in Moscow, his Anti-Corruption Foundation sent a letter to President Joseph Biden asking for sanctions against 35 individuals connected to Navalny's persecution, to Putin's inner circle, and to major state institutions and corporations "that actively participate in oppression and corruption." There are indications from Washington, including the recent reintroduction of the Holding Russia Accountable for Malign Activities Act 2021 to Congress, that the idea has bipartisan support. Lithuanian Foreign Minister Gabrielius Landsbergis also recently confirmed that sanctions against Russia related to Navalny's arrest are on the agenda for EU countries.
Seemingly unconcerned with the international reaction, on February 5, the Kremlin decided to expel three diplomats from Germany, Poland, and Sweden for "participating" in the January 23 protests in support of Navalny. The decision was announced on the same day that Foreign Minister Sergei Lavrov was meeting the EU's High Representative for Foreign Affairs and Security Policy, Josep Borrell. Retaliatory expulsions of Russian diplomats followed the next day.
Sanctions are an attractive foreign policy tool because of their targeted nature, messaging power, and resonance with domestic audiences. Yet their actual impact is mitigated by a variety of domestic and international factors that are often overlooked in media discussions about how best to punish bad behavior by authoritarian states.
Importantly, it is very difficult to say whether sanctions "work." A lot depends on the sanctioned state rather than the severity of the sanctions. Research has shown that weakly democratic, unstable but internationally connected states are most vulnerable to sanctions. In terms of the sanctions themselves, experts have argued that ones linked to specific goals that seek to deter rather than to punish are most effective. Edward Fishman, who worked as part of the State Department team that designed the package of sanctions imposed on Russia after the invasion of Ukraine, recently suggested that those sanctions were probably successful in deterring further Russian military action in eastern Ukraine in support of Novorossiya. Personal sanctions can also substantially impact individuals. Viktor Vekselberg, owner of the Renova Group conglomerate with ties to the Kremlin, recently said that having $1.5 billion in assets frozen as a result of U.S. sanctions was a "shock" to him.
New sanctions against Russia are probable. However, sanctions alone are a blunt tool that rarely achieve a specific reversal in government policy and can contribute to domestic narratives about foreign attack and isolation.
Whatever their real economic impact, another factor to consider is how the Kremlin's reaction to any new sanctions will likely to be influenced by several social and political factors. First, sanctions feed into the established narrative of Russia as a "besieged fortress" that has been promoted by the regime in order to influence the way the Russian public views international condemnation or rebuke. Research has shown that sanctions themselves do not cause a "rally around the flag" effect, meaning that sanctions do not increase public support of the sanctioned government, but that popular actions that lead to sanctions do not lose public support due to their implementation. The annexation of Crimea remains an extremely popular foreign policy achievement domestically despite sanctions, even though experts think that the "boost" it provided to the government's popularity—called the "Crimea consensus"—has now run its course.
Second, even more sanctions imposed since the annexation of Crimea have contributed to the official narrative that Russia is unfairly targeted and blamed for domestic problems by the West. In this regard, recent media framing suggesting that the Kremlin would benefit from the January 6 attack by Trump supporters on the Capitol buildings in D.C. bolstered the Kremlin's aggrieved point of view.
Lastly, a large component making up the "besieged fortress" narrative is the belief that there is little that Russia can do to avoid sanctions or have them lifted. Former Prime Minister Dmitri Medvedev voiced this sentiment in 2019 saying "they will never remove sanctions on Russia because their policies—at least in the past 100 years—have been based on the continuous use of sanctions against our country no matter what it is called, the Soviet Union or the Russian Federation." The fact that the Jackson-Vanik Amendment, which was initially adopted in 1974 to deny normal trading partner status to Communist states that restricted emigration, was only repealed with regard to Russia in 2012 supports the Kremlin's argument that sanctions are both permanent and inevitable.
The overall impact and messaging around sanctions are also complicated by the domestic interests of sanctioning states. Over the course of the last four years, official U.S. messaging to Russia has been disjointed as a result of different approaches to the issue taken by the executive and legislative branches. President Trump repeatedly made positive overtures to the Kremlin—most notably at the Helsinki summit with Putin in 2018, where he publicly accepted Russia's denial of election interference. At the same time, Trump's administration expanded sanctions to include some of Putin's associates with sometimes serious negative consequences that forced it to reverse course. Meanwhile, Congress steadily increased pressure through legislation.
For Europe too, talk of more sanctions against Russia exposes differences in political and economic interests. The primary point of friction here is Nord Stream 2, an ambitious gas pipeline running from Russia to Germany under the Baltic Sea built by Russia's Gazprom and Germany's Wintershall and Uniper, as well as Royal Dutch Shell (Britain/the Netherlands), Engie (France), and OMV (Austria). Despite already coming under U.S. sanctions, the joint project is still underway and nearly complete. As University of Bremen researcher Michael Richter recently pointed out, Nord Stream 2 has been successfully framed by European politicians and industry—chief among them Germany—as an economic necessity to secure "safe gas for Europe." The U.S., meanwhile, views Nord Stream 2 as a geopolitical project strengthening Europe's energy dependence on Russia, although which way the dependence will increase is a matter of some debate.
Meanwhile, the Kremlin has threatened to take further action against anyone advocating for sanctions. Vyacheslav Volodin, Chairman of the State Duma, has recently argued for instituting a criminal penalty against those calling for sanctions against Russian companies or Russian citizens, comparing the action to "seeking foreign aid to destroy [Russia's] economy."
New sanctions against Russia are probable. However, sanctions alone are a blunt tool that rarely achieve a specific reversal in government policy and can contribute to domestic narratives about foreign attack and isolation. The challenge for the Biden administration and the EU is to address the Kremlin's treatment of Navalny while also making progress on other issues of mutual importance—such as arms control and nuclear nonproliferation, and making sure that any disciplinary action meted out to the Kremlin is not viewed as punishing ordinary Russians.
* Yana Gorokhovskaia is a political scientist researching civil society and local politics in Russia. From 2016 to 2019, she was a postdoctoral scholar in Russian Politics at the Harriman Institute for Russian, Eurasian, and East European Studies.