The pro-Navalny protests that swept across Russia in late January highlighted a potential coalition within the opposition movement, which is broader than Navalny's core base and shares a variety of grievances with regional specifics. A closer look at these says a lot about both the causes of the protests and the opposition's prospects in the light of the upcoming Duma election.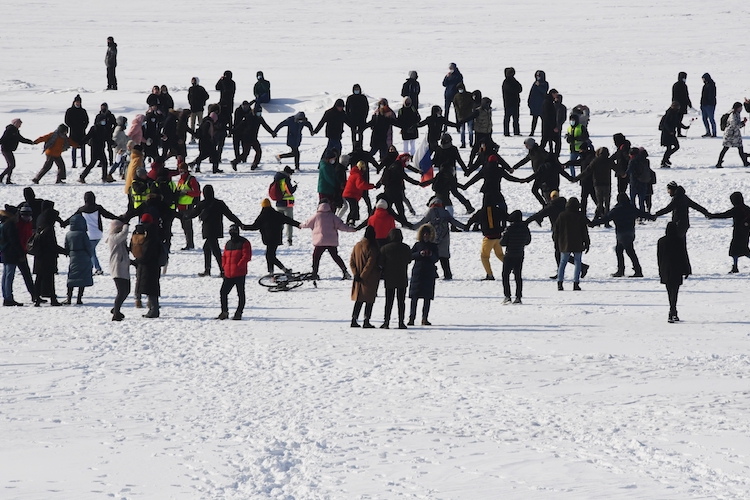 How do the January protests fit into the evolution of opposition rallies in the past decade? The first thing that comes to mind is the changing geography: while the protests in Moscow and St. Petersburg, like before, gathered larger crowds, the balance between the capitals and the regions changed. The protests were not only widespread in the regions, but also attracted unprecedented numbers of people, many of whom had not protested before. In some cities—Vladivostok, Nizhny Novgorod, Irkutsk, Yekaterinburg, Krasnodar, Tver, Barnaul, Perm, Voronezh, Ufa, Rostov-on-Don—the rallies were unexpectedly large.   
The second remarkable attribute of the protests was their apparent national agenda. While protests are not uncommon in Russian regions, in recent years they have typically been triggered by local or regional issues. Notable exceptions were the 2017 rallies against Dmitry Medvedev (but they erupted against a widely unpopular figure) and the 2018 protests against the government's pension reform, which, however, remained uncoordinated and apolitical just enough to allow Putin to put himself above the issue and act as a mediator between the protesters and the government.
The third phenomenon that surveys have since revealed is the notable gap between younger and older participants. In both Moscow and St. Petersburg, 18-35-year-olds made up the bulk of the protesters. We saw a similar gap in Levada's latest survey about opinions on Putin: the proportion of those who would like to see the president leave in (or before) 2024 was significantly higher among 18-39-year-olds than older generations. One could argue that the 2018 protests, like the January rallies, were driven by a "coalition of the fed-up," but, given this overlap, the latter were clearly more political.
Local specifics 
Protest turnout is notoriously difficult to measure. However, even in the absence of universally accepted numbers, it wasobvious that the protests on January 23 and 31 saw a record turnout in several cities across Russia. The authorities were likely also paying close attention. The number of arrests following the January 31 rallies seemed proportional to the January 23 turnout, rather than to the turnout on the actual day. 
One obvious explanation, shared by many observers, for the higher turnout across the regions is the organizing activity of local Navalny offices. In most cities that saw unexpected turnout spikes, Navalny's campaign network has an office. This effect was achieved not only through these offices' organizing power, but also the impact that they have had on local public discourse in recent years. People are more likely to participate in protests if they can reasonably expect a large number of others to join them or at least sympathize with them, regardless of whether or not they support Navalny the politician. This baseline support effect is seen as negative in the North Caucasus: even though the region has experienced various protests against local political elites over the past years (e.g. in Ingushetia and North Ossetia) and suffered particularly badly from the COVID-19 pandemic, animosity towards Navalny and the lack of a coordinating office in the wider region resulted in only sporadic protests. Meanwhile, cities with a vigorous local opposition—Irkutsk, Tomsk, and to a certain extent Novosibirsk—produced high turnouts.
Another reason is electoral campaigning. Some of the above-mentioned cities or their regions will hold local and regional-level elections together with the Duma election in September: Perm residents will vote in municipal and regional legislative elections; Barnaul, Nizhny Novgorod, and Yekaterinburg will all elect a new regional parliament. These local campaigns inevitably shake up local politics: voters are more likely to be reminded of local politicians' successes and failures, while local interests also come into play. In recent years, score-settling among federal and local elites has become more common as the ability of the Presidential Administration and United Russia to resolve intra-elite disputes has weakened. And in Russia's increasingly centralized and politicized system of KPIs (key performance indicators), little would undermine regional or local leaders' standing more than a high turnout at a pro-Navalny rally.
Then there are local triggers. In Yekaterinburg, the protests coincided with the election, by local deputies, of a new mayor, Alexei Orlov, which served as a reminder of the city's indignation over the abolition of direct mayoral elections in 2018. Back then, this decision forced Yevgeny Roizman, the city's popular former mayor, to resign. In January, he marched with the protesters.
Both Yekaterinburg and Perm had seen various smaller protests over local issues in the past years. The Perm Territory also experienced a particularly nasty COVID-19 outbreak, which raised death figures by more than 38 percent between April and December 2020 against the previous year. The Altai Territory, where Barnaul is the capital, fared even worse, with an excess death rate of a staggering 46.8 percent and a series of horrific stories about the inability of the local healthcare system to contain the pandemic. Such stories made headlines in Rostov, too. In Krasnodar, protesters were heard shouting the name of the territory's governor, Veniamin Kondratyev, demanding that he come out and meet them.
In Vladivostok, the protests coincided with a fuel shortage gripping the Maritime Region and the adjacent Khabarovsk Territory. People in both regions have expressed growing animosity towards Moscow and the federal government in recent years. Remarkably, though, Khabarovsk residents did not turn out in large numbers to protest in January. This may be the consequence of protest fatigue following months of continuous (and ultimately unsuccessful) protests in 2020 over the arrest of the territory's governor, Sergei Furgal. That said, to Khabarovsk residents, Furgal, who has local roots, might be a more inspiring figure than Navalny, another Muscovite. In contrast, Yoshkar-Ola, the Republic of Mari El's capital, which has suffered from a combination of economic problems and a dispute over the rights of the indigenous Mari people, saw hundreds of people take to the streets, even though Navalny's campaign does not have an office in the region.
City air makes you miserable
Lastly, cities with a remarkably high turnout were more or less alike: mostly mid-sized, with 600,000 to 1.3 million inhabitants, capitals of non-oil-producing regions reliant on services or, in certain cases, industries such as metallurgy or machine-building. These cities are visibly affected by the pandemic year that has led to a further drop in Russians' real incomes, which are now below 2013 levels. Unemployment grew by a quarter over 2019, dampening the mood enough so that more Russians are expected to protest over social and political issues than at any time since 1998, even as they express less willingness to protest themselves.
But these economic troubles have not affected all regions and cities in the same way. While the contrast in the pandemic's effect on healthcare was most visible between Moscow and poorer regions, economically the pandemic disproportionately affected cities that rely either on services (dominated by small and medium-sized enterprises) or on industries that faced a steep drop in demand, and where the share of the shadow economy is quite large. In contrast, in oil and gas producing regions, economic activity and earnings picked up the pace considerably in the second half of the year, and in regions dominated by state-owned companies, wages were kept high, as shown in a report by the Liberal Mission Foundation. 
Price growth has also impacted regions and populations differently. As a result of better tax collection and fiscal prudence at the federal level, the ruble exchange rate depends significantly less on global oil prices: the Russian currency settled on a weaker rate against the US dollar even as oil prices rose in the second half of 2020. This, again, benefits the oil industry, which yields higher earnings in rubles, and the federal budget, which collects taxes on these earnings; but it makes imports more expensive both for consumers and industries that rely on them. City dwellers who earn their incomes in rubles are most likely to be impacted by these factors and to ramp up debt, which ballooned in 2020. This year, Russia's Central Bank expects it to continue growing faster than incomes.
In fact, several of the regions that experienced the steepest drop in real incomes during the pandemic—the Voronezh, Tver and Sverdlovsk regions, the Perm Territory, and the Republic of Bashkortostan—ended up with unexpectedly high protest turnouts in their respective capitals. The correlation with official unemployment figures (which do not include hidden unemployment) seems to be weaker. However, the level of employment dropped by more than 9 percent in Mari El and more than 7 percent in the Altai Territory; nationwide, new unemployment disproportionately affected young people.
Whack-a-stroll
These problems will not go away. The authorities may continue arresting Navalny's local coordinators—as they have been doing for weeks—but it is unlikely that they can undo the work of these offices among local populations. The success of "smart voting" needs a coalition of voters, not parties; it needs people to talk to each other, not necessarily to protest. Protests in the regions may be more likely to erupt over local issues, but as long as the Kremlin is unwilling to lend regional governments and citizens more political and fiscal autonomy over their own matters, local issues can easily affect people's views on the federal government. And as long as the federal government is unwilling to loosen the purse strings and provide meaningful income support instead of the supply-side stimulus that it has preferred so far, social discontent, disproportionately affecting cities and young people, will remain the dry vegetation for a Big Injustice, such as a blatantly illegitimate election, which may turn into a wildfire.
It seems that the government would rather manage these problems than resolve them. The government's new coordination centre, as Nick Birman-Trickett, an economist and risk analyst, pointed out, looks like an attempt to build a powerful, but reactive institution that can throw money at specific problems without systemic reforms. Save for renegade (typically but not always young) Russian Communist Party figures, the systemic opposition seems to have been tasked with capturing that part of the "fed-up" who are wary of Navalny or are not against Putin. The New People party, in particular, has been aggressively building a regional network and unearthed several sore issues—such as the lack of direct mayoral elections or unfair distribution of tax receipts between regions and the federal government—but explicitly ruled out attacking Putin.
Only six months remain until the Duma election that will decide if this is enough.