The Anti-Corruption Foundation (FBK), and other organizations established by opposition politician Alexei Navalny, have recently fallen victim to attacks by the Russian government and will no doubt be recognized as extremist*. The Putin regime has been using anti-extremism legislation against its opponents—ranging from religious organizations to journalists—for years. The latest attack, however, could affect thousands of Navalny's supporters.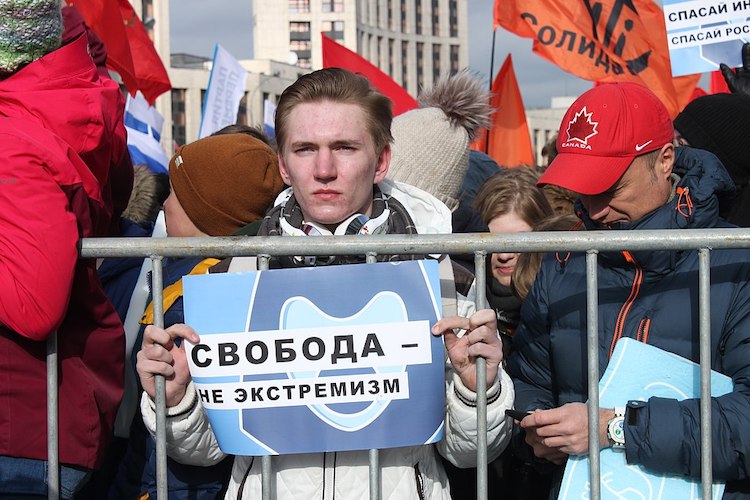 "Misuse of anti-extremism"
The way Russia's current regime understands extremism has been twisted, as has recently been illustrated by the fact that Hezbollah, whose official mission is to destroy the State of Israel, has not been recognized as an extremist organization in Russia, while Jehovah's Witnesses have long been persecuted as extremists despite their practicing of peaceful worship.
Unfortunately, hatred against groups of people because of their color, race, nationality, or sexual orientation can be found anywhere in the world, but different countries deal with it in very different ways. Unlike Russia, the concept of "extremism" is absent from U.S. laws, and actions that might be considered "extremist" fall under the definition of "hate crimes." The differences go further, helping to preclude prosecution for one's views: as long as a person only expresses an opinion, which does not pose an imminent danger to the public, that person cannot be punished under U.S. law. In other words, to be accused of a hate crime, a person must commit an actual crime in the first place.
Russia takes a different approach: its 2002 federal law "On Countering Extremist Activity" lists actions that are deemed extremist by default, whether they are dangerous to the public order or not. It must be emphasized that this includes both violent and nonviolent actions. Some examples are: forcible change of the foundations of the constitutional system and violation of the integrity of the Russian Federation; propaganda and public demonstration of Nazi attributes or symbols; violation of rights, liberties, and legitimate interests of an individual because of his/her social, racial, ethnic, religious, or linguistic identity or attitude toward religion; public justification of terrorism and other terrorist activity.
The law also includes other, quite ambiguous definitions of extremism related to incitement of social, racial, ethnic, or religious discord. Even if Russia's judiciary were solid and independent, the law's vague wording would cause significant difficulties in its implementation. But that is not the case: courts are controlled by the executive power, while the problem of vague definitions is exacerbated by selective law enforcement, making the law a useful tool for the regime to ensure a desirable outcome.
The SOVA analytical and information center, which has studied combating extremism in Russia for many years, came up with the term "misuse of anti-extremism" to describe the situation. This concept describes the government's practice of using anti-extremism measures as a decoy to cover up its violation of civil liberties and punish dissent or anyone who tries to escape official control.
Targeting Jehovah's Witnesses
In 2017, Russia's Supreme Court banned Jehovah's Witnesses as an extremist organization and prohibited its activities in the country, affecting about 100,000 of its worshippers and violating their religious rights. The decision came as no surprise, as regional branches of this organization had been persecuted for alleged extremism for years.
In September 2009, in its ruling regarding the alleged extremism of Jehovah's Witnesses, a Rostov regional court repeatedly referred to the organization's "statements that demean human dignity based on attitude toward religion" and "elements of propaganda about the exclusivity of one religion over another," which, in the court's opinion, "indicated the presence of signs of inciting religious hatred." This is just one example of the way the anti-extremism legislation's vagueness is used to target an organization viewed as undesirable by the Russian authorities. According to human rights activists, the key reason for the persecution of Jehovah's Witnesses is so the siloviki can improve their crime-solving rates—an easy score at the expense of the religion's members.
But what is the reasoning behind these inconcrete formulations? Say that, referring to the religious practice of Jehovah's Witnesses, the court found extremism in their beliefs that true Christians do not worship icons and crosses and do not celebrate Christmas. But what is extremist about it? A Muslim could say that Christianity is a false religion and that it is wrong to worship icons and crosses and to celebrate Christmas. Does this mean practicing Islam should be recognized as extremist? Viewing your faith as true and others' as false is normal for believers, but it is ridiculous for the government to recognize differences in religious practices as extremist.
The court also pointed out that religious scriptures of Jehovah's Witnesses contained negative attitudes toward various elements of traditional Christianity. Again, a negative attitude toward other forms of Christianity does not in itself constitute extremism. Following this logic, any atheist or agnostic should also be recognized as an extremist. Additionally, the Russian law on freedom of conscience and religious association establishes "a special role of the Orthodox Church in the history of Russia," thus recognizing its supremacy over other religions. Isn't that a demonstration of a negative attitude toward the latter?
Another example is the same 2009 Rostov region court's misuse of anti-extremism when it identified extremism and calls for civil disobedience in Jehovah's Witnesses' assertion that "Jesus did not allow the substitution of God's law with human traditions." The court also accepted as evidence of extremism alleged victims' testimonies stating that the organization's publications and their manner of distribution offended the religious beliefs of Orthodox Christians. The court attributed the different faiths of the spouses involved in the case, and the ensuing impact on their family relations, to the extremism expounded by Jehovah's Witnesses. The husband's (the alleged victim's) complaints, considered by the court in all seriousness, included the fact that his wife spent time preaching faith to the neighbors instead of cooking, cleaning, and ironing.
Based on this evidence, the court recognized the Taganrog branch of Jehovah's Witnesses and 34 pieces of religious literature as extremist in 2009. In 2017, based on similar decisions in several regions of Russia, the Supreme Court declared the whole Jehovah's Witnesses organization an extremist one and banned it.
How are Jehovah's Witnesses doing now? Belonging to an extremist organization is severely punished in Russia, carrying a penalty of two to six years in prison. Russia's Criminal Code regards Jehovah's Witnesses' preaching—an integral part of their religious practice—as "persuading, recruiting or otherwise involving a person in the activities of an extremist organization" (a separate crime), which could result in four to eight years in prison. Following the Supreme Court's 2017 decision to ban the organization, about 500 of its members were accused of extremist activities simply for belonging to it. More than 250 are currently in jail.
Targeting the regime's critics
Expressing an unfavorable view of the government is increasingly regarded as extremism as well. This approach is clearly seen in the 2020 case of the Pskov journalist Svetlana Prokopyeva. Writing about a Russian teenager who blew himself up in the FSB building in Arkhangelsk, Prokopyeva blamed the tragedy on a government policy. The court interpreted her criticisms as an attempt to justify terrorism and found her guilty. Prokopyeva is on the official list of "terrorists and extremists" maintained by the Federal Financial Monitoring Service (Rosfinmonitoring), which is responsible for combating money laundering and terrorist financing.
The fate of being recognized as extremist awaits jailed opposition leader Alexei Navalny's organizations. The FBK has increasingly threatened the regime by exposing corruption, while the network of Navalny's regional offices was forging political cadres for the opposition. The Russian state has consistently targeted Navalny's structures and their employees. But this year, following Navalny's arrest, a top-level decision was clearly made to expand the attack to his supporters.
In April, Moscow's prosecutor's office asked the Moscow City Court to recognize the FBK and Navalny's campaign offices as extremist without fully identifying the grounds for the claim—reference is made to classified materials that allegedly contain evidence. The prosecutors argue that "under the guise of liberal slogans," the FBK tried to "alter the foundations of [Russia's] constitutional order, including through a 'color revolution' scenario." There is little doubt that the court will do whatever the prosecutor's office asks. 
The accusations might sound ironic: the FBK investigated corruption and thus threatened the foundations of the country's constitutional order. But the irony is lost on anyone who supported Navalny's organizations, whether by donations or through volunteering. Should these structures be declared extremist, their activities will be recognized as illegal, and thousands of people could face criminal charges for financing extremism.
The regime did not stop there: a bill has been recently introduced to retroactively ban employees, volunteers, and donors of extremist organizations from running in elections. The most disgusting part of the bill is that, even though Article 54 of the Russian Constitution prohibits any law establishing liability from being applied retroactively, the bill will still be adopted. And the Constitutional Court, hiding behind the proclaimed fight against extremism, will find a way to explain the legality of once again undercutting citizens' rights.
* Updated: On June 9, 2021, a Moscow court did recognize Navalny's organizations as extremist.
Igor Slabykh is a lawyer and manager with eighteen years of experience in Russia and the U.S.; he holds a law degree from the Moscow State Open University and an LLM from the George Washington University Law School.