The recent meeting between presidents Vladimir Putin and Alexander Lukashenko prompted familiar discussions on the possibility of Belarus being absorbed by Russia. While a full integration is too expensive for the Kremlin, Moscow exerts a lot of pressure on Belarus similarly to the way it does in Russian regions, and in the past years Minsk's dependence on Russia has increased. Yet, there are pitfalls to this approach.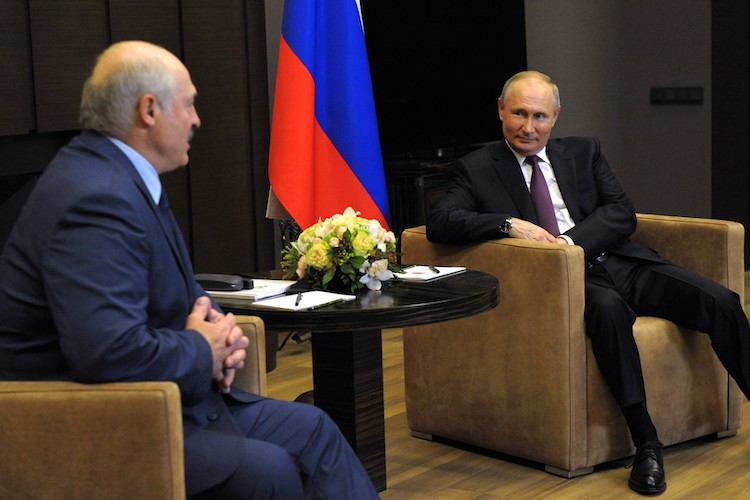 "Minskaya Oblast"?
Vladimir Putin hosted Alexander Lukashenko in his Sochi residence on May 28, only five days after Belarusian authorities grounded a passenger plane to seize an opposition journalist in a highly controversial incident that European leaders have called "state hijacking." The two presidents reportedly spoke for five hours, but little was revealed about their conversation. It is known that Moscow agreed to release $500 million as the second tranche of a $1.5 billion  loan Russia offered to Belarus last year, and to help out struggling Belavia (Belarusian Airlines), while Minsk agreed to launch flights to Crimea, de facto recognizing it as part of Russia. But for the public eye, the key outcome seems to be a bizarre photo-op clearly signaling to the world that Putin considers attacks against Lukashenko—a person whom he, by many accounts, does not like one bit—personal.
Days after the meeting, Vladimir Makei, Belarus' minister of foreign affairs, gave an interview to Kommersant, in which he laid out where Russia and Belarus stand on the roadmap of the integration of the two countries—a process that began back in 1999 under Boris Yeltsin. With the integration dragging for over two decades, it comes as no surprise that the May 28 Putin-Lukashenko summit brought no major breakthroughs. Two key milestones on the roadmap—harmonization of customs and tax legislation, as well as the merger of the Belarusian and Russian energy market—still hang in the balance. The sticking point is timing: Lukashenko wants lower energy prices first, in exchange for giving up control over taxes later. Putin wants to do it the other way around. As for largely symbolic but politically complicated issues, such as introduction of a single currency or voting rights in each other's elections, they are not even on the table, according to Makei. 
When Lukashenko and Putin meet, there is usually speculation that this time, Russia will finally "swallow up" Belarus, turning it into another Russian region. Today, unlike two years ago, when integration was thought to be more realistic, expectations have been more reserved. It is understandable. Even beyond the differences in Russians' perceptions of Crimea and Belarus, it was last year's uprising over the rigged presidential elections in Belarus that underscored potential risks for Russia if it tries to integrate (or pacify) Belarus, such as international sanctions and domestic discontent over foreign adventurism.
A costly ally
These risks dwarf all other problems associated with unification, but the latter still play a role. While differences in the tax rates and fiscal structures of the two countries make it difficult to estimate properly, Belarus would likely end up being subsidized from Russia's federal budget, simply because redistribution of the oil and gas rent is the core mechanism of Russia's budgetary system, and Belarus has almost none of those. 
Belarus' GDP per capita roughly corresponds to that of a middling Russian region (e.g., Bashkortostan or the Chelyabinsk Region), while Crimea levels with Russia's poorest regions, even with subsidies from the federal budget. (According to the official interpretation, "heavily subsidized" regions are those where government grants amount to more than 40 percent of the region's own income.) Unlike in Crimea, average pensions in Russia and Belarus are roughly at the same level, as are wages for public servants (although Belarusian teachers and doctors make significantly less than their Russian counterparts). The bottom line is that absorbing Belarus would not be crippling for Russia but would still be very costly, with few clear benefits for the Kremlin.
In fact, Russia already heavily subsidizes Belarus. In January, Novaya Gazeta estimated that out of the $109 billion that Belarus received from Russia over the past two decades in total subsidies, energy subsidies made up $100 billion. According to Mikhail Babich, former Russian ambassador to Minsk, the annual average was about $5–$6 billion. The International Monetary Fund estimated the annual average even higher—roughly $9.7 billion from 2005 to 2015.
The latter number is slightly larger than the total sum of grants that the Russian federal budget transferred to all regional budgets in 2019, and roughly equal to 60 percent of the consolidated budget of Belarus, which includes municipal budgets. But even if we take the more conservative estimate of $2–$3 billion a year (keeping in mind that Russia has tightened its purse strings in recent years), it would still be close to one-fifth of Belarus' total budgetary income. On top of this, Minsk's debt to Russia amounts to more than $8 billion, making the latter by far its largest creditor. And since last year's falsified presidential election, Lukashenko has hardly had anyone else to turn to in order to refinance this debt. 
Russia has also been the biggest investor in Belarus, with an estimated weight of more than 50 or, possibly, 60 percent, if one counts investments through shell companies registered in other jurisdictions (e.g., Cyprus). Belarus' statistics office estimated that Russian investment totalled $2.87 billion in 2019 alone, and this did not include the banking sector, where Russian investors are also present.
These overt and covert subsidies and grants cannot be directly compared to one another. What is counted as "subsidies" towards Russian regions are mainly budgetary transfers, therefore if Belarus indeed were a Russian region, it would not only pay Russia's domestic prices for oil and gas but also would lose control over its export of oil products. Also, the Belarusian state and municipalities divide budgetary incomes and expenses differently from Russia's municipalities, regions, and federal state.
Tightropes and shoestrings
Still, just as the Russian federal government has leverage over its regions due to their increasing financial dependence on Moscow—be it through budgetary loans, grants, subsidies, subventions, or investment aid—Russia's unique position as virtually the only country subsidizing, lending to, and investing in Belarus allows the Kremlin to exert pressure on it similarly to the way it does in Russian regions. 
The Kremlin, for instance, now provides Lukashenko with additional support that regional leaders in Russia would get to strengthen their position in the power system—state media and security services. RT journalists propped up the Belarusian public broadcaster following the August 2020 protests, and Russia's National Guard increased its presence in the country. In June 2021, at a meeting in Vitebsk, head of the Belarusian KGB Ivan Tertel and head of Russia's Foreign Intelligence Service Sergei Naryshkin agreed to broaden cooperation between the two countries' special services. Russian security and intelligence agencies had likely had extensive presence in the country even before August 2020, but it has clearly ramped up since, as Lukashenko is forced to increasingly rely on the security establishment.   
As usual, there are caveats. First, precisely because Belarus is unlikely to become a Russian region, the Kremlin's ability to exert pressure on Belarus depends on the peculiar circumstances of Lukashenko's self-inflicted isolation, which has not yet put an unacceptable toll on Russia's budget. Should this balance shift, problems will emerge. If Lukashenko is ousted, Belarus will have more freedom in terms of its foreign and finance policies, which may not sit well with the Kremlin. If backing up Lukashenko becomes more expensive, the Kremlin might abandon him, if not the policies. Potential sectoral sanctions on the Belarusian economy, for instance, could raise the costs for Russia's present policy toward Belarus. If parts of Belarus' exports to the EU, which made up $8.5 billion in 2020, are shut down, Russia will have to pick up the tab, even if it involves lapping up Belarusian assets at a discount price.
The second caveat is the similarities between Russian and Belarus at the society level. Russian citizens follow the protests in Belarus and reflect on them the same way they would on protests in Russian regions. Even if this does not translate into an overwhelming sympathy for Belarusian protesters, Russians are affected by these developments. Just as the organizers of environmental protests in Russian regions learned from each other, last year's protesters in Khabarovsk and other cities expressed solidarity with their counterparts in Belarus.
As the September Duma elections approach, concerns about a potential protest contagion, as well as cost calculations, will inform the Kremlin's policy on Belarus, and it is difficult to tell which worry will weigh heavier.