On September 20, University College London's School of Slavonic and East European Studies (UCL SSEES) hosted the first academic book launch for Navalny: Putin's Nemesis, Russia's Future? co-authored by Dr. Jan Matti Dollbaum, Morvan Lallouet, and Dr. Ben Noble, and published by Hurst and Oxford University Press. The three authors discussed the book with Professor Gulnaz Sharafutdinova of King's College London, delving into the authors' endeavor to understand who exactly Alexei Navalny is and how his activities and the Kremlin's strategies have shaped one another.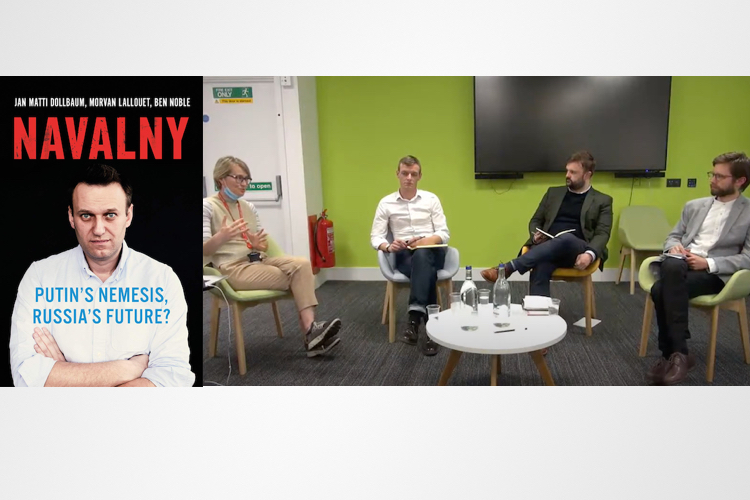 Read IMR's recap of PONARS Eurasia's discussion of the latest Russia scholarship here: New books offer insights into power, narratives, and opposition in Putin's Russia 
The many questions of Navalny 
Morvan Lallouet, a Ph.D. student researching Navalny at the University of Kent, emphasized the book's core question:who is Navalny? The global media converged on Navalny's story just one year ago after his August 2020 poisoning and transport to Germany for treatment. When he returned to Russia in January 2021, his detention and subsequent imprisonment made him an international symbol of opposition and an anti-Putin hero. 
Navalny's return took place against the backdrop of strongly polarized opinions about him in Russia. While the Western media portray him as the hero fighting Putin, many Russians disagree on who he is and what he stands for. Some critics, many attached to the Kremlin, such as the state-funded media outlet RT, have pointed out that he might get "canceled" in the West for certain anti-immigrant and racist stances. Lallouet says the book finds that these claims are not totally false, which, without deference to RT, adds context for a Western audience. 
Dr. Ben Noble, assistant professor of Russian Politics at UCL SSEES, underscored the complexity of the Navanly figure, citing the example of Amnesty International's designation of Navalny as a prisoner of conscience, which was consequently revoked over concerns that some of his earlier public statements had incited violence. It was eventually reinstated. 
These issues boil down to the question du jour: in the face of this polarization, is Navalny's significance overestimated? Or, simply put: will he beat Putin tomorrow? The authors believe that no, he won't. But this doesn't mean, as the Kremlin claims, that Navalny is just a "blogger" not worthy of a media audience. 
To get to the core of why Navalny is such a difficult figure to pin down, the book organizes his public life into three strands: Navalny the anti-corruption investigator, Navalny the politician, and Navalny the protest leader.   
First, the book looks at Navalny, the anti-corruption investigator. A longtime blogger with a focus on anti-corruption investigations, which have greatly resonated with the Russian people, Navalny realized that this activity could be political and started working with volunteers of all political stripes eager to unite around the idea of a democratic Russia, with the rule of law and without corruption. 
Here the next strand emerges: Navalny, the politician. As a political figure, Navalny has been inconsistent in his messaging, which poses the question: is he opportunistic? According to Noble, the discrepancies in Navalny's views instead show his willingness to support many approaches to opposition.  
To illustrate the approach to opposition he is best known for, Dr. Jan Matti Dollbaum, a postdoc at the University of Bremen researching contentious politics and social movements in Eastern and Western Europe, continued with the third strand: Navalny, the protest leader. This strand of Navalny's public life only emerged ten years ago, when Russia underwent a series of mass protests and he began to incorporate protest into his political project. Looking at "the man, the movement and his team," the book argues that Navalny specifically used protests to build a political base. 
Navalny and the future of Russia 
When Sharafutdinova asked if Navalny's post-poisoning and post-return imprisonment, in a way, creates barriers to revolutionary shifts in Russia, Dollbaum responded that recent events won't change Navalny's approach, strategy-wise. According to the book, Navalny thinks Russians wouldn't support more radical attempts to subvert or overthrow the system. He has generally avoided resorting to extreme measures in his political work. 
Dollbaum believes Navalny chose the realistic option—to capitalize on "fractures" in the system by using new media and independent media to exploit these tiny openings. According to Lallouet, Navalny thought he could trigger a confrontation between the masses and the elites by exploiting popular anger. Essentially, he managed to force the Kremlin to react and increasingly resort to using brutal force.
Noble added that by now, Russian people are desensitized to corruption (which can be seen in the Levada Center polls on Navalny's "Putin's Palace" documentary), but rising prices could serve as a common grievance and vocalize people again.  
Can the book's insights be used to understand Russia better? Dollbaum argued that understanding the Kremlin's current game would be difficult without understanding Navalny's movements, and vice versa. As Sharafutdinova concluded, the questions that the three authors ask about Navalny are important, and the answers are not one-dimensional. More research into the complex nature of Navalny's past will help make sense of Russia's ongoing situation and the role of the opposition. 
 * Liya Wizevich is a leadership team member at the Stanford U.S.-Russia Forum. She holds B.A. in Russian and East European Studies from the University of Pennsylvania and M.Phil. in History from the University of Cambridge.