Vladimir Putin's public approval rating reached 80 percent in March 2014 and has remained at this abnormally high level for almost a year, despite deterioration of the country's economic and social situation. Levada Center sociologist Denis Volkov explains the underlying reasons for this phenomenal degree of support for the Russian president.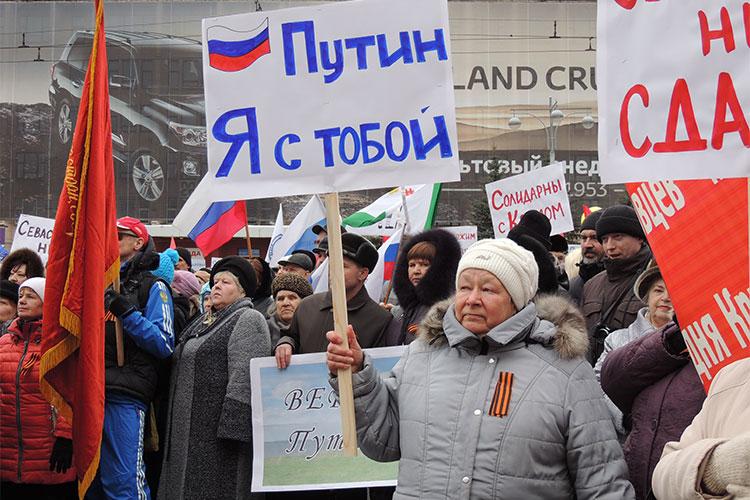 A year ago, many thought that the Russian political regime had entered a deadlock. In the five years since the end of 2008, Vladimir Putin had lost one-third of his supporters. But then this long decline was followed by a dramatic hike in the president's popularity and approval ratings. First, from January to February 2014, the presidential approval rating increased from 65 percent to 69 percent. Immediately after the annexation of Crimea, that rating jumped to 80 percent, increasing to 86 percent in June and finally reaching a record high of 88 percent in October. Similarly, in January 2014, only 29 percent of Russians declared their willingness to vote for Putin in the presidential elections, but by November, that number had reached 53 percent. There were also concomitant increases in public approval of most state institutions during this time.
All of these shifts occurred within the context of a deteriorating economy, rising prices, and a devaluated ruble. Support for Putin has remained at an abnormally high level for several months already. This indicates that the state has established new "emergency" mechanisms for manufacturing consent, in addition to those that already existed, such as monopolizing television coverage, discrediting the opposition, and denying opposition candidates access to elections. Analysis of these new mechanisms requires a comparison of the current situation to several periods over the past 15 years during which the president's approval rating reached a similarly high level.
The first peak in Putin's popularity occurred at the beginning of his political career, when he became Boris Yeltsin's "successor." Public approval of his performance as prime minister rose from 31 percent in August 1999 to 80 percent in November of the same year. This rise followed his harsh reaction to the terrorist bombings of apartment blocks in Moscow, Buynaksk, and Volgodonsk and the subsequent "counterterrorist operation in the North Caucasus" (also known as the Second Chechen War). Two months later, in January 2000, Putin's approval rating reached 84 percent, allowing him to win the presidential elections in the first round of voting that March.
The second peak in Putin's popularity—a spike to 86 percent—occurred in January 2003 in the midst of his election campaign. It should be mentioned that between 1993 and 2014, every presidential election in Russia took place four months after the parliamentary elections. After every parliamentary election, the government raised state employees' pensions and salaries and launched a large-scale propaganda campaign in the media.
The third peak in Putin's popularity, when his approval rating averaged between 86 and 87 percent, occurred between December 2007 and April 2008. Around this time, Putin endorsed his presidential "successor" Dmitry Medvedev, who campaigned on a platform of continuing "Putin's course" and focusing on "stability and prosperity." In September 2008, right after the Russian—Georgian war, Putin's rating reached 88 percent. Thus, in three of the four cases of Putin's record-high ratings (1999, 2008, and 2014), public approval rose during extraordinary circumstances: the heightened terrorist threat and war in Chechnya, war with Georgia, and the annexation of Crimea and confrontation with the West.
The tendency of the public to consolidate around a leader against one common enemy can be seen in all countries. Take, for example, increased support for George W. Bush in the United States after the 9/11 attacks. Russian sociologist Lev Gudkov calls this phenomenon "negative mobilization." In Russia, the effect caused by negative mobilization is multiplied by the state's control of the media. In 1999, ORT (now Channel One), the largest of the state-controlled television networks, actively participated in Vladimir Putin's election campaign. By 2003, three major federal television networks had been taken over by the state.
During the 2008 war with Georgia, the Russian media acted as if they were under martial law: only a few independent media outlets, such as Ekho Moskvy and Novaya Gazeta, dared to deliver the Georgian point of view on the conflict. Alexei Venediktov, the editor-in-chief of Ekho Moskvy, was even summoned to meet with Putin, who personally reprimanded him for the radio station's coverage. However, the 2008 conflict with Georgia only lasted for a few days, and the information war was active for only a few weeks. In contrast, the current propaganda campaign against Ukraine was launched right after the Euromaidan protesters gathered in Kiev last year, and it still continues today.
By early 2014, the regime had exhausted all "peaceful" methods of consolidating the public. Thus, we can conclude that his high ratings have been achieved through extraordinary measures.
As Arina Borodina, a Russian media analyst, has observed, the Russian TV channels' coverage of the events in Ukraine has seemed almost synchronized: "No political campaign has ever seen such a heavy bombarding of the audience before," she said, "not during the reelection of President Putin, nor during the United Russia congresses, or even during the war with Georgia." There was a significant change in coverage in terms of tone, intensity, and even the format of the news programming. Such a propaganda campaign has put additional pressure on the few Russian media outlets that remain independent. The possibility of obtaining alternative information, which was already small prior to the war in Crimea, has been reduced even more. This pressure is one illustration of the way that the Russian authorities reacted to the 2011–2012 mass protests against rigged elections. Crimea and Russia's confrontation with the West were used as convenient excuses for the State Duma to introduce tough measures to regulate and control the media.
As a result, most Russians have a very different vision of the Ukraine crisis than that held by those outside Russia. For 95 percent of Russians, television is the main source of information about developments in Ukraine. Thus, the majority of Russians think that the government is pursuing a humanitarian mission in Ukraine, nobly offering help to the Russian-speaking population and defending it against the "fascist" and "ultranationalist" regime in Kiev. The Russian state media employs all the old propaganda clichés of the Great Patriotic War to block any public sympathy toward Ukrainians.
In this media environment, alternative opinions do not penetrate to the Russian audience, which sees the actions of the Ukrainian authorities as inadequate and Western sanctions irrational. Therefore, Putin's claim that the West has always been Russia's adversary (in Chechnya, Georgia, and now Ukraine) falls on fertile soil. The majority of Russians view the annexation of Crimea as not only a "restoration of historical justice," but also an adequate response to the West. The architect of this view is Putin. As one participant in a recent group discussion held by the Levada Center put it, "previously, Putin had only made promises to restore Russia to its former greatness, and now he has accomplished it."
Widespread hostility toward the West in Russia indicates that the idea of integrating Russia into the world community has ultimately failed. Public bitterness and resentment associated with the collapse of the Soviet Union was not assuaged by Russia's successful cooperation with other countries. As another respondent in the Levada Center discussion said, "[the West] might not respect us, but at least now they fear us."
This confrontation and public fear of "a big war" have produced the so-called "Teflon effect" when it comes to the presidential rating. Today, as before, Putin's high ratings do not depend on his actual actions, as "nothing sticks to him." Generally, it is government officials or others who are blamed for the country's problems. In recent years, beginning with the economic slowdown, the "Teflon effect" stopped working, and Putin's popularity started to decline. But if our assumptions are correct, the "Teflon effect" may still linger for a few years.
However, the recent economic crisis in Russia may threaten Putin's popularity. Annexation of Crimea and Russia's confrontation with the West might have had a positive effect on public opinion regarding state institutions, but they did not impact Russians' attitudes toward their daily lives. Though there are no signs of widespread panic, recent survey respondents have reported lower levels of satisfaction with their families' welfare, moods, and current life: after slight growth in March and April 2014, these indicators have returned to their January and February 2014 levels.
In October, 60 percent of Russians observed increases in food prices, but so far, these rises have not had much of an impact on their daily lives (even among those groups with low levels of savings and no funds in foreign currencies). More than 25 years of sociological observations of modern Russia have shown that the public expects prices to go up. At the moment, people have not yet felt the full-fledged effects of the deteriorating economic situation, although they remain alert to any additional changes. As one participant in the Levada Center discussions said, "now we are balancing."
The ruble devaluation will, of course, impact the majority of Russians, but this situation will unfold gradually as prices rise. This means that Putin's regime will have time to adapt to the new developments. Besides, the authorities can still blame Western sanctions for the crisis, relieving themselves of responsibility.
It is crucially important to understand that by early 2014, the regime had exhausted all "peaceful" methods of consolidating the public. Neither the 2012 election campaign nor the 2014 Sochi Olympics could boost Putin's support by more than 3 to 4 percentage points. Thus, we can conclude that his high ratings have been achieved through extraordinary measures: a massive propaganda campaign by state-controlled television media that aims to fix the image of an enemy in the public mind. These measures have been used in the past, but those efforts were limited in time and scale. Not now. If the economic crisis that Russia is facing today continues for a long time, the effect of such measures will be hard to predict: the combination of all of these factors is new and has no relevant base for comparison. But no doubt, Putin's regime will demonstrate its resourcefulness in adapting to changing circumstances, as well as its strong desire to stay in power at any cost.