Privatization seems to be back on the front burner in Russia, since President Dimity Medvedev's approval this past August of a new plan requiring the government to sell off many of its ownership stakes in Russian businesses by 2017. (According to the latest figures from Standard & Poor's, state ownership of shares in Russian companies accounts for 53% of market capitalization in Russia.) However, firebrand Moscow attorney, investors'-rights activist and political blogger Alexey Navalny criticizes the increasingly popular idea that privatization could be a "magic pill" for curing the corruption that plagues Russia's still-developing economy.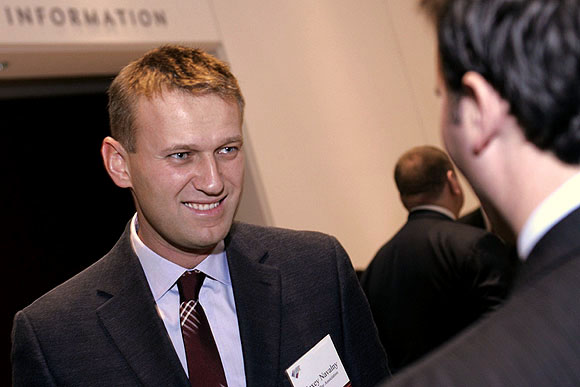 Alexei Navalny at the U.S.-Russia Business Council's 19th annual meeting on October 4, 2011.
The anti-corruption crusader likewise professed himself skeptical of privatization's power to fully break the grip of state control over a private sector that still needs modernizing today, some 20 years after the Soviet Union's collapse in 1991. Navalny broke the sobering news during a jam-packed panel session at the midpoint of "Russia on the cusp," the U.S.-Russia Business Council's 19th annual meeting, held Oct. 3–5 this year in Chicago.
Navalny's bold topic, "Restructuring Russia's Economy", as well as his only listed public affiliation — "member of the Moscow Bar Association" — marked him as unique among an all-Russian panel of five English-speakers distinguished notably for hefty-sounding titles evoking the high-mightiness of Russian officialdom and the sleek gleam of international corporate aspiration.
The private sector players were well-represented by moderator Nataly Nikolaeva, Director of Government Affairs at Citibank Russia. True to form, Nikolaeva pitched a series of merely moderately informative comments right down the middle, cleaving hermetically close to the conversational contours that traced the helix shape of any discussion by experts on the tangled web of conflicting interests that define the shifting landscape of private finance and state power in Russia now.
Batting for the government side were Alexander Voloshin, chair of a presidential committee creating an International Financial Center in Russia; Oleg Fomichev, deputy minister with the Ministry of Economic Development; and Andrei Sharonov, deputy Moscow mayor for economic issues.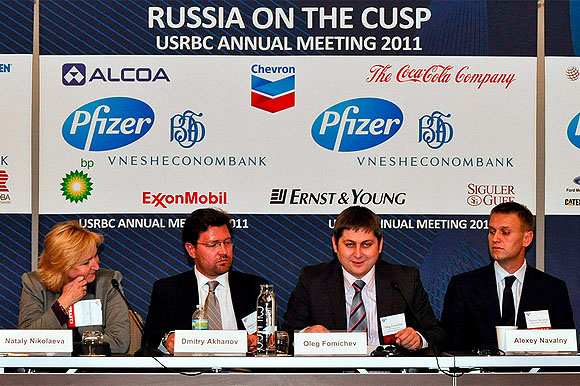 Navalny reserved his first case in point for Surgutneftegaz, which he dubbed the "most untransparent" oil company in all the Russias. Surgutneftegaz is "totally private, but we don't know even who owns" it, Navalny said. Nor, he said, is it a matter of public record why Surgutneftegaz collects the enormous amounts of cash that it does. Information is just as scant, he said, when it comes to the "very suspicious" cooperation of Surgutneftegaz with other businesses. "So we see that the formal private status of the company means nothing in terms of suspicious cooperation between companies and officials," Navalny said.

Navalny's second case in point pertained to a "noisy example of privatization" involving the Bank of Moscow. The bank (Russia's fifth largest) was owned mostly by the Moscow city government. When the bank's many problems started coming to light after the 2010 dismissal of Moscow Mayor Yuri Luzhkov, officials decided to sell the institution to VTB, another state-controlled bank, in a "very unusual, and, I would say, inappropriate way," Navalny said.

After acquiring possession of the Bank of Moscow and its manifold problems, VTB engineered a $14 billion state-financed buyback. Ironically, it was only on the morning of his Oct. 4 appearance at the USRBC panel when Navalny read an interview with Andrei Kostin, VTB chairman and CEO. Kostin declared it would not be revealed how the money from the buyback would be spent.

"So we can see that as a result of privatization, we have even more problems with transparency" in corporate governance, Navalny said. The lesson, he said, "is that privatization doesn't work without proactive position of the investor and of the shareholder. And without using tools — very simple tools — which already exist."

For example, in every discussion about corporate governance in Russia, foreign institutional investors complain that independent directors are not really independent. The real question, he said, is whether such investors have even tried to nominate independent directors. Navalny said that under Russian law, shareholders with a 2 percent stake may nominate company directors. Nevertheless, this legal opportunity is being totally ignored by American, European, British and other foreign institutional investors, he said.

"I'm here at the URBC for the third time," he said. "Two years ago, when I answered the question about independent directors, I said in Russia maybe there is just one real independent director: Sergei Guriev, who's sitting on the board of Sberbank. So, now, after two years, the answer is the same: I would say that in Russia we have just one real independent director. And we never saw even the attempt to nominate independent directors from the institutional investors who are all the time complaining about the quality of independent directors."

Navalny said he is absolutely sure that a small pool of institutional investors like BlackRock Inc. or Vanguard Group Inc. could start "a revolution in Russian corporate governance without any privatization" simply by starting to nominate company directors.

Addressing the routine corruption and official indifference to the legal rights of minority shareholders, Navalny said that Russian law offers a powerful remedy: managers whose corrupt practices do damage to their own companies can be sued. But this lever is simply never used, he said.

Navalny pointed to the scandal that ensued several months ago when Russia's largest natural-gas company, Gazprom, unloaded a number of its shares in Novatek at a discount of 34 percent, resulting in more than $1 million in damages to Gazprom. Analysts from investment banks sent furious memos to various sides declaring "inappropriate" and "unacceptable" Gazprom's loss-making sell-off of the Novatek shares.

Despite all the sound and fury that circulated in the aforementioned memos, the net result was nothing, Navalny said, because the criticism remained hidden from the public eye until Gazprom cinched its sale of Novatek shares. If those same institutional investors had publicly declared unacceptable the sale of Novatek shares by Gazprom while the deal was still being prepared, and if they had further announced their intent to sue Gazprom management in Russia and abroad, Navalny is "totally sure" Gazprom would have pulled the plug on the loss-making sell-off before it ever got finalized.

Navalny's next cautionary tale was a vignette from his own Moscow law practice. In 2010, Navalny had exposed a $4 billion managerial embezzlement scheme involving Transneft, the Russian oil transportation monopoly. He recalled addressing the matter with two private investors holding substantial Transneft investments.

"And I asked them, Guys, just give me power of attorney and for 1 percent of the shares I will sue managers," according to Navalny's account. "We will fight them to account for this money, and anyway, it will be a very good, positive result."

Their answer: "Alexei, we appreciate your work and we are really fed up with the corruption in Transneft. We are really angry, but we will never give you power of attorney because we are afraid. Because we don't believe that this level of embezzlement could be committed without the involvement of top brass officials."

Even if their fears were not entirely unfounded, Navalny said, the question remains just what there was to be afraid of. If it was being stuck, for example, by FSB agents with poisoned umbrellas, there was little cause for worry.

That's because it's no longer true that being in conflict with a Russian company will automatically cause an investor to come in conflict with the Russian state, with Prime Minister Vladimir Putin, or with any member of his circle, Navalny said. On the contrary, he said he was certain that the state would be happy if investors sued Russian companies. Besides helping to separate honest officials from corrupt ones, such a wave of litigation could serve to wash away some of those elements who still find profit in the dark corners of at the corrupt nexus of Russian businesses activity and the state. All of this could lend a certain legitimacy to the state's much publicized effort to draw foreign investors.

Navalny wound down his remarks with a description of a "very happy" event, held two weeks before the USRBC's Chicago meeting, marking the opening by Russia's state-owned VTB bank of its own U.S. branch.

"And I, as a shareholder of VTB, am happy because now I have the jurisdiction to sue them here in the U.S.," Navalny said. "I do believe that one good litigation is much better than privatization. And I want to address all of you to cooperate with me before the court."

The main problem of Russia's state economy is not that everything is owned by the state, but that companies are run by officials on a "very informal" basis. Officials can afford to be so informal, he said, because shareholders and investors are ignoring the official legal tools available to investors right now.

Even in "this very difficult political situation in Russia — and I am opposing the current political regime very hard" — Navalny encouraged USRBC members to take a "very proactive" approach to investing in Russian companies.

Being a proactive investor "is not just a question of corporate responsibility, of private or corporate charity," he said. "It's a question of the profit, it's a question of the dividends, and it's a question of the capitalization."

Navalny took his first follow-up question from Bruce Marks of Marks & Sokolov, a law firm with offices in Philadelphia, Moscow and Kiev. Marks said it seemed to him that Navalny wants foreign investors to give him their proxy so he can attack corporate corruption on the legal front in Russia. Marks asked what chance Navalny had of winning his crusades, especially in light of such well-known problems as those suffered by entities ranging from the BP oil company's Russian operation to Bill Browder's Hermitage Capital Management investment fund.

Browder is the Hermitage CEO and co-founder who fled Russia for the West after a relentless drumbeat of harassment targeting Hermitage. The pressure culminated in tragedy with the 2009 death of Hermitage attorney Sergei Magnitsky while in Russian police custody.

Aspects of such matters as the death of Magnitsky raise foundational questions in the minds of foreigners who want to do business in Russia. Such questions are seldom raised publicly, but in the event, it was Bruce Marks who settled on Chicago's Swissotel as being as a good place as any to receive the proffered microphone, look Navalny point-blank in the eyes, and ask the question, "Why would you seriously think that you would be successful if we give you our proxy? Do you really think that if we gave you our proxy that you would be successful in that litigation?"

Navalny termed the persecution that prompted Browder to flee Russia as "a very sad example" of the worst challenges being faced by foreign investors there. But he added that Russia needs "100 Bill Browders" to create an environment where corrupt corporate officials can be freely challenged by institutional investors taking proactive positions in the fight for universal enforcement of shareholders' rights. And he expressed certainty that his approach will succeed — that Russia has the "political will" to make it so — and that institutional investors would be doing Russian officials a favor by pressing them in that direction.

Rick Johnson of Citibank asked Navalny to assess whether Russia's courts are well on their way to recognizing and enforcing the rulings of international arbitration bodies on cases in favor of foreign investors' rights. The answer was less than encouraging.

No good has come from previous efforts aimed at mobilizing international arbitration bodies to protect investors' rights in Russia, Navalny said. That is despite many attempts — most of which were related to the Yukos case, he said.

But even though Russian judges are under strict political control, litigators have proven they can prevail, so long as their case lacks a major political dimension, he said, citing his own successful lawsuit to compel Transneft's disclosure of information about the Rosneft transaction.

"In theory, we have a lot of tools" that may be used for the securing of investors' rights, but too few attempts to practice using those tools, Navalny said.