Page 10 of 10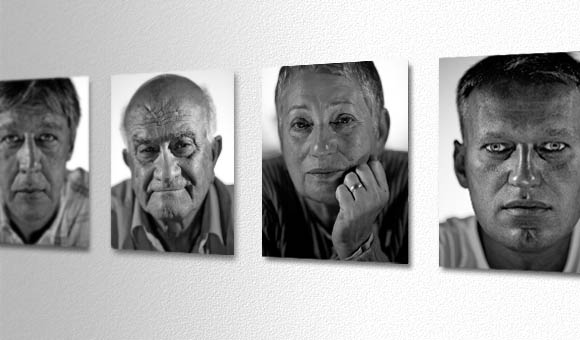 The exhibition was conceived as a multimedia art project, displaying portraits of modern Russian thought leaders alongside their predictions for the future of Russia country after the 2012 presidential elections. The central pieces of this project are the austere black and white photographs taken by Kirill Nikitenko, a well-known Moscow photographer. They depict the faces of prominent Russian writers, actors, journalists, economists, politicians, and human rights activists who are known for their strong, independent views and opposition to the current political regime. Among them are Boris Akunin, Lyudmila Ulitskaya, Eldar Ryazanov, Yuri Shevchuk, Garry Kasparov, Mikhail Kasyanov, Vladimir Pozner, Yevgeny Yasin, Lyudmila Alekseeva, and many others. Another part of the project is the interviews with these personalities, especially the answer to one question: "How do you see the future of Russia after March 2012 if Vladimir Putin remains in power?" Their replies, along with their portraits and short biographies, will be printed in the exhibition catalogue.
The original idea to bring together Russian intellectual opinion leaders came from Elena Khodorkovskaya, who noticed that there was no space, even in the media, where opposition leaders of various professions could unite. The goal of this project is to show members of the American public who are interested in Russian affairs that there are people beside the formal political opposition who see the country's future in a completely different way than the official propaganda depicts it. This is how the title of the project – "Russian Visionaries. Into the Light." – was born.
Soon the exhibition will be also presented in Moscow.
Kirill Nikitenko began taking photographs at an early age, and soon made photography his profession and life purpose. Collaborating with Vogue, Harper's Bazaar, InStyle and L'Officiel magazines, Kirill Nikitenko has garnered fame as a portrait photographer with a broad scope and stylish execution. His subjects are world famous celebrities like Jude Law, Paris Hilton, Michael Madsen, Giorgio Armani, Ora-Ïto, Fanny Ardant, Isabelle Jupper, Mila Jovovich, Dennis Hopper, and Yoko Ono. His works have been published in The Times, Whitewall Magazine, and Conde Nast Traveller. His first personal exhibition "New York. Triptych. Reflections," curated by Elena Khodorkovskaya, took place June 2011 in Moscow and ran for five weeks to a wide acclaim. The artist's portfolio can be viewed online at kirillnikitenko.com.
For more information about the exhibition, please, contact Olga Khvostunova:
e-mail: ok@imrussia.org
tel.: +1 973 726 0401