In January, IMR launched a new human rights project—a monthly digest dedicated to serious human rights violations in Russia. Many of these incidents take place in the regions and rarely end up in the national media in Russia, let alone in the West. Our goal is to bridge this gap.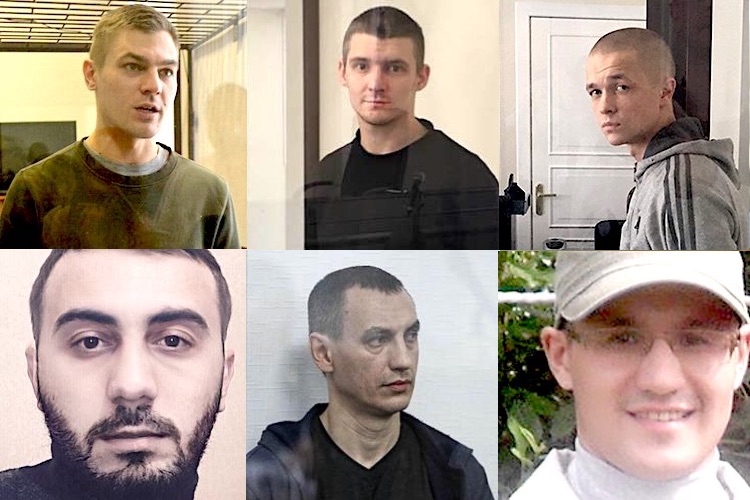 Network case: torture, manipulation, real prison terms  
On February 19, a Penza court announced the verdict in the Set' (Network) case. Seven young people, supporters of anarchist and anti-fascist ideology, were found guilty of creating a terrorist organization and participating in it (parts 1 and 2, article 205.4 of the Criminal Code). They were also accused of illicit possession of weapons and explosives as well as of attempted drug dealing.
Five of the defendants were given lengthy prison terms in a high-security penal colony: Dmitry Pchelintsev was sentenced to 18 years, Ilya Shakursky to 16 years (and given a penalty of 50,000 rubles, or $750), Andrei Chernov to 14 years, Maksim Ivankin to 13 years, and Mikhail Kulkov to 10 years. Two others received prison terms in a general-regime penal colony: Vasily Kuksov got 9 years, Arman Sagynbayev 6 years.
According to the FSB, Network activists from Penza and St. Petersburg organized a terrorist group to "incite the public to further destabilize the political situation in the country." Investigators claim that the activists were plotting terrorist attacks in the runup to the 2018 presidential elections and during the 2018 FIFA World Cup in Russia.
The defendants have repeatedly stated that the FSB tortured them to force admissions of guilt, which became the centerpiece of the prosecution's case.
The Memorial Human Rights Center issued a statement regarding the Network trials: "[Network] members are not accused of any deeds, they are not charged with any concrete plots <...> The case, reminiscent of Stalinist times—in its absurdity and baselessness of the accusations, in the methods of extracting confessions, in the severity of the verdict—was prepared by the investigation and the court not even in secret or a sealed dungeon, but in public—in broad daylight."
Persecution of Hizb ut-Tahrir: 11 to 23 years of imprisonment for alleged terrorism
In February, harsh verdicts were handed out in several cases as part of the persecution of Hizb ut-Tahrir, an Islamic religious and political organization.
Russia's Supreme Court recognized Hizb ut-Tahrir as a terrorist organization in 2003 and banned it. However, according to a number of human rights activists, the "text of the court decision does not match the definition of the terrorist activity," adopted in Russian law. Hizb ut-Tahrir has not been recognized as a terrorist organization in any European country.
On February 5, ten members of Hizb ut-Tahrir's "Kazan cell" were found guilty on various accounts. For organizing the activity of the terrorist organization (part 1, article 205.4 of the Criminal Code), Ilnar Zyalilov was sentenced to 22 years in a special-regime penal colony. Others were found guilty on the same charges, but sentenced to prison terms in a high-security penal colony: Azat Gataullin and Ruslan Gabidullin were given 19 years each, Abdukakhor Mumindzhanov 17 years, Sergei Derzhipilsky 16 years.
Five more defendants were found guilty of participating in the activities of the terrorist organization (part 2, article 205.4 of the Criminal Code). Zulfat Sabirzyanov, Kamil Matiyev, and Fareed Kryev were sentenced to 15 years each in a high-security penal colony, Rustem Salakhutdinov received 14 years, Ilnaz Safiullin 11 years.
On February 10, in Yekaterinburg, Eduard Nizamov of Tatarstan, whom the prosecution considers the leader of Hizb ut-Tahrir's Russian wing, was sentenced to 23 years in a high-security penal colony. He is accused of organizing the activity of the terrorist organization (part 2, article 205.4 of the Criminal Code), financing terrorism (part 1, article 205.1), and preparing the forcible seizure of power and the forcible change of the constitutional system (part 2, article 30, article 278).
According to human rights activists, Nizamov was tortured in a Kazan detention center. 
On February 14, also in Yekaterinburg, the court convicted two more citizens of Tatarstan, sending them to a high-security penal colony. Shamil Galimov was sentenced to 17 years (and issued a penalty of 20,000 rubles, or $300) for organizing the activities of the terrorist organization, and Ilmir Motygullin to 13 years for participating in it.
On February 22, it was reported that one more person had been detained as part of the Hizb ut-Tahrir case—Marcel Gimaliyev, who had an international arrest warrant issued against him in 2017.
None of the defendants admitted guilt.
According to Memorial, as of end February 2020, 301 people are being persecuted in Russia as part of the Hizb ut-Tahrir case.
Rashid Maisigov case: planted drugs, pressuring the opposition
Persecutions of activists in the Ingushetia protest movement continued in February. 
Court proceedings in the case of journalist Rashid Maisigov took place in Magas, the capital of the Ingush Republic. Maisigov is accused of illicit acquisition and storage of narcotic drugs on a large scale (part 2, article 228 of the Criminal Code).
Maisigov claims that the drugs were planted on him by the FSB, and that confessionary evidence was forced out of him through torture. He does not admit guilt.
Maisigov is a former contributor to Fortanga, an independent Ingush online publication that covered the regional protests in detail. His colleagues and lawyers insist that his persecution is related to professional activities.
Before detention in July 2019 (Maisigov was put under house arrest in November 2019), he had reportedly stopped work at Fortanga due to numerous threats. 
Maisigov's detention coincided with a ban on the website. "This is an attack on journalists, it is clearly related to the oppositionist work [of Fortanga]. <...> The harassment of this and other websites goes hand-in-hand with the repressions against Ingushetia's activists," Maisigov's lawyer told Kavkaz Knot.  
On February 27, it was reported that the journalist had been charged with calling for separatism on the internet (part 2, article 280.1 of the Criminal Code). According to Maisigov's lawyer, the new charge was brought because his Instagram posts allegedly called for Ingushetia's separation from Russia. Rashid Maisigov has also been added to the list of terrorists and extremists by the Federal Service for Financial Monitoring. (The trial is not over yet.)
It is noteworthy to contrast the Maisigov case, which is barely known outside Ingushetia, to the similar case of Ivan Golunov, a Meduza reporter, whose detention in the summer of 2019 galvanized protests across the country, leading to his acquittal and withdrawal of the charges. At the end of January, five Interior Ministry officers were arrested for planting drugs on Golunov. This month, the journalist received an official letter from the Prosecutor's Office apologizing for illegal criminal prosecution.