A month ago we wrote that June had been the most abundant month so far in terms of cases of political persecution and human rights violations in Russia. We were wrong: the July developments show that repressive policies are only gaining momentum. The pressure on the press has sharply increased, as evidenced by the resonant cases of journalists Svetlana Prokopyeva and Ivan Safronov. In a politically motivated case, human rights activist Yuri Dmitriev was found guilty of violent actions against a minor. And searches were carried out at the homes of Open Russia employees and MediaZona founder Pyotr Verzilov.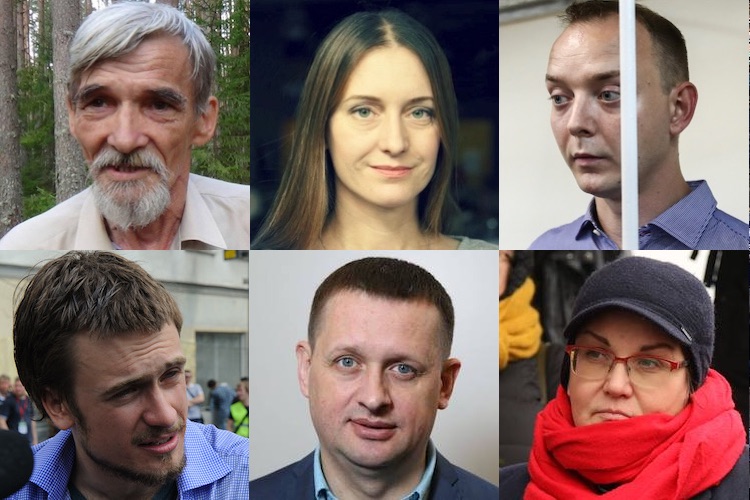 The case of Yuri Dmitriev: Criminal prosecution for inconvenient historical truth
On July 22, the lengthy trial of Yuri Dmitriev, 64, a historian and researcher of Stalinist repressions, finally came to an end in the city of Petrozavodsk, in the northwestern Republic of Karelia. A court found Dmitriev, who also heads the regional branch of the human rights group Memorial, guilty of violent actions of a sexual character against a minor—his adopted daughter (part 4.b of article 132 of the Criminal Code)—and sentenced him to three and a half years in a penal colony. Accounting for the time he spent in the pre-trial detention, Dmitriev should be released in November.
Memorial called the verdict unjust, even as it might look mild for a casual observer, because the prosecutor's office had requested 15 years for Dmitriev. The trial was held behind closed doors.
The historian was also charged with using a minor for the purpose of making pornographic materials or objects (article 242.2 of the Criminal Code), committing depraved actions (part 3, article 135), and illegally possessing weapons (part 1, article 222). He was acquitted of these additional these charges.
The case of Yuri Dmitriev began in December 2016, when he was detained on suspicion of making child pornography, which had been reported anonymously to the police. During the search at his house, nude photographs of Dmitriev's adopted daughter, a minor, were found on his computer. According to the defendant, he photographed the girl to monitor her physical development for the sake of reporting this information to the child protection services. A re-examination of these photographs did not reveal any signs of pornography.
In April 2018, Dmitriev was acquitted, but two months later Karelia's Supreme Court overturned this decision and sent the case for a new trial. In June 2018, the historian was charged with a more serious article of sexual assault against a minor (a person under the age of 14 in Russia's legal system).
Human rights activists believe that the purpose of the criminal prosecution against Dmitriev is to discredit his research and Memorial's work in general (the human rights group has already been recognized as a "foreign agent" in Russia).
For many years Dmitriev was engaged in restoring the history of Stalinist repressions. He led expeditions that discovered, in Karelia, the mass graves of Great Terror victims. Among them is one of the largest and most infamous graves—the forest tract called Sandarmokh, where more than six thousand people, residents of different Soviet republics and regions, were shot and buried. Dmitriev compiled lists of the names of those buried in the general execution pits and was one of the organizers of the annual mourning actions in Sandarmokh, in which foreign delegations also participated.
Such research runs counter to the Kremlin's policy towards historical memory. According to officials, "speculations" around the Sandarmokh events "reinforce in the public consciousness an unjustified sense of guilt about the allegedly repressed" and "damage Russia's international image."
In recent years, attempts have been made to erase the uncomfortable memory of the Sandarmokh tragedy and replace it with an actively promoted alternative version of events, one which holds that the remains at the forest site are actually those of Soviet prisoners of war who had been shot by the Finns during Finland's occupation of Karelia in the early 1940s. The Russian Military Historical Society, a patriotic organization headed by former culture minister Vladimir Medinsky, is carrying out digs in Sandarmokh in an attempt to confirm this theory.
According to Memorial, however, "Now, when in [Russia] political repression is once again becoming a daily routine, when the truth about the past does not match the statist concept of history, it is natural that the authorities are hostile to the activities aimed at preserving the memory of the state's past political terror. It was against this background that the Dmitriev case arose."
Hundreds of Russian and foreign scientists, social activists, and cultural figures took part in a powerful public campaign launched in support of Dmitriev. In June 2020, in an appeal to the Council of Europe Commissioner for Human Rights, two Nobel Prize winners in literature, Herta Müller and Svetlana Alexievich, and a Goncourt Prize laureate, Jonathan Littell, compared the Dmitriev case to the infamous trials of Alfred Dreyfus and Menahem Mendel Beilis. As they point out in their letter, titled "Truth in Dmitriev's case," "The Russian authorities are seeking to rewrite the history of Sandarmokh by slandering its discoverer and groundlessly accusing Dmitriev of an outrageous crime. We also need to take into account the current Russian context, which, alas, can be described as a creeping rehabilitation of Stalinism…"
In May 2019, Dmitriev's associate Sergei Koltyrin, director of the history museum in the Karelian town of Medvezhyegorsk, who had criticized the "Finnish" version of the Sandarmokh events, was sentenced to nine years in a general-regime colony on charges of child molestation. In April 2020, he died in the prison hospital.
Attacks on press freedom: Criminal prosecution against journalism
Russian authorities continue to fabricate criminal cases against independent journalists.
On July 6, a Pskov court sentenced journalist Svetlana Prokopyeva to a fine of 500,000 rubles ($6,800) for "public justification of terrorism" (part 2, article 205.2 of the Criminal Code). Prosecutors had demanded for her six years in a general regime colony and a four-year ban on working as a journalist.
The criminal case against Prokopyeva was opened in February 2019 on the pretext of her commentary during a live broadcast on the Pskov affiliate of the Ekho Moskvy radio station. It regarded the motives of the anarchist Mikhail Zhlobitsky, who in the autumn of 2018 blew himself up inside the Arkhangelsk branch of the Federal Security Service (FSB). Prokopyeva expressed the opinion that the 17-year-old terrorist belonged to the generation which had grown up in an atmosphere of arbitrariness and injustice: "The state which uses repression against its own citizens is now facing a response. A young citizen who hasn't seen in his life anything except for prohibitions and punishments by the government has not been able to invent any other means of communication. Cruelty breeds cruelty. The ruthless state produced a citizen who made death his argument."
An opinion piece by Prokopyeva, titled "Repression for the State," was published on the website of the news agency Pskovskaya Lenta Novostey (Pskov Newsfeed). Later, the recording of the broadcast and the text were removed at the request of Roskomnadzor, Russia's official communication watchdog; both media outlets were fined. (The article is still available here).
Three psychological and linguistic examinations were presented as evidence of Prokopyeva's They allegedly showed that her article had "signs of public justification of terrorism as well as propaganda of terrorist ideology and practice." The defense argued, however, that those who had prepared these findings "could not be considered qualified specialists."
According to human rights activists, "The criminal case against Svetlana Prokopyeva is openly political, indicatively punitive, aiming at intimidating Russian journalists."
On July 7, one day after Prokopyeva's verdict was announced, FSB officers in Moscow detained Ivan Safronov, a former journalist who used to cover defense issues for two of Russia's leading daily newspapers, Kommersant andVedomosti. Within a week, Safronov was charged with high treason (article 275 of the Criminal Code, with a maximum punishment of 20 years in prison). He will remain in custody until September 6.
According to the investigation, Safronov was recruited by the Czech special services and, in 2017, handed over secret information ("via the Internet") about Russia's military and technical cooperation with a Middle Eastern country—to a contact who had been allegedly connected with Czech intelligence. Safronov's correspondence was reportedly surveilled by the Russian Foreign Intelligence Service (SVR); his phone was also tapped. However, the investigation did not provide any concrete evidence of his guilt.
In the two months leading to his arrest, Safronov worked for Russia's state space corporation, Roscosmos, where he would not have been admitted without an FSB clearance. In addition, as a Kommersant reporter, he was part of the Kremlin press corps, which means that he had to be repeatedly checked by the special services.
According to Galina Arapova, a legal expert and director of the Center for the Protection of Media Rights, when article 275 of the Criminal Code (regarding treason) was amended in 2012, its application was significantly expanded. Now, even someone who does not have access to classified information, and cannot assess whether it contains state secrets or not, can be prosecuted under this article.
Safronov's colleagues believe that his persecution is connected with his journalism, namely his reporting for Kommersant. In 2019, the newspaper published his article on Russia's sales of Su-35 jet fighters to Egypt, which caused a great stir. US Secretary of State Mike Pompeo threatened Egypt with sanctions over the arms deal with the Russians. The piece was later removed from the Kommersant's website (but is still available here).
FSB reportedly offered Safronov a deal: he should admit guilt and disclose his sources in exchange for a reduction of his prison term. Safronov refused to cooperate. His lawyer said, "The investigation categorically denies any connection between the charges and Ivan's journalistic activities, but it turns out that his sources are of interest. Here the investigation contradicts itself."
Safronov's trial, like other treason trials, will be held behind closed doors, and all case materials are classified. According to Memorial, "The closed nature of the process, the inability to get access to the prosecution's line of accusation and its evidence reinforce doubts about the validity of treason cases."
As part of this argument, the public campaign in support of Safronov demands that the trial must be public and transparent; all of its proceedings must be made public as well.
The independent Journalists and Media Workers' Union published an open letter, stating: "We, as journalists and media workers, no longer have reason to trust law enforcement … The regime of journalists' persecution has been established in Russia. Our professional activity is no longer just entangled in censorship and self-censorship, but is also criminalized and turns into a threat to those who engage in [journalism]. The law-enforcement structures are destroying the institution of the press, violating the freedom of speech and civil rights."
In recent years, criminal prosecution of journalists has intensified in Russia. The news service RBC estimates that, from 1997 through 2015, on average, no more than four media employees were charged with criminal offenses annually (the exception was 2006, when five media workers were investigated). Starting in 2016, this number began to grow, reaching nine criminal cases in 2018 and 16 in 2019.
This increase is related to the changing attitudes of the state and the special services to information in general, says "There is a demonization of the information sphere, the inflation of threats emanating primarily from the Internet, but also from journalists," she concludes.
Pressure on the opposition: Searches and interrogations
Searches are one of the tools that Russian authorities use to pressure and intimidate oppositionists and civic activists.
On July 9, searches were conducted in the homes of the Open Russia coordinators Tatyana Usmanova and Olga Gorelik, municipal deputy Yulia Galyamina, editor-in-chief of MBKh Media Sergei Prostakov, coordinator of Open Russia's human rights project ("Otkrytka") Alexey Pryanishnikov, as well as in the offices of Open Russia itself and MBKh Media. All these organizations were created by Mikhail Khodorkovsky.
The formal reason for the searches is an ongoing investigation related to the 2003 Yukos case, specifically a 1994 episode—the privatization of the Apatit company. Members of the Open Russia organizations are reportedlysuspected of embezzling and using funds stolen from Apatit. Usmanova, Gorelik, Galyamina, Prostakov, and Pryanishnikov were all questioned as witnesses in this case.
The searches at the Open Russia offices were, however, linked to the application the organization had filed to hold a rally on July 15 against the recognition of the results of Russia's Constitutional referendum.
According to MBKh Media, the security forces threatened to break down the doors of the Open Russia office, did not respond to the oppositionists' requests to wait for their lawyers, and, when the lawyers arrived at the scene, they refused to let them inside. During the searches, the oppositionists' bank cards, identity documents, smartphones, computers, hard drives, and other equipment were seized.
MediaZona notes that "people who face searches in politically motivated criminal cases usually have hard time getting their belongings back." The seized property can be returned only after the trial is over.
In a different case, the publisher of MediaZona, Pyotr Verzilov, has been the target of searches eight times since late June. The searches took place in quick succession at Verzilov's home as well as at his mother's and her friend's homes. He is suspected of involvement in the "organization of mass riots" in Moscow in the summer of 2019. Additionally, Verzilov allegedly failed to notify the authorities of having a second citizenship (article 330.2 of the Criminal Code).
In yet another case, on July 17, the office of Aleksei Navalny's Anti-Corruption Foundation was searched for the ninth time since August 2019. The July search was connected with a criminal libel case (part 2, article 128.1 of the Criminal Code), initiated against Navalny due to his remarks on Twitter about the Russian celebrities featured in the RT video on the constitutional amendments.
According to "Political Searches: Ghostly Immunity," a report produced by the international human rights group Agora, "The existing practice of searches, examinations and other penetrations by Russian authorities into residential premises and offices under various pretexts, as well as statistics of court permits violating the inviolability of the home, indicate that there are no effective legal remedies against such interference. … Judicial control in this area [being] illusory, the possibility to appeal the search, which exists on paper, is ineffective in practice."