In September, Russia's political system was particularly cruel toward its people. Karelia's Supreme Court has increased the prison term for the historian Yuri Dmitriev from 3.5 to 13 years. Ingush journalist Rashid Maisigov, former editor of the opposition newspaper Fortanga, was sentenced to three years in prison on bogus charges. Opposition journalist Irina Slavina set herself on fire in the center of Nizhny Novgorod after months of incessant pressure by the special services.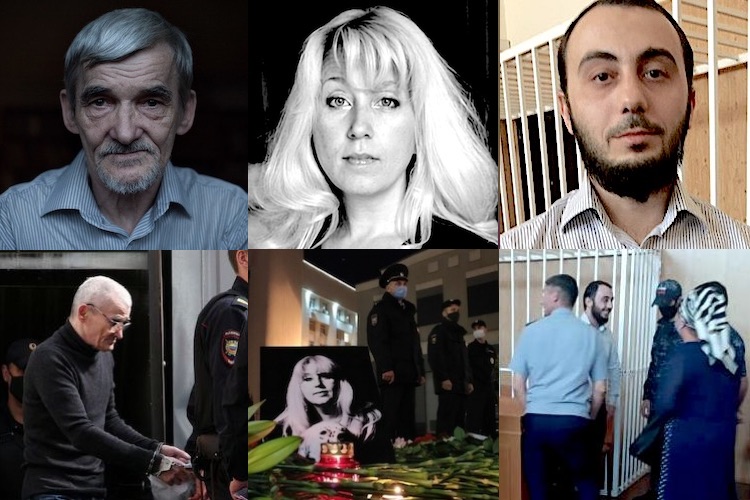 Yuri Dmitriev's case: a longer prison term 
On September 29, the Supreme Court of Karelia (Russia's northwest region bordering Finland) increased the sentence of historian Yuri Dmitriev, head of the local branch of Memorial Human Rights Center, to 13 years in a penal colony. (For more details on this case, see IMR's July roundup.)
Initially, the court of first instance sentenced Dmitriev to 5 years in a penal colony on charges of sexual assault against a minor (paragraph "b", part 4 of article 132 of the Russian Criminal Code). The minor in this case was Dmitriev's adopted daughter. Taking into account the time served in the pre-trial detention center, the historian was to be released in November. However, both the defense and the prosecution appealed the verdict: the latter demanded a more severe punishment, while the former argued for full acquittal.
In its September ruling, Karelia's Supreme Court also overturned a previous verdict of acquittal on charges of using a minor for the purpose of making pornographic materials or objects (part 2, article 242.2 of the Criminal Code) and depraved actions (part 3, article 135). These cases were sent for new consideration.
Since Dmitriev's regular attorney was absent due to illness, the court appointed a public defender, but gave him only three days to familiarize himself with the multivolume case.
On the eve of the court session, Novaya Gazeta published an open letter signed by prominent scientists, public figures, and journalists (about 250 people in total) demanding that the authorities transfer Dmitriev's case to another region. "Everything that happens in this trial gives us a reason to doubt the objectivity of the court and, moreover, to assume that the judge is under pressure," the letter said. Dmitriev had submitted a similar request—it was denied.
Human rights activists argue that the case against Dmitriev was "fabricated for political reasons" and is aimed at discrediting his work. For many years he was engaged in restoring the memory of the Great Terror victims and led expeditions that discovered mass graves in Karelia. One of the largest and most well-known is in the Sandarmokh forest tract, where from 1937-38 more than 6,000 people—residents of different Soviet republics and regions—were executed. Dmitriev was one of the organizers of the annual mourning events in Sandarmokh, attended by foreign delegations.
Memorial human rights center called the new verdict the "revenge of a system that has succeeded the Soviet [one] and would like to once again consign to oblivion the names [of the victims] uncovered by Yury Dmitriev." "The Days of Remembrance [in Sandarmokh] have shown again and again that mass terror was not a 'failure' of the Soviet system, but its foundation. There was a sense of the connection between history and modernity: In 2015, Yuri Dmitriev spoke about the war in eastern Ukraine. Perhaps this was the trigger [for his prosecution]," the organization's statement said.
The criminal prosecution of Dmitriev started in December 2016, when he was detained on suspicion of making child pornography. A search of his computer, conducted upon anonymous denunciation, uncovered nude photographs of his adopted daughter. According to Dmitriev, he photographed the girl to monitor her physical development and report it to the guardianship authorities.
In April 2018, Dmitriev was acquitted, but two months later the Supreme Court of Karelia overturned this decision and sent his case for reconsideration. In June 2018, the historian was charged under a more serious article of sexual assault against a minor (defined in Russia as a person under the age of 14).
The death of Irina Slavina: the tragic result of a confrontation between an individual and the system
Persecution of dissidents in President Vladimir Putin's Russia can take the form of political terror, leading to tragic consequences.
On October 2, Irina Slavina, founder and editor-in-chief of the online opposition publication KozaPress, set herself on fire outside the regional office of the Ministry of Internal Affairs in Nizhny Novgorod. She died of the resulting injuries. Before committing suicide, Slavina wrote on Facebook: "Blame the Russian Federation for my death."
The day before her self-immolation, Slavina's apartment was searched in connection with the case of Mikhail Iosilevich's participation in the activities of an "undesirable" organization (article 284.1 of the Criminal Code). Iosilevich is a local businessman and civil activist who is suspected of collaborating with Mikhail Khodorkovsky's blacklisted Open Russia Slavina was a witness in this case, even though she had nothing to do with Open Russia. During the search, law enforcement agents seized all of her electronic equipment and journals with her notes.
For several years, Irina Slavina, a well-known opposition journalist in Nizhny Novgorod, was systematically harassed and pressured by local security officials. She was harassed by operatives of the FSB's counter-extremism department and prosecuted in administrative cases for her articles. Unknown persons slashed the tires of her car and distributed offensive leaflets near her house.
Novaya Gazeta writes about this case: "Everything that has happened lately in Irina's life is a torture stretched out in time, when for your civic duty, journalistic work, humanitarian activities that do not threaten the security of your country, they drag you to interrogations, judge, penalize every social media post; the [officers of the Investigative Committee] arrange humiliating shakedowns of your apartment in the presence of your child."
In March 2019, the court fined Slavina 20,000 rubles ($250) for organizing an unsanctioned march in memory of Boris Nemtsov, Russia's slain opposition leader.
In October 2019, another fine of 70,000 rubles ($900) was issued to her for showing "disrespect for society and the state" on the internet, because Slavina, who was indignant about the installation of a Stalin memorial plaque, used a curse word in a post on Facebook.
In June 2020, yet another fine of 65,000 rubles ($830) was issued—on charges of spreading deliberately false information—because her publication reported that the head of the Sambo Academy in the city of Kstovo came into contact with people despite knowing he had contracted coronavirus.
"I regard... actions against Irina as state terror, deliberate pressure and intimidation," said Arkady Galker, chairman of the Nizhny Novgorod branch of Memorial. "Both in her journalistic materials and in public statements, Irina has always been resilient, never shown how she had been hurt by the persecution campaign unleashed by the Nizhny Novgorod [authorities], when they tried to discredit her in every possible way. And now it is clear that at some point she simply could not stand it. And, of course, you need to understand that it was the Russian state who killed Irina Slavina, if you call a spade a spade."
Persecution of Rashid Maisigov: three years in a colony on trumped-up charges  
On September 16, the authorities of Ingushetia, Russia's southern republic located in the North Caucasus region, sentenced journalist Rashid Maisigov of the local opposition publication Fortanga (IMR wrote about his case in February) to three years in a penal colony. Maisigov was found guilty of possession of narcotic drugs on a large scale (part 2, article 228 of the Criminal Code).
Taking into account the time spent in the pre-trial detention center and under house arrest, he will stay imprisoned for two years and three months.
Maisigov's defense argues that the criminal investigation of his case "was carried out carelessly and with numerous violations," and intends to appeal the verdict.
The journalist was arrested in July 2019. During a search of his house, law enforcement agents found a package of heroin and propaganda leaflets calling for the annexation of Ingushetia to Georgia. According to Maisigov, FSB officers planted drugs and leaflets on him. He also claimed that he confessed under torture.
The persecution of Maisigov is linked to his journalist activities: Fortanga, the publication he had worked for, covered in detail the Ingushetia protests against the revision of the republic's borders with Chechnya and the persecution of Ingush activists. Shortly before his arrest, Maisigov left Fortanga due to threats he'd received.
In January 2020, a new charge was brought against the journalist—public appeals for extremist activities (separatism) (part 2, article 280.1 of the Criminal Code). The Federal Financial Monitoring Service (Rosfinmonitoring) put Maisigov on its list of terrorists and extremists.