In February, Russia saw the beginning of a large-scale wave of prosecution against participants of the January pro-Navalny protests. Out of the more than 11,000 people detained, 1,251 were subjected to administrative arrests in Moscow alone, and criminal cases were opened against 90. In addition, activist Anastasia Shevchenko was convicted in Rostov-on-Don for her participation in the work of an "undesirable" organization, and in Karelia a court upheld the conviction of historian Yuri Dmitriev.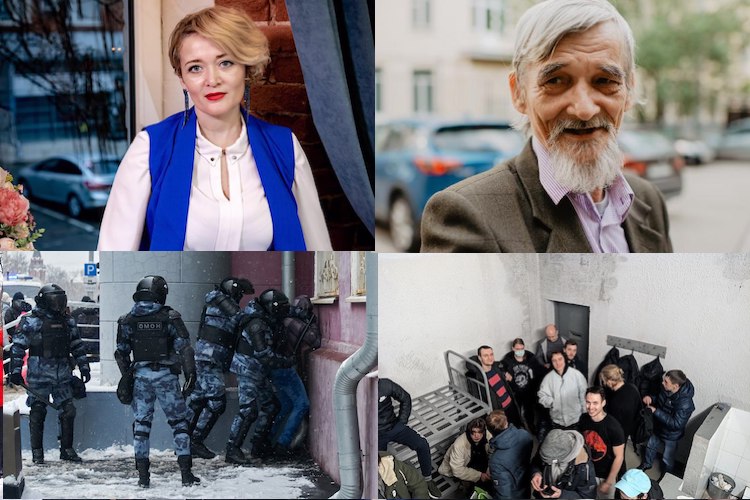 Conviction of Anastasia Shevchenko: suspended sentence for "undesirable" political views
Repressions against civil and political activists continue in Russia's regions.
On February 18, a court in Rostov-on-Don gave activist Anastasia Shevchenko four years of suspended sentence in the first criminal case in Russia relating to participation in the activity of an "undesirable" foreign organization (Article 284.1 of the Russian Criminal Code). The prosecution requested five years in prison.
Shevchenko was charged with cooperation with Open Russia, an organization registered in Great Britain and recognized as "undesirable on the territory of the Russian Federation." In reality, she was a member of the federal council of the Open Russia civic movement, which was "established in Russia in accordance with Russian law" and, as her defense pointed out, "cannot be considered a foreign or international organization." "Therefore, the protocols drawn up against Shevchenko are illegal, and there is no corpus delicti in her actions," her attorneys said.
The activist was detained in January 2019 and arrested on two counts: for participation in Open Russia's meeting in Ulyanovsk and in a sanctioned protest action called "Enough!" in Rostov-on-Don (the purpose of the latter was to demand that Putin refuse to run in the 2018 presidential election).
According to the law, a criminal case for "carrying out the activities of an undesirable organization" can be initiated if two administrative protocols under Article 20.33 of the Code of Administrative Offences are issued within a year. Shevchenko was penalized twice in 2018—for participating in political debates and organizing the "Open Elections" seminar.
In late January 2019, the court placed her under house arrest, forbidding her to communicate even with doctors and teachers (Anastasia's son was seven years old at the time, her daughter was 14). During the court hearing on pre-trial restrictions, Shevchenko asked not to be prevented from visiting her other, 17-year-old daughter in a psycho-neurological boarding school, but this was denied. A week later, the girl fell ill, was hospitalized and died. At the last moment, Anastasia was allowed to visit the child in the intensive care unit, and then again released for the funeral.
It was reported that for five months prior to her arrest, employees of the regional FSB Center for Counteracting Extremism conducted covert video surveillance of the activist's bedroom and listened to family conversations.
The Memorial Human Rights Center recognizes Anastasia Shevchenko as a political prisoner, and her persecution as part of state repressive actions against both Open Russia (which is inextricably linked in the eyes of the authorities to the figure of Mikhail Khodorkovsky) and the political opposition and critics of the authorities in general.
In April 2017, the General Prosecutor's Office designated as "undesirable" three NGOs registered in the U.S. and Great Britain and associated with former Yukos head Mikhail Khodorkovsky: Open Russia civic movement, OR (Otkrytaya Rossiya), and the Institute of Modern Russia. These organizations were said to be carrying out "special programs and projects on [Russia's] territory in order to discredit the results of the elections [and] recognize their results as illegitimate." Their activities were allegedly aimed at "instigating protests and destabilizing domestic political situation, which threatens the foundations of [Russia's] constitutional order and state security."
In March 2019, the Open Russia civic movement announced it would self-liquidate "to protect activists."
Shevchenko is not the only one convicted under Article 284.1. In February 2020, Maxim Vernikov, former Open Russia coordinator in Yekaterinburg, was sentenced to 300 hours of mandatory labor. In October 2020, Yana Antonova, former head of the Krasnodar branch of the movement, was sentenced to 240 hours of mandatory labor.
The case of Yuri Dmitriev: the persecution of the historian is supervised by the Kremlin 
On February 16, an appeal court upheld the sentence of Yuri Dmitriev, the head of Memorial in Karelia. Last September, Karelia's Supreme Court increased his sentence from 5 to 13 years in a strict regime penal colony in a case of sexual abuse of a minor (Part 4, Article 132(b) of the Criminal Code). IMR previously wrote about this case here.
Human rights activists believe that the case is "politically motivated" and aimed at discrediting him. Dmitriev spent many years restoring the memory of victims of the Great Terror: expeditions under his leadership discovered mass graves on the territory of Karelia. In the Sandarmokh forest tract, one of the largest among these graves, more than 7,000 people were shot and buried in 1937-1938. Dmitriev was one of the organizers of the annual mourning events at Sandarmokh, which attracted foreign delegations.
"The appeal court's ruling confirmed that it was not the law that played the main role in Dmitriev's case, but rather a political hit to carry out a public, brutal, and unjust massacre," Memorial said in a statement.
The independent investigative media outlet Proekt tried to find out who might have been personally interested in the historian's persecution. In February, Proekt published an investigation titled "A Very Grey Cardinal," which revealed that Anatoly Seryshev, Putin's aide and the former head of the FSB of Karelia, was in fact Dmitriev's "high-level case manager."
A year following his appointment as a presidential aide, Seryshev joined the presidential commission for reviewing candidates for federal court judicial posts, and now oversees HR matters within the entire security bloc, except the army.
According to Proekt, "[a]ll the twists and turns around the Dmitriev case coincide with Seryshev's career moves. The persecution of the historian began while the latter was head of the Karelian FSB. As soon as Seryshev was transferred from the FSB to the Customs Service, the case was paused. But then [he] became an aide to Putin and placed in charge of appointing judges. And everything started all over again."
The investigation suggests that the pressure on Dmitriev may be linked to the 2016 publication by Memorial of a list of NKVD officers, which included Vassily Seryshev, a Chekist and alleged relative of Anatoly Seryshev, who took part in Stalin's repressions and was later arrested for being involved in "mass unjustified arrests."
After the list was published, Dmitriev began receiving anonymous threats even though he wasn't directly involved in its compilation.
The historian has been under criminal investigation since December 2016, when he was detained on suspicion of making child pornography: during a search based on an anonymous tip, nude photos of his adopted daughter were found on his computer. Dmitriev claimed that he had photographed the little girl to control her physical development and to report to the guardianship authorities.
The entire course of Dmitriev's case indicates that the courts were pressured. He was acquitted in April 2018, but that decision was reversed two months later and the case was sent back for further investigation. In June 2018, the historian was charged with a more serious crime—violent acts of a sexual nature against a minor.
In July 2020, the court sentenced him to 3.5 years in a strict regime colony. Dmitriev was supposed to be released in November, based on the time he had spent in the pre-trial detention center. However, after the sentence was appealed, his punishment was increased to 13 years.
The court also rescinded the earlier acquittal verdict regarding the articles on producing pornography involving a minor (Part 2, Article 242.2 of the Criminal Code) and indecent acts (Part 3, Article 135). These cases were sent for reconsideration.
Protests in support of Navalny: Courts as an instrument of intimidation
Russian courts launched a conveyor belt of cases related to the January 23, January 31 and February 2 mass protests.
On these days, over 11,000 people were detained across the country. Detainees reported "inhumane" conditions in special detention centers.
According to Proekt, "this year, the courts have become a real instrument for intimidating protesters." The outlet estimates that "compared to previous rallies, people are now being detained six times more frequently and fined far fewer times. Everyone has suffered, including women—they have been arrested ten times more often."
In the late January and early February protests, 1,251 people were placed under administrative arrest in Moscow alone. The majority—1,218 people—were found guilty of violating the law on holding rallies (Article 20.2 of the Administrative Code), and 33 people of disobedience to police (Article 19.3). Another 2,500 people were fined.
Moscow courts received a total of 5,716 administrative cases related to those rallies; only 245 protocols were returned to the police for revision.
In addition, at least 90 criminal cases were opened against protesters in various Russian cities. According to OVD-Info, the cases were filed under the articles on violence against a representative of authority (Article 318 of the Criminal Code), hooliganism (Article 213), insulting a representative of authority (Article 319), intentional destruction or damage to property (Part 1, Article 167), calls for extremism (Article 280), calls for mass rioting (Part 3, Article 212), vandalism (Article 214), repeated violation of the procedure for holding rallies (Article 212.1), drawing minors into illegal protests (Article 151.2), violation of sanitary and epidemiological rules (Part 1, Article 236), and blocking of roads (Part 1, Article 267).
On 18 February, a Moscow court began hearing the first criminal case—of 34-year-old Alexander Muchaev, who is accused of hitting a police officer.
However, not a single criminal case regarding the use of violence by law enforcement officers against protesters was opened, although human rights activists identified at least 140 such incidents. During arrests, law enforcement officers reportedly beat protesters with batons, used tasers and tear gas.
Memorial declared as political prisoners ten opposition activists charged with "incitement to violate the sanitary and epidemiological rules, which created a threat of mass illness" (Part 1, Article 236 of the Criminal Code, with the application of Part 4, Article 33) during the January 23 rally.
People who are being tried in the so-called "sanitary case" include Alexei Navalny's brother Oleg Navalny, Alliance of Doctors head Anastasia Vasilyeva, Pussy Riot member Maria Alyokhina, head of Navalny's Moscow office Oleg Stepanov Navalny's press secretary Kira Yarmysh, Navalny LIVE producer Lyubov Sobol, activist Nikolai Lyaskin, and municipal deputies Lyusya Shtein, Konstantin Yankauskas, and Dmitry Baranovsky.
All the defendants, except for Nikolai Lyaskin and Anastasia Vasilyeva, are under house arrest until March 23. Lyaskin and Vasilyeva are subject to a ban on certain actions.
"The persecution of protesters for violating sanitary and epidemiological restrictions looks particularly cynical against the backdrop of the detention of thousands of peaceful protesters, who are subsequently transported in cramped police vans and held in police stations and special detention centers in conditions that are far more conducive to the further spread of disease," the Memorial said in a statement.