In a recent article in the Financial Times Charles Clover, the publication's Moscow bureau chief, writes that Vladimir Putin's plan to return as president "unleashes open rebellion within the Kremlin." As he explains, a series of political scandals in September might indeed be a sign of tectonic shifts in the mood of the Russian elite.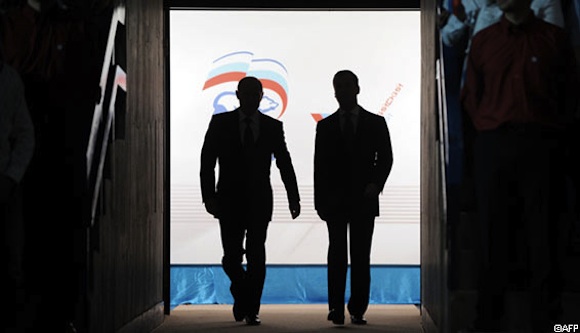 Last weekend's announcement that Russia's top two officials — President Dmitry Medvedev and Prime Minister Vladimir Putin — are about to swap jobs, was presented as a long-term agreement between them. But what happened next proved the opposite: the deal was probably set in motion only about a month ago.
First, Russian Finance Minister Alexei Kudrin, who had served 12 years in the post and is one of Putin's oldest friends from St. Petersburg, was fired on Monday.
As Charles Clover reported, it was "the first and possibly not the last head to roll in what has become a hefty political brawl. On learning of the deal, Kudrin questioned Medvedev's competence in economic matters and summarily announced his refusal to serve in his cabinet, probably because he had his own eyes on the position of Prime Minister."
Later, the rogue ex-Minister made no secret of his irritation in public statements, causing Russia's central bank to spend "at least $6 billion in the past week to prop up the ruble in the midst of global market turmoil," according to Clover. Kudrin's move was unheard of considering the norm of controlled messaging under Kremlin's managed democracy.
As Clover points out, "this week's fireworks indicate that conspiracy as a governing tool is becoming untenable. Despite the Kremlin's efforts to drain all the spontaneity and competition from public politics, it just as stubbornly refuses to go away."
Clover quotes other political rebels, who expressed their dissatisfaction with Putin's ambitious political plans, people like Gleb Pavlovksy, head of the Fund for Effective Politics and a former political consultant to the Kremlin, Igor Yurgens, Medvedev's economic adviser, and Arkady Dvorkovich, a key aide to Medvedev. Many other sources within the Russian government were unhappy with the hastiness and secretiveness of the political deal, as well.
Even some media outlets didn't keep silent this time. On Monday, Moskovsky Komsomolets, a popular Moscow tabloid, took aim at the "tandem" decision in an editorial by Aleksander Minkin: "And everyone whose consciousness has not been turned off by ecstatic glee [over Putin's return] has understood that you have lied to us for four years." "Russia," Minkin continued, "has just received a lesson in unbridled cynicism."
Clover offers up a possible interpretation of all these events: The series of political scandals that started earlier this month when Mikhail Prokhorov resigned from the Right Cause party, whose leadership team he only joined in June, demonstrates that "patience with such a controlled democracy is running out."
"The Russia he [Putin] will take over in 2012 is not the same Russia, sick of the chaos of democratic transition, that welcomed a strong hand in 2000 when he first came to power. Today the country is richer, more middle-class and less patient than it was a decade ago," Clover adds.
As opinion polls indicate, Russia's growing middle class might be the reason for Putin to launch some liberalization policies.
Olga Khvostunova