Page 3 of 3
Vanishing Universities
Higher education will also be substantially reformed. The key change is the adoption of the dual level academic system, with bachelor's and master's degree programs,bringing Russia in compliance with the Bologna system. Other changes include merging and restructuring universities to control costs, reducing their number, and increasing the quality of education.
Some major Russian universities, like Lomonosov Moscow State University, St. Petersburg State University, and those that have been designatedfederal or national research universities, will retain some independence and the right to develop their own academic curricula.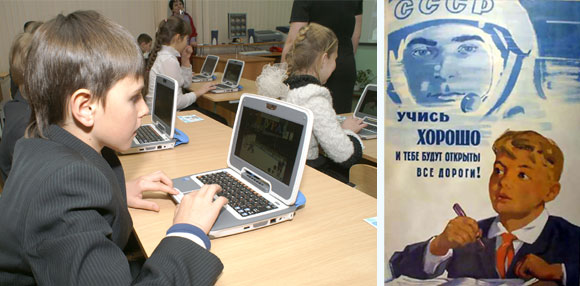 Some education experts, like Russian Education Academy corresponding member Aleksander Abramov, point out that the transition to the Bologna system is premature. The hurried adjustment of higher education programs will come at the expense of quality. Changing universities originally developed with a five-year degree track in mind may cause serious problems down the line. Also, professors accustomed to the five-year system will have problems adapting to the new system quickly.
Nevertheless, the Russian government has high hopes for higher education reforms. New Minister of Education Dmitri Livanov recently asserted that, by 2020, five of the world's top100 universities will be Russian, and will appear on lists such as those annually published by The New York Times and The Times of London. The minister's ambitious claim might have been a reaction to the news that the this year's top-100 lists did not contain a single Russian university. Starting next year, the Minister promised a serious inspection into Russian university educational quality.
President Vladimir Putin has requested a university reorganization scheme by May 2013 and a list of "inefficient" universities that should be liquidated. By the end of July 2012, the Ministry of Education and Science had already presented the four major criteria for university evaluation. The first is academic quality. USE grade point average will be considered, along with the number of presidential scholars and the number of students employed within a year of graduation. The second is research activity, the portion of a university's budget devoted to R&D spending. The third criterion is international networking, the number of foreign students present and of Russian students studying abroad. Finally, fourth is financial efficiency, employee salaries compared to employee salaries at other universities in the region.
The Russian Provost's Union has largely criticized these criteria and presented a counteroffer to the Ministry. As Boris Derevyagin, head of the Union's Analytical Department, explained in an interview to RIA Novosti that the process of eliminating universities should be organic, and not administratively dictated. "For instance, a commission of employers, regional government representatives, academics, and civil leaders should discuss the liquidation or consolidation of universities that cannot perform or manage the public-private partnership," he said.
According to Rosstat's official data, there are 1,080 universities registered in Russia. Unofficially, there are about 2000. The education reform plans to cut that number by one third. In the last 20 years, the number of Russian universities doubled because "the government had been financing only half of universities' demands, so the schools developed regional branches to make money," says Oleg Smolin, head of the State Duma's Education Committee.
And it's true. According to the Russian Audit Chamber, in 2012, state budgets will allocate 603.5 billion rubles for education. This is the most spent on Russian education ever. By way of comparison, education spending was 37.6 billion in 2000, 160.5 billion in 2005, and 386.4 billion in 2010. But in 2013, spending will be cut to 558.9 billion, and in 2014, it will fall to 499.5 billion.
As various policy experts on the right (such as Yaroslav Kuzminov, Higher School of Economics provost) and the left (like Oleg Smolin, Russian Communist Party member) have repeatedly said, public financing is still insufficient. Education spending should be increased to at least 7% of the GDP. According to the World Bank, that was the Soviet level in the 1970s. Today, in modern Russia, it's 4.2%. Meanwhile, developed countries spend 10% of GDP on education. In Brazil, a country economically similar to Russia, it is 8%. The key argument here is if a country wants to modernize, it must start by investing in education.
Teacher's Verdict
Experts view many provisions of the new law as controversial, but it is school reform that received most criticism. Evgueny Yamburg, an honored Russian school teacher and Russian Academy of Education corresponding member, in May 2012 published an article in Novaya Gazeta, analyzing the reform's details and concluding that "it's not educational reform, it's a reform of the economics of education, of its infrastructure."
"Today, school headmasters are asked to stop being teachers and to become efficient managers", Yamburg writes. "This request has been heard, and one can see the changed agendas at headmasters' meetings and the titles they sweep off bookstore shelves, primarily from the lawor economics sections. Psychological and pedagogical baubles are put aside for better times. From now on, the accounting department is running the show. At times like these, the saying 'lives are at stake' has real meaning."
Yamburg criticizes key provisions of the reform: the foundation (financing per capita), the framework (federal public education standards) and the final touches (USE). Hepoints out that "a short-sighted, accounting-style approach creates a threat to national security." One of the most acute problems the new legislation failed to consider, in his opinion, was the taboo subject of Russian genetic pool weakening. "Any working teacher can tell you that every year more and more children with complicated mental issues come to school. Children with borderline personality disorder, attention deficit disorder, brain dysfunctions, dyslexia, dysgraphia… You can scream at these kids or put them in a corner but they still won't pay attention, despite their intellectual capability. We can and we must work with these children. If they cannot master school, they will end up on the street or join the criminal world. One has to invest time into working with them."
In his article, Yamburg quotes the medical director of the Federal Correctional Service who told him that 72% of imprisoned teenagers are hyperactive, attention deficit disorder kids. "Bismarck was right when he said that those who save on schools will end up building prisons," Yamburg concludes bitterly.