Terrorism is a global problem that affects dozens of countries in today's world. But, as author and analyst Alexander Podrabinek notes in this commentary, terrorism in Russia has its own—often unexplainable—"national peculiarities."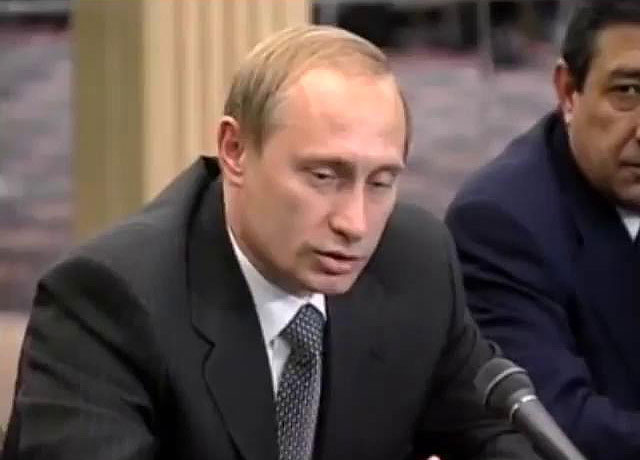 Terrorism is strange in Russia. Bombs go off in cars, on planes and at train stations; hundreds of people die, even more are left crippled for life. Genuine human tragedies occur next to a farce, performed over and over again by the authorities, law enforcement bodies and secret services.
Russian terrorism has its peculiarities, with the main and the most obvious of them that in most cases nobody claims responsibility for terrorist attacks. Terrorists keep quiet, though the whole point of the use of terror is to intimidate the government and society, and thus, the source of the threat should make itself obvious. In Russia's case, however, there is no source. The National Anti-Terrorist Committee names those responsible for terrorist attacks, and the same committee switches responsibility when necessary.
The 1999 apartment building bombings in Moscow, Buinaksk, and Volgodonsk prove this point. No less than 307 people were killed then and more than 1700 were injured. None of the leaders of the Chechen rebel movement claimed responsibility for the attacks. According to many independent analysts, the persons convicted of the bombings were not involved in terrorist activity. In other cases, including the recent terrorist attacks in Volgograd, terrorists behaved in a similar way. Nobody is in a hurry to claim the bloodiness, which is usually a characteristic of terrorism.
Another peculiarity of Russian terrorism is the absence of defendants. Trials only take place in exceptional cases, while usually terrorists get killed before court proceedings, either during the terrorist attack itself or during police operations that follow the attack. The difficulties of the combat situations that accompany the apprehension of terrorists are always offered as justification for such killings. This is a rather strong argument. However, in other countries, in similar situations, the police and security forces often manage to arrest suspects and bring them before the court.
The operation to release the hostages during the October 2002 Moscow theater siege demonstrates this Russian peculiarity of destroying potential defendants.  All of the terrorists were killed: 36 of them according to official data, and 40 according to other sources.  Most of the terrorists were shot while unconscious from the gas used, which affected both terrorists and the hostages. There is still no conclusive information on what type of gas was used. Approximately 150 hostages died during the release operation, 4 of them shot by terrorists and the others killed by special forces operatives.
The moral justification of immediate reprisals against terrorists originates from Vladimir Putin's notorious direction to "waste [terrorists] in the shithouse." The Russian president made this remark during the September 24, 1999 news conference while trying to justify Russian air attacks on Grozny.
Russian authorities and top police and security forces officials have on multiple occasions declared that one should not be too soft on terrorists and that they should be killed at any opportunity. Criminal cases are never initiated for the killing of terrorists and investigations are never conducted concerning the circumstances of the deaths and there necessity. This allows the authorities to avoid court proceedings on terrorism cases and makes them the only source of information regarding terrorist attacks that took place.
Nobody claims responsibility for terrorist attacks.  Terrorists keep quiet, though the whole point of the use of terror is to intimidate the government and society, and thus the source of the threat should make itself obvious.
Another peculiarity of Russian terrorism is how attacks coincide with unpopular political decisions, which demand the consolidation of the nation or the use of extraordinary measures.  Thus, the aforementioned apartment building bombings in the fall of 1999 led to armed hostilities in the Caucasus and served as political justification for bombing Grozny and launching the second Chechen war. The war itself served as motive to replace old and undetermined President Yeltsin with the new, young and tough secret services protegé Vladimir Putin.
Everyone remembers the September 1, 2004 terrorist attack in Beslan, when around 1100 people, including children, their parents and teachers, were taken hostage in a local school. In order to free the hostages, Russian special forces opened fire on the school with heavy weapons. 334 people died, more than 800 people were injured. The government immediately used this terrorist attack to cancel gubernatorial elections under the pretext that the people elected for these posts were incapable of guaranteeing security.
It cannot be ruled out that competing factions within the regime are using terrorist attacks to strengthen their influence or to increase their political power. Thus, the most recent terrorist attacks in Volgograd, which took place only a few months before the Sochi Olympics, might very well be used, as in 1999, either to introduce extraordinary measures while in the atmosphere of general uncertainty or to replace current top political figures with new ones--tougher and less prone to liberal rhetoric.
All of the abovementioned peculiarities of Russian terrorism suggest that terrorist activity can, in some way, be controlled and manipulated by the government and might even be a direct result of its work. As a matter of fact, there is a very fine line between security services' operational activity and their influence on terrorists' decision making. When necessary, terrorists can serve as a problem-solving instrument in areas of interest to the government and security services.
Let us remember a seemingly unbelievable incident that took place in 1999, when police officers and regional federal security service operatives detained two out of three terrorists, who had deposited bags of cyclonite in the basement of a twelve-story apartment building in Ryazan. The detainees turned out to be FSB operatives and were soon released, and the terrorist attempt was called an interregional training exercise.
The participation of secret services was also obvious in another notorious case. On September 13, 1999, Duma Speaker Gennadi Seleznyov read a report that he had just received concerning a terrorist attack in Volgodonsk. However, on September 13, an apartment building was bombed on Kashirskoye Street in Moscow, whereas in Volgodonsk, an apartment building was bombed three days later, on September 16. The authorities obviously possessed all the information regarding an attack that was being prepared. However, so far, none of them have cared to explain what happened. Then again, what could they say?
There are records of tampering with materials and other evidence with regard to many terrorism cases. Consequently, societal confidence in official information is very low. It could be higher, if terrorism cases were brought to court. However, this hardly ever happens, and when it does it takes place in prisons and military installations, closed to the public and the media. Also, in 2008, terrorism cases were eliminated from the jurisdiction of jury trials, which narrows the circle of those informed.
The government prefers to kill terrorists rather than put them on trial. This fact hardly surprises anyone in a country with no legal traditions. Open court proceedings, however, would help answer many questions, including the one about what role the secret services play in terrorist activity.