From November 19 to 22, the Institute of Modern Russia participated in the 47th Annual Convention of the Association of Slavic, East European, and Eurasian Studies (ASEEES) in Philadelphia. IMR hosted two panels, presenting research papers on the Kremlin's connections in Europe and Russia's democratic practices online, and holding a roundtable discussion on Russia's information wars.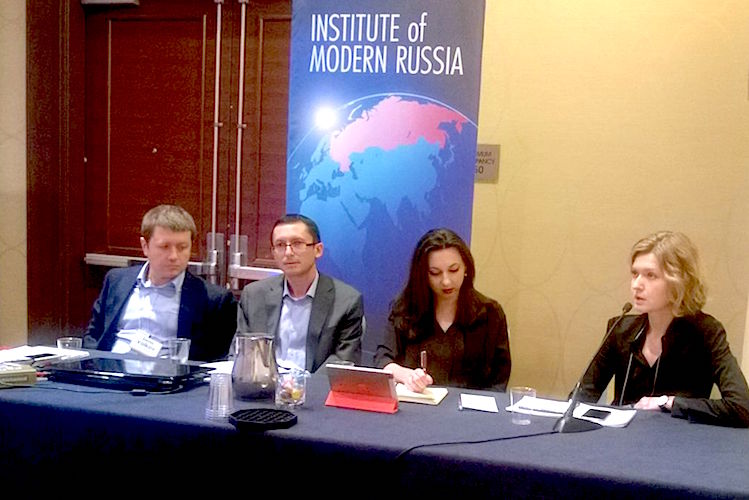 The theme of this year's ASEEES convention was "Fact" to highlight the topic of information wars waged by Russia across Europe and the United States. The Kremlin's disinformation campaign has come in different forms and contexts—and not just in the media.
Russian Influence in Europe
One of the tactics adopted by the Kremlin is connecting with marginal far-right and far-left forces in the West, providing them with financial support and exploiting their frustration with mainstream politics. The Kremlin's manipulations were discussed at IMR's first panel, titled "The Russian World in Contemporary Europe: A Push for Greater Influence?" Péter Krekó, director of the Political Capital Institute, and Alina Polyakova, associate director of the Atlantic Council's Dinu Patriciu Eurasia Center, presented their papers, while Mitchell Orenstein, professor of Central and East European Politics at the University of Pennsylvania, served as discussant. IMR researcher Boris Bruk chaired the panel.
In his paper titled "The Cacophonic Unity: Kremlin Makes the EU More Integrated and Efficient," Peter Krekó focused on the ways in which the Kremlin tries to exert influence in the EU. One of the Kremlin's key tools is energy policy (Europe is the primary market for Russian gas monopoly Gazprom), but in recent years that tool has proved to be not very successful, Krekó said. The role of Russian gas in EU markets has declined, partly due to Gazprom's abuse of its market position.
Another avenue of Russian influence is through the European Parliament, where about 20 percent of the parties are pro-Russian (up from 8 percent in the previous term). All of them are fringe parties, both far-left and far-right. But despite Russia's attempts to break the unity of the EU, especially with regard to anti-Russia sanctions, the Ukrainian crisis brought Europe together against the Kremlin, Krekó said. Another reason for Russia's failure to impact European decision-makers is the strong structure of the EU, which blocks the Kremlin from exerting the kind of influence it seeks.
Next, Alina Polyakova presented her paper titled "Revealing Kremlin Connections in European Institutions." She named the EU parties known to receive financial support from the Kremlin (including France's National Front and Hungary's Jobbik), noting that their connections are not just economic, but also ideological. These "mostly fringe parties" have been gaining popularity in recent years, and their Eurosceptic stance brings them closer to the Kremlin. According to Polyakova, in 2012-13 public support of the EU fell from 60 percent to 40 percent, and the refugee crisis is likely to damage it further.
The third scheduled panelist, Ekaterina Schulmann, author of a paper titled "Russian Legislature in the Political Decision-Making Process," was unable to attend the ASEEES convention, so her paper was presented by IMR's Boris Bruk. According to Schulmann, in recent years the direction of political science thought has changed from the "window-dressing theory" to a deeper exploration of the roles played by parliaments in non-democratic or hybrid authoritarian-democratic systems (sometimes referred to as "illiberal democracies," a term used recently by Hungarian Prime Minister Viktor Orban). Over the last decade, Russia's State Duma has become a kind of administrative stock exchange for the Russian political elites, while the Russian legislative process is sometimes viewed as "rubber-stamping" orchestrated by the executive branch. Schulmann finds this approach simplistic. "In a sense, the operational mode of the Duma makes it a parody of a real parliament. The crucial difference is that instead of the public interest and the electorate's opinion, [Russia has] elite groups and actors, the bureaucracy talking to itself, competing within itself, and using political institutions to further its interests."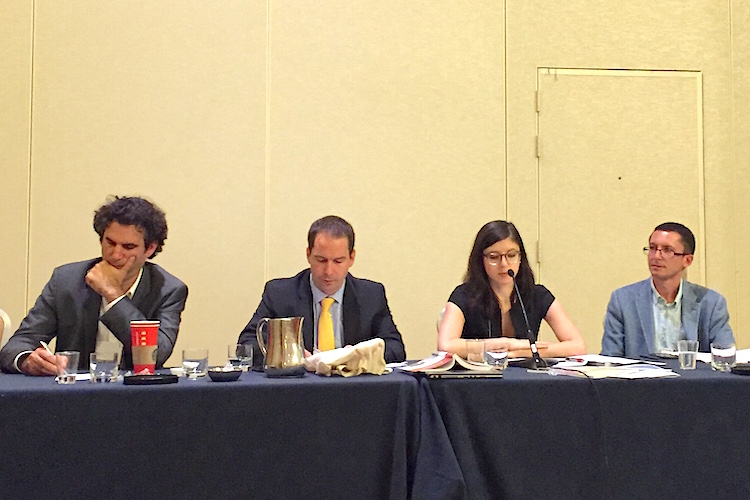 During the panel discussion, Mitchell Orenstein pointed out that Europe had until recently been largely unaware of the information war that Russia had been waging against it. Starting last year, however, this problem has increasingly drawn the attention of researchers and policymakers. One of the mechanisms currently used by the EU to counter this information war is economic sanctions, but, as Orenstein put it, the "whip that pulled all the EU member states together to support sanctions [against Russia] is the U.S." Despite Russia's recent overtures to France following the attacks on Paris, and new calls for cooperation in the fight against ISIS, all the panel participants agreed that Western sanctions against Russia will be renewed in January for another six months.
Information as a Weapon
The following day, IMR hosted a roundtable discussion focused squarely on this year's theme, titled "Information as a Weapon of the Kremlin's Battle." The roundtable participants were Mark Galeotti, professor of Global Affairs at New York University; Ekaterina Mishina, visiting professor of political science at University of Michigan; and Michael Weiss, editor-in-chief of The Interpreter and senior editor at The Daily Beast. IMR president Pavel Khodorkovsky served as roundtable chair.
The topic of the information wars has been widely discussed in the academic world, by think tanks, and in the media. It was especially thoroughly researched in an IMR paper titled "The Menace of Unreality: How the Kremlin Weaponizes Information, Culture and Money," authored by Peter Pomerantsev and Michael Weiss. At the roundtable, Weiss argued that the Kremlin's information war has had implications for the Syria crisis. According to Weiss, two weeks after the start of Russia's incursion into Syria, 90 percent of Russian airstrikes had hit non-ISIS targets, but this fact was denied by the Russian authorities. "Even ISIS is saying that Russia is not bombing ISIS in Syria," Weiss said. He reiterated that the key point of the Kremlin's propaganda is to sow confusion and make people question what they believe.
Mark Galeotti described Russian propaganda as a "cancerous mutation" of the use of information. By waging its information wars, the Kremlin is seeking support inside Russia, but it would also settle for apathy as long as people ignore politics. He argued that all governments lie, but the difference between the West and Russia is that there is more public control and accountability in Western democracies. Galeotti said the West had made plenty of mistakes in its relationship with Russia and in its own policies, and that Vladimir Putin is taking advantage of those mistakes.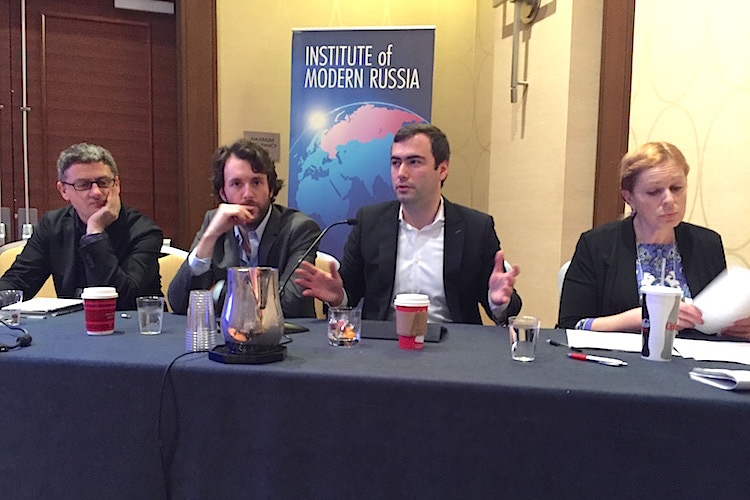 According to Ekaterina Mishina, contemporary Russia did not pioneer the use of legislation as part of the information wars. In Soviet Russia, the first two pieces of legislation introduced as propaganda tools were the 1922 Civil Code and 1936 Stalin Constitution. In the 2000s, a turning point in the evolution of the Russian court system came in October 2010, when the European Court of Human Rights ruled in favor of Russian army captain Konstantin Markin when he appealed a Russian court decision to deny him three years paternity leave (Markin is a divorced father and the custodian of three children). Since that decision, Constitutional Court head Valery Zorkin launched a propaganda campaign against the Strasbourg Court, calling it a highly politicized institution. Mishina concluded that the variety of propaganda tools Russia is adopting in its policies show that it is building a wall between itself and Europe.
Russian Democracy Online
IMR's third event, a panel titled "Russia's Democratic Practices Online: Myths, Facts, Threats, and Opportunities," focused on digital democratic initiatives in Russia. The participants were Boris Bruk, IMR researcher, and Denis Volkov, a Levada Center sociologist. IMR director Lidiya Dukhovich served as chair and Olga Khvostunova, IMR analyst and editor-in-chief of Imrussia.org, served as discussant.
Boris Bruk was the first to speak about his paper, titled "E-Participation from Below: Russia's Experience." He emphasized the importance of information and communication technologies (ICTs) for the purposes of promoting democracy and highlighted several initiatives launched by Russian activists and civil society organizations. According to Bruk, ICTs play an important role in creating an alternative public sphere for both mainstream and excluded voices and perspectives, a space that may allow citizens an opportunity to engage in conversations and decision-making that can lead to transformational change. Despite the challenges, opportunities for citizen participation (including electronic) beyond the ballot box remain significant.
Denis Volkov's paper titled "The Limits of Social Networks to Mobilize and Recruit People for Protest Activities" focused on Levada Center's surveys and analysis of Russians' social media preferences and political activism. According to Volkov, about 60 percent of Russians use the Internet (75 percent in Moscow) on a regular basis, and 40 percent use social networks (53 percent in Moscow). Odnoklassniki.ru (45 percent) and VKontakte (33 percent) are the most popular networks among Russians, while only 11 percent use Facebook, 4 percent use Twitter, and 2 percent use Instagram. He pointed out that a majority of Russian activists with liberal views use Facebook, making it into an important platform for communication and organization during the 2011-12 protests, and that Twitter has also gained momentum recently.
In the follow-up discussion, Olga Khvostunova pointed out that one of the crucial issues in digital democracy practices is the juxtaposition of "democracy from above" with "democracy from below." In today's Russia, the government is not only trying to imitate democratic process but also to impose its imitation from above. In the current media environment, in which all major media outlets are controlled by the government, the efficiency of e-initiatives introduced from below is hindered. Another issue needing to be addressed is the fact that Russian activists who conduct their activities on social media are isolated in many ways. "The government allows for these platforms to exist so that the opposition has an outlet to channel its frustration without making a substantial difference," Khvostunova said. Finally, the government recently has begun attempting to establish control over the Russian segment of the Internet, which until now has been mostly independent, and recent legislation on personal data protection may undermine all digital democratic practices in Russia.
Foreign Policy and Security
Other ASEEES panels touched on issues including Russian foreign policy, international security, and trade. A panel titled "Abuse of the Interpol Red Notices System by the Russian Federation and Other Former USSR States" featured a presentation by Ted Bromund, senior research fellow at the Heritage Foundation, on how Russia abuses Interpol. Bromund argued that Interpol's tools could be used to obtain Red Notices (international arrest warrants) that might target political opponents, dissidents, and business people. Several such cases have been observed in Russia, and according to Bromund, there are few protections against the abuse of Red Notices despite increasing attention to the issue.
At a panel titled "Russia's Relations with the West: Inevitable Conflict?" Pamela Jordan, assistant professor of politics/global affairs at Southern New Hampshire University, spoke about the foreign policy implications of Russia's participation in the WTO. As part of her talk, Jordan discussed Russia's involvement in trade dispute settlements through the WTO and its participation in trade negotiations during its first three years as a WTO member. Jordan's presentation focused on Russia's positions on trade disputes and negotiations and placed the discussion within the context of global trade norms and Russia's geopolitical rivalry with Western powers.
Kimberly Marten of Columbia University spoke about the initial decision to expand NATO. She addressed the question of whether the relationship between Russia and the West would have developed differently if NATO had not expanded geographically or had expanded in some other way. Marten said she believed that domestic politics were promoting anti-Western sentiments even before NATO expansion appeared on the agenda. Among other things, Marten pointed out that NATO expansion "exacerbated things but it was not the primary security threat for Russia."
At a panel titled "Russian Foreign Policy from the 1980s to 2015," Igor Gretskiy, professor at St. Petersburg State University, presented a paper on Russian foreign policy before and after the disintegration of the Soviet Union. In Gretskiy's words, Soviet strategies were centralized and non-transparent. During Soviet times, foreign policy -- which was dominated by the neo-realist approach -- was under the direct control of the secretary-general. The roles of the Foreign Affairs Ministry and Parliament were "negligible." After the collapse of the Soviet Union, Soviet-era trends continued. For example, Russian presidents saw their powers expanded, while the presidential administration played an increasingly important role. Gretskiy said he thinks that Russia's foreign policy has followed a conservative and Soviet-like perspective on international relations since the Soviet collapse, emphasizing the importance of fixed legal principles and the UN Charter system.
Sergey Ratz, Gretskiy's colleague at St. Petersburg State University, spoke about the deployment of the Soviet army into Afghanistan. He noted that the views of high-ranking military officials varied at the time—some army generals considered Soviet involvement in Afghanistan a mistake, while others praised the idea. According to Ratz, policymakers should take the lessons of Afghanistan into consideration. "Today we must stay together in the struggle against terrorism," Ratz said.