NEW YORK — Pavel Khodorkovsky, president of the Institute of Modern Russia and son of political prisoner Mikhail Khodorkovsky, released the following statement today: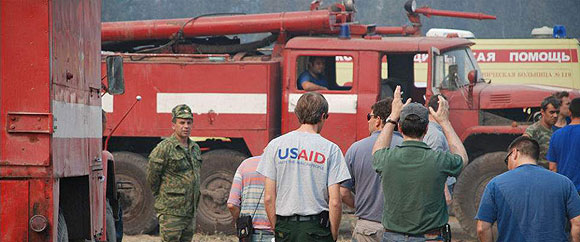 "The Institute of Modern Russia is disappointed with the Putin administration's decision to prevent human rights organizations and other NGOs working in Russia from receiving USAID funding. The current regime is eager to disavow and denigrate the work of USAID and similar groups by using frivolous allegations of 'meddling,' but for two decades these organizations have strived to support Russia's transition from communism to democracy while furthering humanitarian causes that improve people's lives. With this type of actions, the Russian government is making it clear how far its intentions are from establishing a truly democratic and open society."

MOSCOW — President Vladimir Putin is expelling the U.S. Agency for International Development, the State Department said Tuesday, another in a series of ­ever-more-aggressive measures meant to limit the work of Russian activists who support democracy, protect human rights and promote fair elections.
Putin, who has always disliked what he considers U.S. attempts to influence events in his country, has mounted a steadily escalating attack on organizations that accept foreign money — an attack that began during the Russian election campaign earlier this year and that hasn't let up.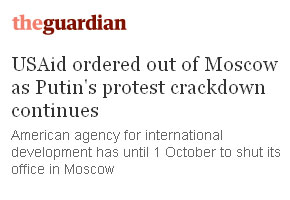 About 60% of USAID's $50m budget for 2012 went to groups that promote democracy and human rights – a sharp increase from the Bush era.
The agency first opened in Moscow in the wake of the Soviet Union's collapse. Among the nearly 57 organizations that receive USAID funding in Russia are human rights NGO Memorial and anti-corruption group Transparency International. Those groups have already been squeezed. The Russian parliament passed a new law this summer that required all non-governmental organizations that receive foreign funding to brand themselves "foreign agents" on all publications and websites and to undergo extra financial checks.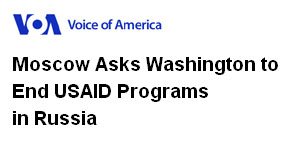 In addition to the American diplomats, USAID employs about 60 Russians, some for as long as 20 years - since the start of USAID program in Russia. [...]
The last time Russia ended a major American aid program here was in 2002, when the Kremlin terminated the Peace Corps program in Russia.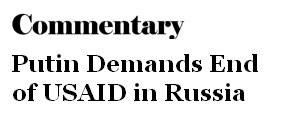 Vladimir Putin has kicked metaphorical sand in Uncle Sam's face by demanding that the U.S. government end all assistance for civil-society organizations in Russia. [...] This is more bad news for Russia's future. As Yelena Panfilova, head of the Moscow branch of Transparency International, told the New York Times: "What is the list of other countries that have expelled USAID? It's not about money — we can cope somehow — the problem is about this whole feeling that we have been brought together with Venezuela, Somalia and Belarus."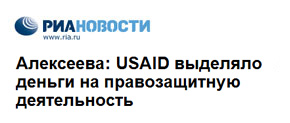 Lyudmila Alexeeva, head of the Moscow Helsinki Group, disagrees with the statement issued by Russia's Ministry of Foreign Affairs arguing that the U.S. Agency for International Development (USAID) attempted to influence the political process in Russia through the provision of grants. According to Alexeeva, the organization [USAID] provided grants to support human rights projects.
"We received grants from USAID. The largest grant was for monitoring the human rights situation. However, that was long ago — we received that grant between 1997 and 2000. I do not know what should be considered as politics. Are human rights matters a question of politics? It is the duty of each state to respect the rights of its citizens. We kept track of whether they [human rights] were respected or not. Unfortunately they were not well respected, there were many violations… In my view,this is human rights work," Alexeeva said to RIA Novosti.

Lilia Shibanova, the head of the election monitoring agency Golos, said the loss of USAID's help suggested difficult days ahead. Golos was thrown out of its office and publicly vilified after Putin criticized the organization.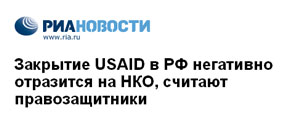 "This is a very bad signal," Shibanova told the Ria-Novosti news agency Tuesday. "USAID has been our partner since 2002. I believe they have done a lot for Russian people, for the support of the human rights organizations and development of free journalism in Russia."

NEW YORK TIMES: Grigory A. Melkonyants, the deputy director of Golos, said it would take at least a year to find alternate financing to replace the American grants, if it was even possible. "They see us as the source of criticism, and they are trying to halt that source," Mr. Melkonyants said. "Many people are already scared to talk about the problems that exist today. The press is already frightened. Now they are trying to shut up civil organizations."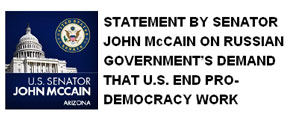 "There should be no confusion as to why this decision was made: an increasingly autocratic government in Russia wants to limit the ability of its own citizens to freely and willingly work with American partners on the promotion of human rights, democracy, and the rule of law in Russia. If the defense of these values holds any place in the Administration's approach to Russia, this shameful action by the Russian government should prompt strong criticism from the highest levels at the White House and the State Department. The Administration should also make clear that, despite this embarrassing setback, the U.S. will never abandon those patriotic Russians who dream of a better and freer future for their country, and that we will seek new ways to maintain our support and assistance to them. Most of all, it is now essential for the U.S. Congress to pass the Magnitsky Act as quickly as possible."