On June 5, the Alliance of Liberals and Democrats for Europe (ALDE) group in the European Parliament held a seminar on Russian political prisoners. The event took place on the eve of the "Bolotnaya Square" trial, widely viewed as politically motivated. The participants stressed the urgent need for the EU to take a firm stand with regard to human rights abuses in Russia.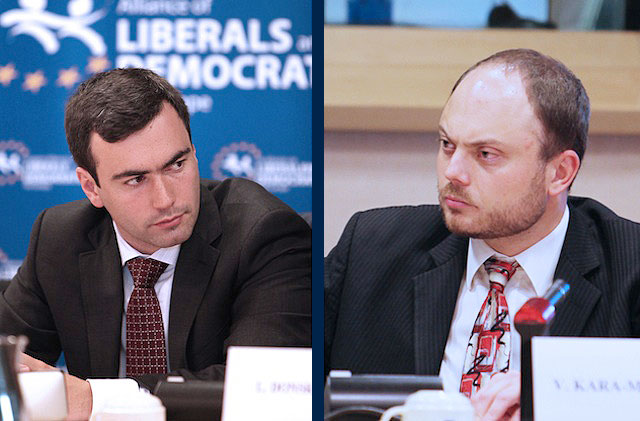 The situation regarding political prisoners in Russia has been deteriorating since 2011, when unprecedented mass protests against fraudulent elections were held all over the country. A group of prominent political leaders, policy experts, and human rights activists gathered to discuss the situation at the European Parliament. They included Lyudmila Alekseeva, head of the Moscow Helsinki Group; Bill Browder, CEO of Hermitage Capital Management; Anna Karetnikova of the Council of the Human Rights Center "Memorial;" Mikhail Kasyanov, co-leader of the Republican Party of Russia—People's Freedom Party and a former Russian prime minister; Vadim Klyuvgant, a lawyer for Mikhail Khodorkovsky and Nikolai Kavkazsky; Vladimir Kara-Murza, IMR senior policy advisor and a member of the Coordinating Council of the Russian opposition; and Pavel Khodorkovsky, president of the IMR. Leonidas Donskis, a member of European Parliament and the ALDE Group spokesman on human rights, moderated the seminar. The event was also dedicated to Mikhail Khodorkovsky's upcoming 50th birthday on June 26.
In his opening remarks, Donskis noted that "the human rights saga in Europe is an interesting combination of Russian, Ukrainian, East European courage and Western organization." After the collapse of the Soviet Union, the West had high hopes for Russia, as the era of Boris Yeltsin was very promising in terms of democratic development and political freedom. But today Russia is sliding back to the "obese of Soviet legislation," and Europe is finding itself at a crossroads: should it lower its standards for countries that play a crucial role in international trade, like China and Russia, or should it continue to apply universal standards of human rights and dignity? In Donskis' opinion, if the standards are lowered, it will be a historic failure for Europe and a betrayal of great minds such as Alexander Solzhenitsyn and Andrei Sakharov, who shaped the entire discourse of human rights. The EU legislator also stressed that Russian political prisoners exist, calling Mikhail Khodorkovsky a symbolic figure in this group, and suggesting that he stopped being just a Russian political prisoner and became a European political prisoner. "As long as corruption exists as an international phenomenon, every fighter against corruption or every fighter for human rights becomes an international figure… These people fight for Europe," Donskis observed.
Mikhail Kasyanov said there are thousands of cases of human rights abuses in Russia, and about one-third of appeals to the European Court of Human Rights are coming from Russia. But the public is largely unaware of this situation, because "there is a taboo" on discussing it. Kasyanov reminded the audience that Russia is a member of the Council of Europe, and therefore needs to abide by its obligations; Russia has signed up the European Convention on Human Rights, but is not fulfilling its provisions. The former Russian prime minister added that in the case of Mikhail Khodorkovksy and Platon Lebedev, reputable Russian lawyers and independent international experts have been clear that the evidence was fabricated, and that these two people should therefore be released. Kasyanov also recalled the case of Sergei Magnitsky and the sanctions that were imposed by the U.S. against officials involved in his death, as well as against other human rights abusers. He called for similar measures to be undertaken by the EU, emphasizing that they do not target Russia, but rather deprive criminals and human rights abusers of privileges.

Lyudmila Alexeeva observed that beginning in the 2000s, the social contract in Russia has essentially been a bargain: the government gives the people sufficient goods and standards of material living, and in exchange for that the public must give up certain rights and not bother the government. As Alexeeva pointed out, today Russian citizens have been deprived of all their civil rights listed in the Article 2 of the Russian Constitution except for one—the freedom of movement, and now this last one is also being removed, as people are required to register at their place of residence. At the same time, a number of new restrictive laws have been passed, and new politically motivated cases have been opened.  Alexeeva specifically focused on the "Bolotnaya Square case" (or the "May 6 case",) for which dozens of people were arrested after participating in a peaceful protest: "There was no violence on the side of the protesters, there was violence against the protesters. There were no riots, riots were invented by the government." She stressed that this is exactly what Stalin used to do in 1930s—scare people by creating scapegoats. Alexeeva called on the EU to support the "heroes" of the "Bolotnaya Square" case.
Pavel Khodorkovsky focused on the recent history of political repressions in Russia, recalling cases from his father's arrest in 2003 to criminal charges against Alexei Navalny in 2012. "The story of Putin's Russia, from Khodorkovsky to Navalny, is a story of political prisoners," the IMR president noted. "My father's campaign has never been about his own freedom. If that had been the case, he would have knelt down before President Putin and sought a pardon, accepting any conditions demanded of him. My father's campaign is about the freedom of Russia, as a society, as a people. But for as long as he and other political prisoners remain in prison, Russia will not be free." He also pointed out that one of Putin's core beliefs is that Western liberal democracy is "somehow un-Russian." "It's not that Western liberal democracy is no good for Russia, it's simply that Western liberal democracy is no good for Vladimir Putin," Khodorkovsky concluded. "I'm convinced that change in Russia can only come from within. But Europe has a strong role to play by helping to shape and support developments in Russia," he said, suggesting that the EU should dramatically increase its financial and moral support for civil society organizations in Russia.
Pavel Khodorkovsky: "I'm convinced that change in Russia can only come from within. But Europe has a strong role to play by helping to shape and support developments in Russia."
Speaking from a legal perspective, Vadim Klyuvgant specified that even though there are no "political" articles in Russian Penal Code, this does not mean there are no political prisoners. The Russian government even denies that there is political opposition in the country.  In his view, the sad thing is that the government does not need to interfere with the judiciary, because the judiciary knows that they have to support the atmosphere of fear. Thus, there is a repressive tandem of the executive and judiciary branches of power. Today, this tandem is targeting the so-called "internal enemy," the people who oppose the regime. The most recent is the "Bolotnaya Square case", where most of the defendants are very young. They have been accused of beating the police, but there was no investigation into the violent actions of the police that was clearly provoking the protesters. All these developments promote fear in Russian society.
In his turn, Bill Browder briefed the audience on the ways of doing business in Russia. He told the story of Sergei Magnitsky and the passage of the legislation under his name in the U.S. (effectively prohibiting corrupt Russian officials and human rights abusers from entering America and freezing their U.S. assets). Praising the U.S. Congress for introducing this measure, he addressed the EU, saying that it is not the U.S., but Europe where corrupt Russian officials are mostly keeping their money. "They keep here about 20 times as much money as they do in America, and they probably do 20 times as much traveling here as they do in America," Browder estimated. "And they are trying to make sure that the Magnitsky Act never happens here. So far they have been successful," he said, reminding of the recent letter by Russian ambassador in Ireland, who threatened the Irish government with introducing an adoption ban for Irish citizens should the government decide to impose the Magnitsky sanctions. Nevertheless, Browder emphasized that it was not too late to oppose the Kremlin and urged the European Parliament to veto visa-free travel for Russian officials (one of the provisions of the EU-Russia visa negotiations) if the Magnitsky sanctions are not passed.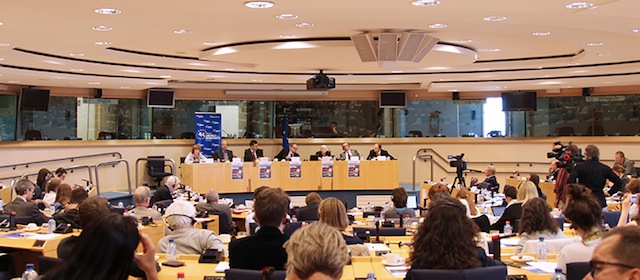 Anna Karetnikova focused on the drastic increase in the number of politically motivated criminal cases against Russian citizens since 2011: "We are now talking not tens, but hundreds of political prisoners," she said. Some of the cases she mentioned are the notorious Khodorkovsky-Lebedev case and the Magnitsky case; others are less known outside Russia, like the "case of the scientists" (who are accused of espionage) or the recent "case of the experts" (the people who reviewed the second Yukos trial for the Presidential Council of Human Rights and are now being investigated; these include former New Economic School president Sergei Guriev who had to leave the country), and, of course, the "Bolotnaya Square case" itself. In response to these developments, Karetnikova called for the EU to put pressure on Russian authorities to force them to fulfill their Council of Europe obligations. "Many people are leaving Russia today, so, please be more favorable in granting them political asylum," she concluded.
Concluding the event, Vladimir Kara-Murza provided a brief comparative analysis of the repressive methods of the Soviet and the Putin regimes. "Today's Kremlin leaders are similar to their Soviet predecessors both in style and in substance. But there is one important difference. While they harassed and jailed dissenters, Brezhnev, Suslov and Andropov did not buy real estate in France, own bank accounts in Germany, or send their children to study in Great Britain. The current leaders do," Kara-Murza noted. He explained why the Magnitsky Act is uniquely efficient: "The idea is based on a very simple premise: that there should not be impunity for crooks and abusers. They must face personal consequences. So that next time, these officials may think twice before they beat and arrest another protester, torture another prisoner, harass another journalist, or rig another election." Kara-Murza added that even though democratic changes in Russia cannot come from the outside, the European Union can "show that their declared commitment to human rights and democracy is more than just words on paper, and the best way to do so would be to tell the crooks and the abusers that they are no longer welcome."