Education reform has brought much chaos to the complex Russian education system. Holdovers from Soviet schools are mingled with issues arising from politics and the reforms themselves. Moscow journalist and mother of two Olga Melnikova shares her experience of the problems facing modern Russian schools.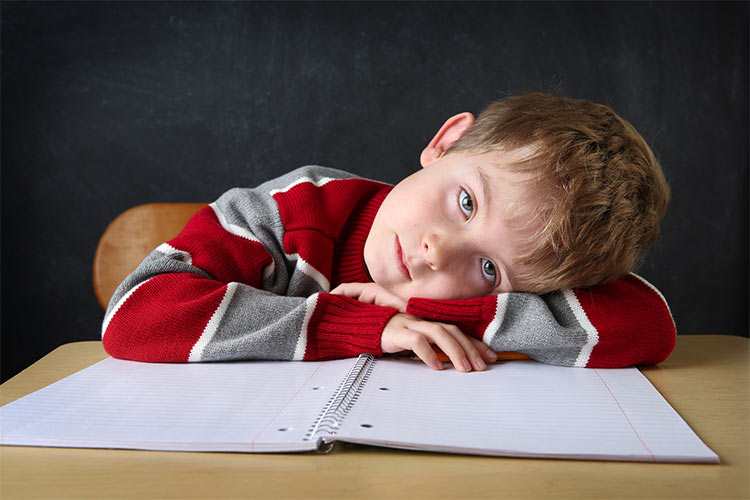 In October, my children went to school in Spain. I began to gather documents for their enrollment in August, and while we were waiting for a student visa, I figured they could spend September attending their regular school in Moscow. Our decision to send them to Spain was dictated by the situation in Russia—in particular, its education system.
When he was first starting his studies, my elder son attended a regular school, not in some distant district of Moscow, but almost in the center of the city. Problems arose the very first day: the classes were overcrowded, half of the children could hardly speak Russian, teachers were yelling, and a lice problem was discovered in one of the classes. Three days in, my son ran away from school and arrived at my workplace on foot. Needless to say, I was surprised to see him, but what surprised me even more was that, although several hours passed before I could reach her on the phone, his teacher hadn't even noticed his absence.
I think his teacher had begun to dislike me on the day of my son's admission interview. "He seems to read and count rather badly," she told me, displeased. I confessed that I hadn't been teaching him reading or counting at home. Any enforcement on my part of obligatory studies would strain our relationship, and I'd decided that the latter was more important since, hopefully, it would last longer than school. The teacher didn't say anything in response, but later she asked me a question that I hear from teachers quite often: "Are you a mother or what?"
I am a mother, but I do not understand why it falls on me to teach my children to read quickly and count to a hundred. What will they do at elementary school then? Merely improve these skills?
By the end of that first year, my son was declared incapable of learning and was transferred to a class for weaker students. Every Sunday, his spirits would flag as he anticipated returning to school Monday morning. I thought that if I had to transfer him to a new school, then I should transfer him to the best one in the district. I chose a special school with a focus on learning languages. I managed to convince the principal to admit my son, who had to study over the summer and go into the first grade for a second time. I also had to agree to teach a workshop for older students aspiring to be journalists. The workshop was on Thursdays, so my spirits would start to decline on Wednesday afternoon. These were teenagers whose knowledge was limited to facts from textbooks, and who were constantly trying to show off for one another, disrupting class. My teaching methods do not include publicly humiliating children, and unfortunately, I didn't have any leverage, such as lowering grades, at my disposal. I quit when the first opportunity presented itself.
But this school had a better approach than his last one, and it turned out that my son wasn't hopeless. However, it also became clear that the success of the students was not the result of masterful teachers. Parents were actively drawn into the study process in order to achieve high results. In my entire ten years of schooling, my mother came to speak to my teachers fewer times than I had to in a single term of my son's first year at that school. His teachers of foreign languages called me more often than some of my friends. Soon I was able to recognize them by the sound of their voices. You can't help but wonder: I've got two kids, and each of these teachers has about thirty students in a class. If they talk to parents this often, how do they have the energy for teaching?
I am completely aware that Russia's teachers are victims of the country's latest education reform. Their salaries depend directly on their students' grades. "If you get a D at your finals this year, I won't get my bonus," one teacher frankly told my younger son this spring.
The following year, my younger son started school as well. He had attended two years of preschool, which I hoped would help him to study well later. But it didn't: with the start of his school year, another circle of hell commenced. 
I tried changing my tactics: I would hire and fire tutors, do homework with my children, not do it with them at all. I would make friends with their teachers, bring them cakes, and tell them that C-grades for my sons would be quite all right with me. 
By the fifth year of my elder son's studies (the third year for my youngster), I realized that phone calls from their school were giving me panic attacks. Even when I received a letter from a respected state organization suspending me from an editorial project, because, according to the letter, I was an "ideologically unprepared and unfriendly editor," I did not panic. But if I saw "school" show up on my caller ID, I went numb. 
I am completely aware that Russia's teachers are victims of the country's latest education reform. Their salaries depend directly on their students' grades. "If you get a D at your finals this year, I won't get my bonus," one teacher frankly told my younger son this spring. 
I'm sure that teachers would happily turn from "evil schoolmarms" into kind ones, but the system just won't let them. Moreover, the system keeps them in a constant state of stress by regularly springing surprises on them. For example, last year, the fact that the unified final exam in literature would be held in the form of an essay rather than a test was revealed to teachers only a month before the exam was to take place—even though for several years, children have been taught to take tests, rather than write essays, on literature. 
As of last summer, I was considering homeschooling my sons. Then, when the Ukraine crisis broke, I made the decision to send them abroad to study. 
But they still had to make it through September. As soon as they went to school, I got an urgent call from my older son's teacher with the typical complaints: he was wearing jeans, his ear was pierced, his haircut was too trendy, and finally, he'd gotten into a fight with a classmate to whom he had tried to explain that Crimea wasn't really "ours" and that stealing from another country is wrong. I declined the teacher's invitation to come to the school. 
Then, when I was looking through the contents page of my son's textbook on Russian history, I was surprised to find no mention of Kievan Rus. There were Kievan Knyazes (princes), but no Kievan Rus. Meanwhile, his history teacher asked each student to prepare a report on an issue in contemporary Russian politics. In the form of a Power Point presentation. (The fact that putting together a PowerPoint presentation exceeds the skills of most elementary-school students is beside the point.) My son did his report on the Beslan school hostage crisis, telling his teacher that his mom had said that "on the tenth anniversary of this tragedy, it would be a shame to hold a history lesson and not mention Beslan." 
Meanwhile, the Spanish school was sending me emails. Since I've developed a negative reflex to this kind of correspondence after years of stressful communication with Russian schools, I still shiver every time I see a message from the Spanish one. Happily, though, one of these emails contained a school cafeteria menu for September and a request to provide information on any food allergies that my kids might have or foods that they absolutely can't stand. In another letter, the school secretary informed me that the air conditioner had broken in classroom No. 6, but that it was fixed by 4 p.m., and offered her apologies. Another one said that due to hot weather, P.E. classes would be held in the swimming pool, and asked students to bring swimsuits, towels, and sunscreen lotion accordingly. 
It's been a couple of weeks since my kids started studying in Spain. On their first day of school, I lamented to the director that because of a visa delay, my children would have to skip almost a month of school. "It would be a lot worse if they had to start after Christmas, rather than in October," the director consoled. The next day, I received a letter from the Moscow school. Several mothers of my younger son's classmates had complained that lice were found in the school, but the administration claimed that there was no such problem. For some reason, I'm not even surprised.