In recent years, the Russian government has begun to interfere more significantly in the work of cultural institutions. As part of the Institute of Modern Russia's ongoing interview series, journalist Polina Surnina spoke with theater critic Gleb Sitkovsky about manifestations of patriotism in theater, anonymous zealots of morality, and attempts by the Culture Ministry to exercise control over the creative process.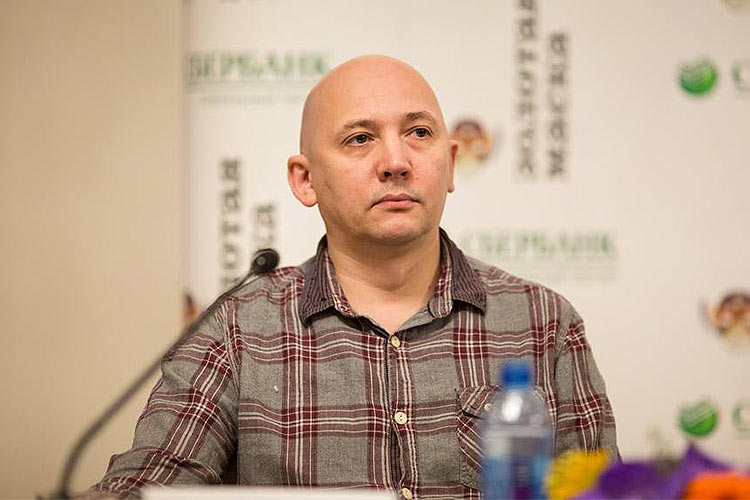 Polina Surnina: Gleb, you are a frequent member of the board of experts for the Golden Mask theater awards, so let's start with that. The first attacks on Golden Mask began a year ago, but a large-scale campaign was launched in May, when Culture Ministry officials said at a meeting of the Union of Theater Workers that an "abscess had formed" in the metaphorical body of the award. A few days later, First Deputy Culture Minister Vladimir Aristarkhov said it was inappropriate to fund the Mask awards because every year they support productions that "contradict moral standards" and stir up social controversy. Why have the awards come under fire all of a sudden?
Gleb Sitkovsky: Apparently, officials are not comfortable with the fact that performances they do not like get prestigious awards. From their point of view, only something deeply patriotic should be supported. In my opinion, patriotic productions should be supported only when they are professionally done.
The Mask awards were designed in such a way that, from the outset, they entailed a transparent mechanism for nominating candidates. Officials cannot grasp the idea that experts fundamentally couldn't care less about the political expediency of nominating a given performance. Nevertheless, it is a fact. Ultimately, only one criterion applies when judging a production: whether or not the audience liked it. And even if one of the experts fibs a little and votes for a weak performance that he considers politically important—which happens, of course—it won't affect the final outcome too much. After all, that can only happen if the majority of experts do the same, and that is hardly possible given that they are all so different. Therefore, surprisingly, every year the list of nominees is quite predictable, regardless of the composition of the board of experts, which changes every year. It's true that strange decisions are made from time to time, and mistakes happen. But they are, as they say, within the margin of statistical error. In general, the Golden Mask quite objectively reflects underlying theater trends. And the productions by [director Konstantin] Bogomolov, for example, which officials perceive as ideologically questionable, are chosen by critics not to annoy officials but because so many people like them. What can you do about that?
Each year, the Golden Mask results provoke fierce debate, but overall it is the most impartial of all the theater awards. That is why it is so prestigious. When you look at the results of past years, you understand that if we ignore the most absurd decisions by the jury and the board of experts—and how can you avoid them?—you will see not just the history of the award but the history of Russian theater. Meaning that every year, truly the most notable personalities and performances are usually awarded the Golden Mask.
It's quite difficult to change the format of the award. For the government to destroy the Golden Mask, all they have to do is to deny access to professional critics and summon the specially selected warriors from the Culture Ministry, the "theater experts in plainclothes," who would bring in something purely statist but of very poor quality.
PS: Does such a prospect loom on the horizon?
GS: Who knows? We see all kinds of things happen. Teatr.doc is about to be shut down after coming under pressure. In related spheres, things look quite similar. Director Alexander Mindadze was told by Culture Ministry representatives that his film "Lovely Hans, Dear Peter," which they managed to release and even to show recently at the Moscow Film Festival, is not consistent with historical fact, so it will not get any funding. [Culture Minister Vladimir] Medinsky and other officials in charge of culture believe that since the government gives money, it has the right to require directors to make films about what the government wants and stage plays that appeal to the culture minister. In my opinion, this is a very underhanded proposition, as underhanded as this angry question: "What is the taxpayers' money being spent on?!" Look, taxpayers all differ from one another. As they say, different strokes for different folks. But according to these people, some taxpayers are right and others are wrong.
PS: That is, those who do not agree with the Culture Ministry are wrong.
HS: Not long ago there was a one-time event at the Flacon design factory structured as a photo exhibition. It was a series of photographs that depicted allegedly obscene scenes from various performances. And next to each photo was a plaque indicating the amount of money spent by taxpayers on staging that particular production. These performances, by the way, were for the most part quite famous and successful. Taxpayers do not mind at all spending money on expensive tickets for them, which you sometimes can't even get. The exhibition was organized by an independent foundation called Art Without Borders. Nobody knows who they are—there are no names listed on their website. So, some kind of anonymous organization finds the money to organize an exhibit, then requests that criminal proceedings be initiated against the directors, theaters, etc. And for some reason the prosecutor's office does not bother to check who funds these people. And yet at the request of these unknown individuals, it inspects theaters and respected directors well-known in the theater world. Nobody is surprised.
PS: Which productions were targeted?
SG: Seven of the 12 were performances by Kirill Serebrennikov. For some reason they singled him out. Many have long been removed from the repertoire, such as "The Naked Pioneer Girl" featuring Chulpan Khamatova staged at Sovremennik, or "Plasticine," which made Serebrennikov famous 15 years ago. And which theaters does that foundation consider "degenerate"? Well, for example, the Chekhov Moscow Art Theatre, and Novosibirsk Opera and Ballet Theatre—successful theaters that are always crowded, attended by those very taxpayers whose interests are protected by uninvited advocates.
PS: As far as I know, the controversial "Tannhäuser" production staged by Timofei Kulyabin at the Novosibirsk Opera and Ballet Theatre was also well received by the audience.
GS: It premiered in December 2014. There were several premieres that did not provoke any controversy—obvious success, positive reviews. Timofei Kulyabin is a relatively young director, 30 years old. It's been obvious for a long time that he is a talented person, but over the last two or three years he has improved tremendously. Two of his dramas, "Onegin" and KILL ("Intrigue and Love"), were nominated for the Golden Mask. But "Tannhauser" was his debut in opera. It was quite successful and did not provoke any objections from the audience, until Metropolitan Tikhon of Novosibirsk suddenly decided to offer his opinion on it.
Russian theater has evolved tremendously in recent years. What a shame it would be, if, as has so often happened in Russian history, censorship spoils everything again. Unfortunately, this is altogether possible if people who do not go to the theater and do not understand the theater take control of it.
PS: Does this mean that directors have less and less freedom?
HS: In terms of attempts to harass directors, yes, they have become more frequent. There was, for example, a very bizarre story with the play "Anna in the Tropics" at the Stanislavsky Electrotheater. Well-known director Yury Grymov saw the show and wrote that, what a shame, the heroine urinates in front of the audience. Of course, she did not urinate—she simulated what was happening in the play, which is that the character she played wetted herself in embarrassment. Before, it would not offend anyone, but now the zealots of morality are outraged.
PS: What kinds of issues do they have with theaters for the most part?
GS: It's the same complaints as always: lack of patriotism, decline of morality, insulting of religious feelings. Also, obscene words. There is an easy way to make sure that no one is offended and everybody is happy, however: just write on the poster that "profanities are used in this play." If you've been warned, you shouldn't go to the show just to be offended. In the West, the public is warned about all kinds of things. For example, when they showed Romeo Castellucci's "Hey Girl!" in Avignon, there was a warning on the poster about loud sound effects used during the performance, and earplugs were distributed at the entrance.
I think that the majority of theater-goers, despite warnings about profanity, or, say, about naked bodies on stage, will still go to the theater. Neither profanity nor nudity can be an end in itself for a talented director, and most often they pick on the heavyweights of national theater. These are just techniques that are needed in order to illustrate some big idea. Let's talk about these important things, like life and death, love and hate, rather than focusing on minutiae. If you really get offended by someone's naked ass on stage, just do not go to these performances. You've been warned.
PS: When you think about the future of Russian theater, are you pessimistic? Or, on the contrary, optimistic?
GS: I think that Russian theater is on the rise. Just five, seven years ago, it seemed like the theater would cease to exist once the great directors died, because those who are coming in to replace them are just pygmies. In the 1990s and early 2000s, theater in Russia kind of turned inwards. Very few plays about contemporary life were staged and the classics dominated. Critics are divided about what is happening now, but you cannot deny the fact that the theater has become a more open format. On the one hand, many performances just show what is happening in society, directly or indirectly. On the other hand, Russian theater is now trying to absorb the best qualities of related fields, such as cinema, for example, or modern art—or, for example, of such "low genres" as sketch comedy.
PS: To what extent is Russia part of the European theater scene?
GS: It is part of it now much more than it ever was before. The older generation of directors and actors who grew up behind the Iron Curtain, of course, has always been eager to know what is happening in Europe, but this interest was almost theoretical. Occasionally some European theaters would come on tour to the Soviet Union, but still, we and they existed in parallel universes. But now, a new generation of theater people has grown up with a rich understanding of European theater. International theater festivals in Moscow and St. Petersburg have played a role—"Baltic House," "Territory" NET, "Stanislavsky Season," as well as the Chekhov Festival, which has been a pioneer in this mission of cultural conveyance. Not to mention the fact that many of our directors have made a point of attending European festivals as spectators, in order to understand what is happening in other cultures. In short, Russian theater is not as isolated any more, which, in my opinion, is only for the better.
PS: What do we do with patriotism? Does it have a place in the theater?
GS: Surprisingly, the most recent theater season was tremendously patriotic, in a good way. And this is another reason to be optimistic: it means that our theater, while slowly and gradually integrating with Europe, does not forget its roots. Look at how many shows are being staged about the country's history. For example, "A Life for the Tsar" by Giuliano di Capua was brought from St. Petersburg to participate in the Golden Mask. Actors sit in an attic reading historical documents about revolutionaries and it sounds so relevant. Or, for example, take Vladimir Mirzoyev's play based on letters by Leo Tolstoy and Pyotr Stolypin at Teatr.doc—a performance that is not only about history, but also about us today. Mikhail Bychkov has, in my opinion, had a wonderful experience staging "Day of the City" at his Voronezh Chamber Theater, a play based on conversations with his compatriots about their native land, and at the same time about the great Motherland. I think this is a very patriotic play, which does not mean, of course, that the actors and their characters have to praise their homeland. They just have to think about it and be honest with themselves and the audience. After all, if you prompt the viewer to think about the fate of the country, that's what patriotism is. Recently there have been many such performances. For some reason, not all of them appeal to state officials, however.
Russian theater has most certainly evolved tremendously in recent years. What a shame it would be, if, as has so often happened in Russian history, censorship spoils everything again. Unfortunately, this is altogether possible if people who do not go to the theater and do not understand the theater take control of it.