Page 1 of 5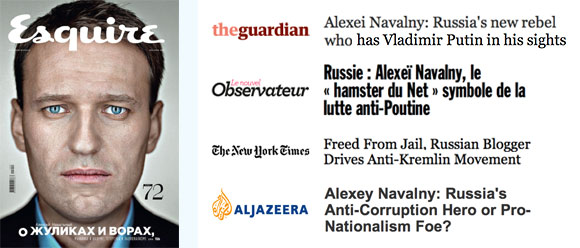 Anyone with even the slightest interest in Russian politics is familiar with the name Alexei Navalny. During Navalny's relatively short public and political career, he has managed to become the subject of various myths and has been called a social climber, a nationalist, and a populist, among other things. Olga Khvostunova analyzes Alexei Navalny's biography, his interviews and his blog in an attempt to separate myth from reality.
Subject for Discussion
Recently Boris Akunin, a well-known Russian writer, called Navalny the brightest contemporary political figure and the only relevant politician in Russia. At the same time, according to April 2011 polls by the Levada Center (a Moscow-based independent research organization), only 6% of Russian citizens knew who Alexei Navalny actually is and what he stands for.
Such low awareness might be explained by the fact that Navalny is a new type of politician: he relies mostly on more modern means of communication, such as the Internet and his LiveJournal blog, to stay in touch with his audience. But for the vast majority of Russian citizens, heavily regulated by the Kremlin Russian state television is still the main source of information. In a sense, Navalny was forced to use these new technologies: the lack of freedom of speech in the Russian media forced many opposition leaders like him to transfer their activities to the Internet.
If the political and civil rights of Russian citizens were not so infringed upon, if political competition in the country was not so heavily suppressed and freedom of speech was not so limited, if corruption hadn't reached such devastating levels, then Navalny might have chosen a different modus operandi.
Observing Navalny's evolution as a public activist, politician, blogger, and whistleblower, the conclusion is evident: the political regime in Russia has transformed from Yeltsin's immature democracy into Putin's rigid authoritarianism, and has thereby created its own enemy and opponent.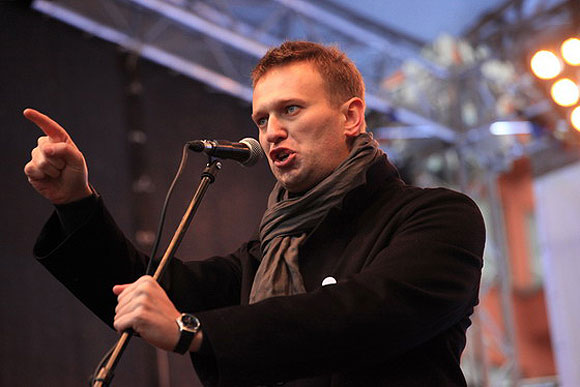 In Russia, mentioning Navalny's name or activities always provokes heated discussions. The range of emotions and opinions on him is decidedly wide, and, as a result of many different interpretations, facts from his biography and his stated positions are often misrepresented.
For example, in one of his video lectures, Sergei Kurginyan, a pro-Kremlin political scientist, suggested that Navalny is plotting a revolution in Russia: "What does Mr. Navalny, whose genesis is very clear to me, say? He has a fairly serious international project in mind, one that is not far from what I would call an Egypt/Tunisia-like scenario."
While debating the idea of nominating Navalny for President, Vladimir Milov, a politician and opposition leader, doubted his management skills: "Navalny is an awesome leader. But I'd like to remind everyone that being the Russian President is a serious job, and a nomination for Presidential candidacy is a big deal. Some tend to treat it as a 'retweet' or a 'Like' on the social networks."
There is also Yevgeny Gontmakher, an economist from Russia's Institute of Modern Development, who criticized Navalny for his nationalism: "Navalny has confirmed his condemnation of the term Rossiyanstvo [being a Russian citizen as opposed to being ethnically Russian – transl.], which he had announced a few years before in the manifesto of the NAROD movement. This is an unacceptable position for any real democrat, Russian or European."
The well-known independent political analyst Dmitry Oreshkin, in his article about Navalny, concluded that the latter should not be trusted in general: "What kind of a 'project' is Navalny, for God's sake? He is just an ambitious, combative person with an excessive hunger for power and an obvious adventurous streak. He can transform anyone into a 'project' in order to advance himself. He has no qualms about getting help from the U.S. or from Lubyanka [the name of the Moscow square where the KGB is headquartered – transl.]. […] Navalny is actually telling the truth. But one should be very cautious about trusting him. He is certainly a product of his generation!"
In all of the above arguments, one thing remains indisputable: Navalny's role in Russian contemporary political discourse is unique and requires a closer look.