Vladimir Putin's visit to Baku was a disappointment to the Kremlin, but, as Donald N. Jensen, Resident Fellow at the Center for Transatlantic Relations at the Johns Hopkins School of Advanced International Studies, argues, Moscow will likely continue its efforts to draw Azerbaijan into its sphere of influence.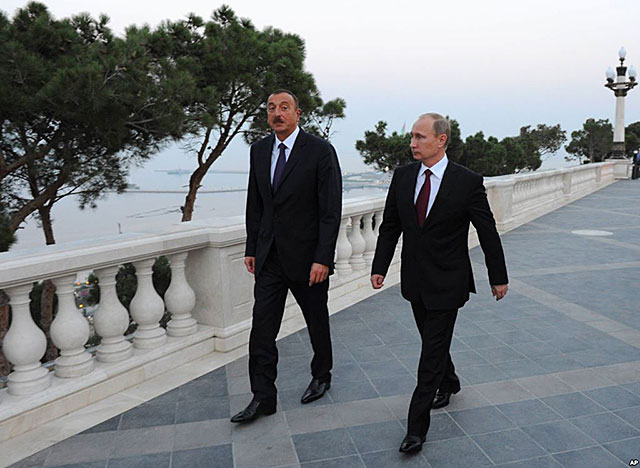 On August 13, Russian President Vladimir Putin paid a working visit to Azerbaijan, where he discussed a wide range of issues with Ilham Aliyev, his Azerbaijani counterpart, including trade, energy, transportation, arms sales, the longstanding dispute over Nagorno-Karabakh and the regulation of the Caspian Sea. The visit was a step toward the Kremlin's goal of more closely integrating the former Soviet states and demonstrating—especially to the United States—its "privileged interests" in the region. The importance of the trip to the Kremlin was reflected in the high rank of the delegation that accompanied Putin, which included Foreign Minister Sergei Lavrov, Defense Minister Sergei Shoygu, and Energy Minister Alexander Novak, as well as Igor Sechin and Vagit Alekperov, the heads of Russia's two largest oil companies (Rosneft and Lukoil).
In Baku, Putin's visit was welcome despite Azerbaijan's strong ties with the United States and Europe (Integration into Euro-Atlantic security structures is a cornerstone of Azerbaijan's foreign policy). These ties to the West, which are based on the country's strategic location near Iran, its importance as a logistic center for the transit of cargo to Afghanistan, and its role in the global energy sector have been strained in recent months due to Azerbaijan's poor human rights record.
Russia and Azerbaijan have significant economic, political and security ties. Baku is Russia's largest trading partner in the South Caucasus, military cooperation with Moscow is worth about $4 billion annually, and the two countries work together within the framework of the Black Sea Cooperation organization. But relations were damaged in late 2012 after protracted negotiations failed to reach a deal over Moscow's use of the Gabala radar on Azerbaijan's territory. Despite substantial Russian investment in Azerbaijan's energy industry in June 2013, Russia and Azerbaijan ended the Baku-Novorossiysk Agreement, which transported Azeri oil via Russia to the Black Sea (Moscow insisted the termination was a business decision unrelated to the radar dispute; Azerbaijan has long complained about losing money on the pipeline due to Transneft's high tariffs). Earlier this month, Russian authorities detained an Azerbaijani tanker due to a suspicion that it was hauling contraband.
Additionally, Russia has two levers it can bring to bear in dealing with Baku: first, along with France and the United States, it is co-chair of the OSCE Minsk group, a forum for the peaceful settlement of Azerbaijan's dispute with Armenia over Nagorno-Karabakh (Azerbaijanis have long distrusted the Minsk group because all three co-chairs have large Armenian diasporas, which Baku believes leads to a peace process that favors Armenia). Second, Putin can undermine Aliyev in the short term by approving the request of well-known film director Rustam Ibraghimbekov, a potential challenger to the Azerbaijani president in the October presidential elections, to renounce his Russian citizenship (a legal prerequisite, according to Azerbaijan's Central Election Commission, if Ibraghimbekov is to be a candidate). So far Putin is apparently waiting to see how events develop in his attempts to draw Baku closer before deciding whether to sign off on the renunciation. In early August, Dmitri Peskov, Putin's press spokesman, said that the process of Ibraghimbekov's denaturalization could take up to a year.
Azerbaijan tries to distance itself from Russia in the region, preferring to cultivate ties with Turkey, Georgia, and, further afield, Israel.
Azerbaijan traditionally tries to distance itself from Russia in the region, preferring to cultivate ties with Turkey, Georgia, and, further afield, Israel. Several recent developments, however, have led Baku to rebalance its multi-vector strategy. First, relations between Russia and its historic partner Armenia have worsened recently due to Yerevan's desire to sign an association agreement with the European Union and avoid a new Moscow-led association of former Soviet states. This has provided Azerbaijan with a chance to outmaneuver Armenia. Second, the European Union is less able than in the past to act as a counter to Russian influence in the Caucasus as it grapples with its own financial problems. Finally, Georgia, which is crucial to Azerbaijan as a transit state for Baku's Southern Corridor energy projects, has sought improved relations with Russia since Prime Minister Bidzina Ivanishvili came to power. As a result, Baku has cautiously moved closer to Moscow. This is demonstrated by Azerbaijan's recent choice—probably with Russian support—of the Trans-Adriatic Pipeline, which will transport natural gas from the Caspian Sea via Albania and the Adriatic Sea to Italy and further to Western Europe, over the more ambitious Nabucco project, which was designed to lessen Europe's dependence on Russian gas.
Judging by the Kremlin's ambitions for a much more vigorous relationship with Baku, however, the outcome of Putin's visit was disappointing. At their joint news conference the two presidents praised the state of bilateral relations. Putin and Aliyev paid a visit to the Dagestan, a warship in Russia's Caspian flotilla, with the Russian leader noting that Azeri warships are to return the visit at the end of the year. Putin also praised Azerbaijan's efforts to preserve Russian language and culture, a key element in Moscow's soft power strategy. But he restated Moscow's longstanding position that the dispute over Nagorno-Karabakh can only be solved by political means (Aliyev regularly threatens a military solution to the conflict).
The two leaders signed several agreements, most notably one providing for the creation of a joint oil and gas venture involving Russian oil giant Rosneft. Rosneft reported that it had agreed with the Azerbaijan State Oil Company (SOCAR) to jointly use some pipelines and terminals to optimize supplies for consumers. But the details were left vague—sources on both sides indicated that serious differences still needed to be overcome before the companies could team up on field development or swapping energy supplies. More importantly, Putin was unable to secure a more specific energy deal that would allow Russian firms to challenge the dominance of major Western oil companies such as BP, Statoil, and Exxon Mobil in Azerbaijan.
Given the lack of concrete results, what was in some ways more significant—as the Carnegie Endowment's Thomas de Waal has pointed out—is what was not publicly discussed, and who was not present during Putin's visit. First, there was no talk of the Gabala radar station—an indication that the issue is now closed. Second, conspicuously missing from the Russian delegation was Alexei Miller, the head of Gazprom. Sechin's presence suggests that Putin wants to dilute the presence of Gazprom in Azerbaijan and raise that of Rosneft, Gazprom's corporate rival. Third, the United States was not mentioned, a reflection of Putin's conviction that there is little place for the U.S. in the former Soviet space. Finally, there was no public talk of Azerbaijan's October elections, suggesting Putin has not yet decided what to do regarding the Ibraghimbekov case.
Azerbaijan clearly intends to continue its foreign policy of strategic balance no matter what carrots and sticks Moscow puts before it. The day after Putin left, the Azerbaijani defense minister met with U.S. military officials to discuss security cooperation. But the Kremlin is also likely to continue to press for greater integration with Azerbaijan as well as with other former Soviet states. A Russian foreign ministry spokesman said that the action plan for the September 13 Bishkek summit of leaders from the Shanghai Cooperation Organization (which formally includes Kazakhstan, Kyrgyzstan, Tajikistan, and Uzbekistan, along with Russia and China—though not Azerbaijan) includes "long-term good neighborhood, friendship and cooperation" among SCO member-states.