Last week, Carnegie Endowment for International Peace held a discussion on what the 2016 elections mean for the U.S.-Russia relations. At the event, co-hosted by the Center on Global Interests, M. Steven Fish and Stephen Sestanovich shared their insights on the topic. IMR is publishing a summary of the key points made during the discussion.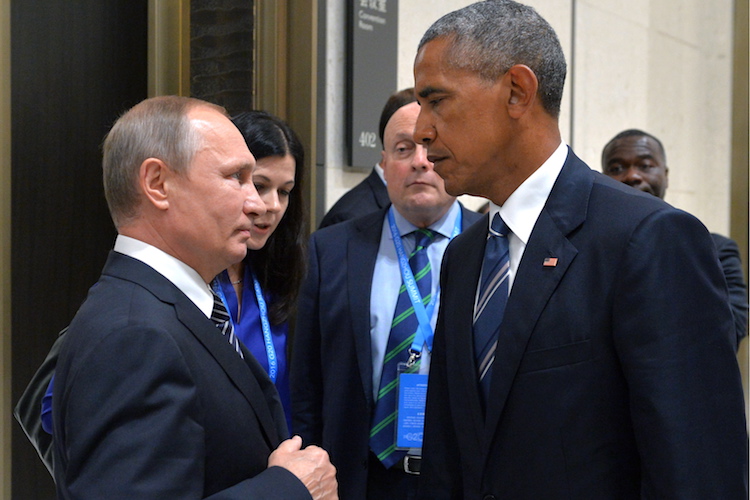 Steven Fish, Professor of Political Science, University of California-Berkeley; "studies democracy and regime change in developing and post-communist countries"; author of Democracy Derailed in Russia
Stephen Sestanovich, Kennan Senior Fellow for Russia and Eurasia, Council on Foreign Relations; professor and expert on international diplomacy at Columbia University; author of Maximalist; former U.S. ambassador at-large to the former Soviet Union
Igor Zevelev (moderator), Wilson Fellow, Woodrow Wilson Center for International Scholars; former Director of the MacArthur Foundation's Russia Office and former Washington Bureau Chief for RIA Novosti; research interests include "national identity… nationalism, foreign policy, and Russian-American relations"
Zevelev:
Many Russians are more interested in American politics than in Russia's own
Is the result of the American election really that critical to U.S.-Russian relations?
Are the stakes of the Russian elections really so low (are they really so predictable)?
Will Trump's pro-Kremlin views be cost free in the U.S. presidential election?
Fish:
Russia's September parliamentary elections will have no effect on governance, as the Duma is merely a "decorative appendage" dominated by United Russia and other pro-Kremlin parties
Russians are paying attention to American politics because of Trump
Putin has become adept at repression and political control without using lots of coercion/violence

The Putin regime uses violence selectively and reluctantly because these tactics tend to create enemies and show political weakness

Putin much prefers "willing compliance"

Putin's approval ratings are truly very high (not likely inflated by the state)

His popularity is his weapon against political instability and threats from Russian elites
Putin has emerged largely blame free since Russia's economy began to falter; he has received a seemingly permanent popularity boost from the annexation of Crimea

Putin's authority stems from:

The contrast of his rule to the chaos of the 1990s
His ability (at least in the past) to bring economic wellbeing to Russia
His obsession with Russia's international standing – this resonates with many Russians
The fact that Putin actually occupies the relative center of the Russian political spectrum; his "moderate" political stances make him a relatively agreeable leader from most Russians' point of view
Putin himself (his regime lacks a central, unifying ideology and is highly personalistic)

Succession after Putin is a "big unknown" because there is no standard process for a transfer of power to take place

As a result, Russian elites will have to figure out the details of succession amongst themselves; in other words, this will not be a democratic process
Sestanovich:
The Putin regime's stability comes from Putin's popularity, which is currently very high

Interestingly, this contrasts with public perception of United Russia, whose approval ratings have dropped; it is generally accepted that United Russia is "the party of crooks and thieves"

Trump is really the central reason why Russia has been so prominently featured in the U.S. presidential campaigns
Prediction: if Hillary Clinton wins the election, her administration will likely push forward a continuation of Obama's policies toward Moscow

Encourage NATO/EU unity in opposition to Russia (sanctions, etc.)
Assume that Washington and Moscow can align with each other in Syria
Nuclear arms control: remain open to a cooperative approach with Russia on this issue
Putin's personality not a fundamental obstacle to productive bilateral relations (he can be tolerated/worked with)

If Trump wins, the U.S. would need to reassure its allies that it will still support them (including the EU and NATO)
On democracy promotion: Sestanovich largely agrees with Garry Kasparov's view that Russia doesn't look to the West for "pointers" on democracy

What the U.S. should do (in general, not just regarding Russia):

Continue communicating with and reaching out to civil society
View corruption as a threat to international order
Continue discussing issues of human rights

Prediction: In the long-term, Putin will not be totally immune to a continued economic downturn

If Putin's own prediction of 0% annual GDP growth holds true, Putin's grip on power might suffer
Q & A: Discussion
Realism dominates Russian foreign policy, meaning that the Kremlin tends to view global affairs in terms of power balances and military security; through this lens, international politics is beholden to issues of national security and national self-interest, as opposed to issues concerning transnational norms, institutions, or values (e.g. post-WWII liberal international order)
Is Trump a realist?

Sestanovich: No, most of his foreign policy recommendations are purely the result of "amateurish improvisation". Realists tend not to undermine alliances (from a security standpoint), as Trump has done throughout his campaign

What would a post-Putin power transition look like in Russia?

Sestanovich: A succession of power might lead to a weaker political system with weaker leaders

Is Russia even suited for democracy? How should the U.S. deal with this issue?

Fish: The U.S. should be concerned with democracy and human rights issues in Russia, but should only assist with these issues abroad if the Western political system is generally popular and enjoys support within the countries of interest. Democracy should not be promoted in Russia because this plays into Putin's hands (e.g. foreign agents, fifth column of traitors, etc.)
* Daniel Frey is an independent Russia analyst and writer.