NEW YORK — On September 13, a panel of prominent American experts convened at the Carnegie Council for Ethics in International Affairs to discuss the Jackson-Vanik amendment that has been a stumbling block in U.S.-Russian relations for 37 years. According to the expert discussants, the amendment will finally be lifted as a Cold War-era relic upon Russia's accession to the World Trade Organization.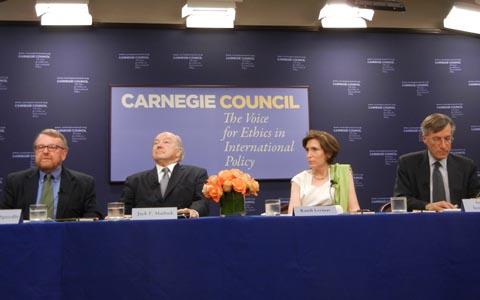 The Jackson-Vanik amendment to the Trade Act of 1974 affects U.S. trade relations with non-market countries — originally, communist or former communist countries — that restrict freedom of emigration and other human rights. It was enacted as a response to the "diploma tax" on higher education imposed by the Soviet Union on Soviet Jews who were attempting to emigrate. Although the Soviet Union collapsed 20 years ago and Russia has been trying to build a market economy ever since, the amendment continues to impact relations between the two countries.
"Jackson-Vanik: Time for Reconsideration?" was key question discussed by the Carnegie Council panel. Sharing their thoughts on the subject were panelists Randi Levinas, executive vice president of the U.S.-Russia Business Council; Jack F. Matlock, the last U.S. ambassador to the Soviet Union (1987–1991); and Stephen Sestanovich, professor of international diplomacy at the School of International and Public Affairs at Columbia University. The panel was moderated by David Speedie, senior fellow and director of the Council's U.S. Global Engagement program.
All the experts agreed that the amendment is an out-of-date policy, especially in relation to Russia. They also agreed that it had to be repealed soon. In a certain sense, Jackson-Vanik should not be applied to Russia because it is now a market economy with no emigration problem, Matlock said. The problem is that the amendment has been used on trade issues with Russia since the first Bush administration.
"Still, there's a feeling in Washington that Jackson-Vanik should be removed," Matlock said. "This law is quite illogical."
As the U.S. economy slides deeper into recession, Congress will have to deal with this issue soon.
"Russia is an exciting economy," Randi Levinas said, mentioned the recent major deal between Exxon and Russian oil giant Rosneft.
"It's a challenging market, it's difficult, but we don't want to waste the opportunities," Levinas added. This is one of the reasons why, lately, the U.S. has been one of the most vocal proponents of Russia's WTO accession.
Another major problem is that various cases of human rights violations do not add up to a picture of Russia as a good place.
A group of Congressmen (Sen. Benjamin Cardin and Sen. John McCain among them) are pressing human rights issues with their own initiative, which has been getting a lot of attention, according to Prof. Sestanovich. On May 18, they introduced legislation entitled 'Sergei Magnitsky Rule of Law Accountability Act of 2011', which "seeks to combat what has become a toxic atmosphere of impunity in Russia, where,  despite occasional rhetoric from the Kremlin, the authorities have failed to follow through with meaningful action to stem rampant corruption or bring the perpetrators of numerous and high-profile crimes to justice."
The Obama administration went further. Before the Act was approved by Congress, the U.S. Department of State blacklisted dozens of Russian officials to prevent them from visiting the United States due to their involvement in the detention and death of the Russian lawyer Sergei Magnitsky.
There is a perception that the Magnitsky Act could be a quid-pro-quo solution for the repeal of Jackson-Vanik. But the panel's experts were reluctant to agree. As Matlock said, "if we press the human rights, Russia can do the same; we can't interfere in what they see as internal affairs."
A majority in Congress sees no real policy alternatives to Jackson-Vanik. Many of them still view Russia through the prism of the Cold War legacy.
"There's a huge educational process going on," Levinas said. "The Congress has to learn what Russia is today."
"Jackson-Vanik is an old policy, but the Congress thinks that there should be at least some policy regarding human rights," Prof. Sestanovich said.  "This issue is being discussed, but not between Russia and the U.S. — more between Congress and the administration."
So, first, there should be consensus in Washington. All the experts implied that Congress is most likely to resolve the issue only after Russia becomes a member of WTO — that is, not until 2012.
"There has been a lot of discussion," Prof. Sestanovich said. "This is the next big question in U.S.-Russian relations after the START treaty."