As the Biden administration takes shape, IMR looks at the key people who are slated to define U.S. foreign and national security policies and break down their views on Russia. This is a group of seasoned professionals who seem to have no illusions regarding the Putin regime. Moscow should expect less ambiguity, harsher rhetoric, and tougher policies coming from the U.S. in the next four years.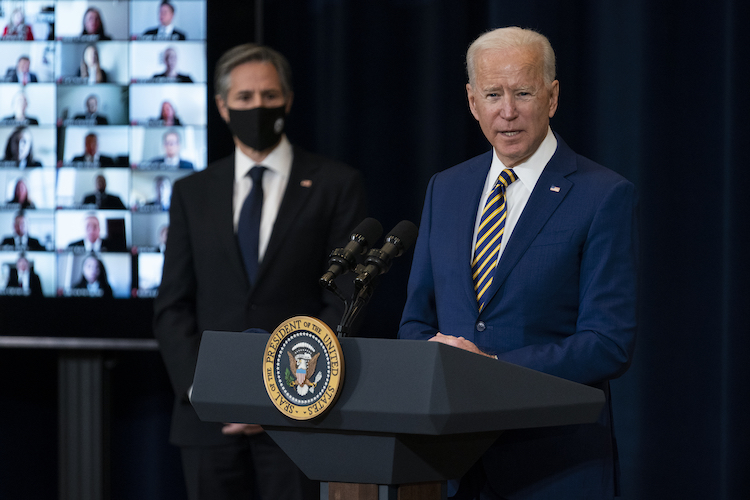 Joseph R. Biden Jr., President  
At the 2009 Munich Security Conference, Joe Biden, then vice president in the Obama administration, called for the U.S. to "press the reset button" with Russia. Twelve years later, speaking at the State Department as 46thPresident, he struck a very different tone, claiming that "the days of the United States rolling over in the face of Russian aggressive actions, interfering with our elections, cyberattacks, poisoning its citizens, are over."
In a January statement, Biden said: "I find that we can both operate in the mutual self-interest of our countries as a New START agreement, and make it clear to Russia that we are very concerned about their behavior, whether it's Navalny, whether it's the SolarWinds or whether it's the reports of bounties on the heads of Americans in Afghanistan. I will not hesitate to raise those issues with the Russians."
During his first call with Vladimir Putin on the next day, Biden did raise the issues of Russia's interference in the 2016 and 2020 U.S. elections, its involvement in a massive cyber-espionage campaign and the war in Ukraine; and expressed concerns over Alexei Navalny's arrest.
On March 2, the Biden administration imposed individual and sectorial sanctions on Russia over Navalny's poisoning and cyberattack on SolarWinds.
Read further: What would a Biden presidency mean for Russia? (IMR, April 2020)
Kamala Harris, Vice President
Harris served on the Senate's Intelligence Committee, but her foreign policy experience is limited. However, she has raised the issue of continuous Russian interference in U.S. elections on numerous occasions since 2016.
In a 2020 interview with CFR on key U.S. foreign policy issues, she said she would "continue to support Ukraine and ensure the U.S. is unequivocal in affirming Ukraine's sovereignty and territorial integrity" and "consistently stand up to Putin in defense of democratic values, human rights, and the international rule of law."
Read further: Why Russia should pay attention to Kamala Harris (IMR, October 2020)
Anthony Blinken, Secretary of State
Wendy Sherman, Deputy Secretary of State (pending confirmation)
Another longtime career diplomat, Sherman previously served in the Obama administration and was the lead negotiator for the Iran nuclear deal. In a 2017 interview, discussing Russia's role in the negotiations leading to the deal, she said that both Moscow and Washington clearly agreed that Iran should not have nuclear weapons, but areas of tremendous divergence remained, such as the UN missiles and arms embargo for Iran.
In a December 2020 interview, Sherman called for an all-of-government response to the Russian cyberattack on U.S. federal agencies, which can include a range of sanctions on those responsible.
Victoria Nuland, Under Secretary of State for Political Affairs (pending confirmation)
Nuland is another career diplomat and alumna of the Obama administration, where she held the position of Assistant Secretary of State for European and Eurasian Affairs and was the point person in the U.S. response to the Ukraine crisis. She is known to be a "Russia hawk"; according to Blinken, her "dogged diplomacy gave the Kremlin fits."
In her 2016 testimony to the Senate Foreign Relations Committee on Russia's violation of borders, treaties, and human rights, Nuland outlined the four facets of the U.S. approach to dealing with Russia: 1) deter further aggression through the projection of strength and unity with U.S. allies; 2) build resilience and reduce vulnerability among friends and allies facing Russian pressure and coercion; 3) cooperate on core national security priorities when U.S. and Russian interests do align; and 4) sustain ties to the Russian people and business community to preserve the potential for a more constructive relationship in the future.
In her 2020 article for Foreign Affairs, Nuland pointed out that "depicting Putin's Russia as a peer or an invincible enemy denigrates the United States' ability to deter and resist dangerous Kremlin policy." She also listed key areas of concern, such as Russian militarization, New START, weaponization of the internet, Ukraine, and the Middle East, suggesting the U.S. administration a similar strategy to the one she outlined in 2016.
Jake Sullivan, National Security Advisor
Former national security adviser to Vice President Biden, Sullivan played a key role in the negotiations leading to the Iran nuclear deal.
In a 2017 interview with PBS, he broke down U.S.-Russia relations in the following way: "Since the end of the Cold War, the U.S.-Russia relationship has always involved a mix of three things: cooperation on shared interests; tension and push and pull on divergent interests; and then the United States standing up for the Russian people in their effort to pursue a stronger civil society and a stronger democracy."
In 2019, he shared his views on Putin's leadership: "I think as long as Putin is president, it is hard for me to see how he decides 'I want to get to a more positive relationship with these guys,' because he seems to have a very focused view that it is Russia's job to destroy any remaining threads of American leadership or polarity or dominance in the world. When you have a leader who is fixated on that, it's very difficult to see anything other than a tense, adversarial relationship."
This February, he vowed to hold Russia accountable for a range of "malign activities." "Is it going to stop Vladimir Putin from doing what we don't like? Of course not," he said. "But do we believe that we can take a firmer, more effective line when it comes to Russian aggression and Russian bad behavior? Yes, we do." He also pointed out that this approach doesn't rule out working with Russia when it is in the U.S. interest to do so.
Avril Haines, Director of National Intelligence 
Haines has previously served as the deputy director of the CIA and later as assistant to President Obama and principal deputy national security advisor.
At her confirmation hearing, Haines concurred with the U.S. intelligence assessment of the Russian cyber threat to the integrity of the elections, underscoring "the asymmetry of the threat in cyber." She also made a pledge to prepare a report on whether Russia or other foreign governments encouraged QAnon, white supremacy, militias, right- or left-wing organizations in the January 6 attack on Capitol Hill.
Linda Thomas-Greenfield, Ambassador to the UN
A Foreign Service veteran, Thomas-Greenfield previously served as Assistant Secretary of State for African Affairs under the Obama administration.
In a recent article for Foreign Affairs, she criticized the State Department's earlier strategy with its narrow focus on terrorism, thus neglecting the "rapidly changing international landscape in which geopolitical competition with a rising China and a resurgent Russia was accelerating." She called for the restoration and transformation of U.S. diplomacy and a sensible reinvention of the U.S. role in the world.
At her confirmation hearing, Thomas-Greenfield said that "re-engaging with South Korea, with Japan, as well as with China and Russia—particularly to push for their respect of the sanctions regime against North Korea—is going to be really important."
Most recently, when asked about her expectations for cooperation with Russia in the UN Security Council, she said: "We have our differences, and most of you know what those differences are. But we also have areas where we hope to be able to cooperate with the Russians, particularly as we work together on the Security Council to bring peace, prosperity, and security to the world."
John J. Sullivan, Ambassador to Russia
Appointed by the Trump administration, Sullivan was asked by Biden to stay on during his term. Sullivan previously served as Deputy Secretary of State.
During his 2019 confirmation hearing, Sullivan said: "Our relationship with Russia has reached a post-Cold War ebb. The litany of Russia's malign actions that have severely strained our relationship is painfully familiar… Yet the need for principled engagement with Russia is as important to our national interest as ever… This requires sustained diplomacy with the Russian government in areas of shared interests, for example, in arms control, nonproliferation, and counterterrorism, and resolute opposition to Russia where it undermines the interests and values of the United States and our allies and partners, for example, by threatening stability in Europe and election security in the United States."
In a December 2020 interview with RFE/RL, Sullivan denounced Moscow's cyberattacks on U.S. federal agencies, but suggested that the U.S. still seek to repair what he called "a breach in trust" between the two countries.
In a January 2021 interview with CurrentTime, Sullivan said that the poisoning of Alexei Navalny is not Russia's domestic issue, as the Kremlin claims it to be, because the use of chemical weapons is prohibited by international treaties, to which Russia is a signatory. He also pointed out that the situation in Ukraine will be a key issue for the current U.S. administration.
Lloyd J. Austin III, Secretary of Defense 
Austin is a retired U.S. Army four-star general who previously served as the commander of CENTCOM.
At his confirmation hearing, Austin referred to the threat of China, but did not mention Russia, Iran, or North Korea—the focus areas for the Pentagon. At the same time, he added and the U.S and Russia have a long history of cooperation in the Arctic region, and hoped that it could continue.
At his first NATO Defense Ministerial in February, he cited "destabilizing behavior by Russia, a rising China, terrorism, and global challenges such as COVID-19 and climate change" as key threats to the Alliance.
Also in February, during a call with his Ukrainian counterpart, Austin reaffirmed support for Ukraine's sovereignty and territorial integrity and its commitment to assisting Ukraine's forces to defend more effectively against Russian aggression.
William Burns, CIA Director
A career diplomat, Burns served as the U.S. ambassador to Russia under the George W. Bush administration and Deputy Secretary of State under the Obama administration. Having retired from the Foreign Service, he headed the Carnegie Endowment for International Peace.
In a 2017 interview with PBS, Burns commented on Russian interference in the U.S. elections: "[Putin] demonstrated that even if you are, objectively speaking, a declining power, you can be quite disruptive, and you can sow chaos. I'm convinced that's exactly what he intended to do in the U.S. elections in 2016 and has succeeded so far beyond his wildest imagination in sowing chaos…"
In his 2019 long take for the Atlantic on what went wrong in U.S.-Russia relations, he concluded: "The path ahead with Russia will get rockier before it gets easier. We ought to traverse it without illusions, mindful of Russia's interests and sensibilities, unapologetic about our values, and confident in our own enduring strengths. We should not give in to Putin—or give up on the Russia beyond him."
At the confirmation hearing, Burns listed Russia among the main threats that the U.S. faces today, but putting China above it: "It's a world where familiar threats persist—from terrorism and nuclear proliferation, to an aggressive Russia, a provocative North Korea, and a hostile Iran. But it's also a world of new challenges, in which climate change and global health insecurity are taking a heavy toll on the American people; in which cyber threats pose an ever greater risk to our society; and in which an adversarial, predatory Chinese leadership poses our biggest geopolitical test."
* Liya Wizevich is a leadership team member at the Stanford U.S.-Russia Forum. She holds B.A. in Russian and East European Studies from the University of Pennsylvania and M.Phil. in History from the University of Cambridge.