Standing up for Ukraine's sovereignty and territorial integrity was recently named by Joe Biden as a "vital concern" for the West. Kiev has also shown eagerness for closer cooperation with the United States by taking a tougher stance on Russia. Against this backdrop, Moscow might look to raise the political stakes, using Ukraine as a staging ground for confrontation with the West.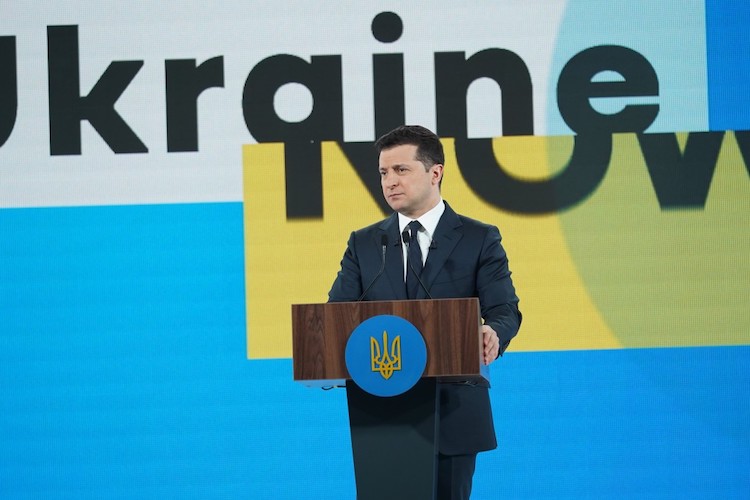 Speaking at the Munich Security Conference on February 19, U.S. President Joe Biden said that America and Europe must come together to successfully confront modern challenges and threats, including those from the Kremlin. He added that since Vladimir Putin seeks to weaken the European project and NATO, "standing up for the sovereignty and territorial integrity of Ukraine remains a vital concern" for the West. Thus, Ukraine is turning into an integral issue of U.S.-Russian relations.
On February 25, Ukrainian President Volodymir Zelensky, following a conversation with NATO Secretary General Jens Stolnberg, stressed that Ukraine continues its efforts to become a member of the Alliance (the country's declared foreign policy priority since 2017), and this will be its "next goal." Zelensky also assured that Ukraine is serious about the reforms, especially in the defense sector, required to be admitted to the NATO Membership Action Plan.
These statements by the leaders of the United States and Ukraine likely irritated Moscow, and may well lead to further deterioration with the West.
Where the U.S. stands
The Biden administration, as it has taken shape, includes the Democratic Party's top hawks, some of whom are painfully familiar to Moscow: Secretary of State Anthony Blinken, Deputy Secretary of State for Political Affairs Victoria Nuland (awaiting confirmation), National Security Advisor Jake Sullivan, White House Speaker Jen Psaki. Some of them seriously annoyed the Kremlin under the Obama administration.
For instance, Psaki, who served as a spokeswoman for the State Department and later as communications director for the White House during Russia's annexation of Crimea and military escalation in Donbass, became a favorite target for Kremlin propaganda. No less harsh attacks fell on Nuland, who in 2013-2017 worked as Deputy Secretary of State for Europe and Eurasia, for her participation in Euromaidan, uncompromising approach to diplomacy, and criticism of the Russian leadership.
Blinken, who began work in the Obama administration as one of the point people on the "reset" policy with Russia, in 2017 was remembered for his very harsh statements about the Kremlin and Putin personally: "What we misjudged… until almost after the fact, was that Putin had gotten to the point where he had built this kleptocracy. That was the source of his power in Russia. Controlling the money, finding sources of money was absolutely essential to maintaining his hold on power, continuing to buy off elites." His colleague Sullivan, another alum of the Obama administration, in the 2017 interview with the U.S. House Intelligence Committee supported the idea of ​​tougher sanctions against Russia: "I do think that the Obama administration was correct to impose a series of sanctions in response. I don't think that that was a sufficient response. I think there has to be more done there."
View from Ukraine
Biden's victory in the presidential election was good news for those Ukrainian politicians who had come to power in 2014 following the events of Euromaidan, namely: Oleksandr Turchynov, Arseniy Yatsenyuk, and especially Petro Poroshenko, with whom Biden developed very warm relations over the years of his vice presidency. Biden visited Ukraine on several occasions, including Kiev during Euromaidan, and in late 2015 even spoke in the Ukrainian parliament—something that hadn't happened since George H. W. Bush's Chicken Kiev speech on August 1, 1991. This means that Poroshenko's team and his European Solidarity party will likely try to use the new opportunities offered by the Biden presidency to return to power. Given the gradually narrowing gap in ratings between Zelensky and Poroshenko, these hopes are not unfounded.
Meanwhile, Zelensky's office is trying to forge its own relationship with the new U.S. administration by showing a tougher stance toward Russia and signaling eagerness for closer U.S.-Ukraine cooperation.
On February 19, Ukraine's National Security and Defense Council (NSDC) made a bold move against pro-Russian forces in Ukraine and slapped five-year sanctions on three TV channels—NewsOne, ZiK, and 112.Ukraine—owned by Viktor Medvedchuk, a close associate of Putin and the leader of the Opposition Platform-For Life party (through his business partner and party colleague Taras Kozak). The sanctions include revocation of licenses and prohibition of broadcasting. However, so far these steps have not affected the party's political standing, as its ratings continue to grow. According to polls by the Razumkov Center, in early February, it ranked second in popularity with 21.9 percent of the potential vote. First place by a whisker was taken by Zelensky's Servant of the People party, which gained 22.2 percent. However, the situation may change after the February 28 sanctioning, for three years, of Medvedchuk himself on charges of financing terrorism. 
Still, in addition to flexing his muscles, Zelensky will have to pass a crucial litmus test with the U.S. partners—that is, to deal with the situation around the Ukrainian oligarch Igor Kolomoisky. Last year, U.S. authorities initiated several criminal cases against him on allegations of fraud and money laundering from Privatbank (owned by Kolomoisky until it was nationalized in 2016). On February 22, the U.S. Department of Justice seized Kolomoisky's property, and on March 5, Secretary of State Blinken announced that Kolomoisky and his immediate family had been placed under U.S. sanctions "due to involvement in significant corruption." Kolomoisky may face extradition to the United States, and this fact will push him to raise the stakes inside Ukraine.
Today Kolomoisky controls, according to some estimates, about 30 deputies of the Verkhovna Rada who are members of Zelensky's Servant of the People faction. He also owns the "1 + 1" media holding, whose TV channels broadcast Zelensky's 95th Quarter show and Servant of the People TV series, which became key to his election as president. Further relations with Kolomoisky will test Zelensky's commitment to Western interests. In an effort to please the new U.S. administration, Zelensky's office is likely to make Kolomoisky the next scapegoat. While the Ukrainian president welcomed U.S. authorities' actions in their fight against corrupt oligarchs, he avoided mentioning Kolomoisky's name. According to the Rada's first vice-speaker, Ruslan Stefanchuk, "[Zelensky] will have a similar principled reaction to any of the oligarchs, regardless of name and place of residence in Ukraine."
In an effort to preserve his core electorate, Zelensky continues to maneuver between different political camps both inside and outside Ukraine. The problem is that, despite the high-sounding statements, the Ukrainian president's team has not put forward a strategic plan for the country's foreign policy development. This shortcoming will be used by pro-Russian elements, which continue to influence the presidential office. Given the overwhelmingly pro-Russian sentiment among voters in Ukraine's south-eastern regions, Zelensky could soften his rhetoric towards Moscow to win their support. 
Tensions between Moscow and Washington will push the Kremlin to take more radical action in Ukraine. In an effort to annoy the U.S. and especially the Biden administration, the Putin regime may well seek to raise the political stakes, using Ukraine as a staging ground for confrontation with the West.
* Mykola Vorobiov is a visiting fellow at Johns Hopkins University.