In March, Russian authorities continued to purge the political space—a process triggered by Alexei Navalny's activities, a surge in protest movement, and the start of the September election campaign. Navalny himself is facing serious health problems and harsh treatment from the colony administration. Pressure is growing on members of his team, as well as independent municipal deputies, whose forum in Moscow was dispersed by the police. The persecution continues of Perpetual Protest participants, who stand accused of vandalism against the Prosecutor General's Office building.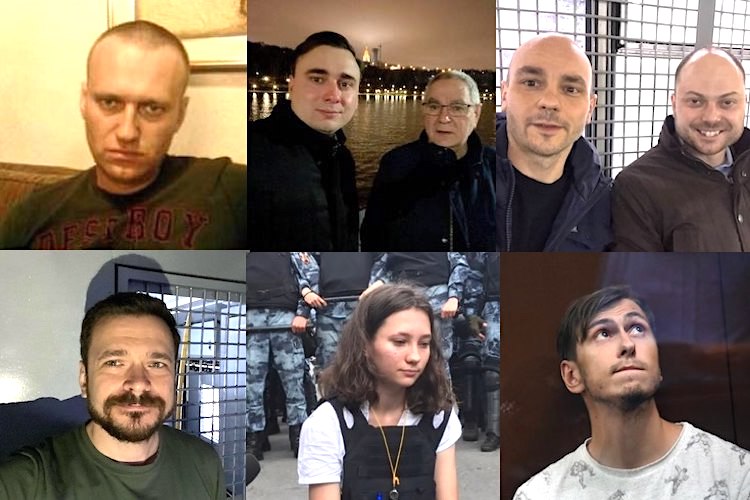 Pressuring Navalny: harsh imprisonment conditions, persecution of associates and supporters
On March 25, Alexei Navalny's lawyers reported a sharp deterioration in his health. Even during his stay in the pre-trial detention center, the oppositionist, who is currently serving time on trumped-up charges in the Yves Rocher case, complained of acute back pain. After he was brought to the correctional colony in the Vladimir region, his leg began to go numb.
According to OVD-Info, Navalny is not given adequate medical care, and the prison medical staffer has only prescribed painkillers for him. "[His lawyers] asked the colony administration for normal treatment, and petitioned that a doctor be allowed to visit and medicines brought to him, but they were denied everything."
On March 31, Navalny went on a hunger strike, demanding that a doctor be allowed to see him. "Many times, when others went on hunger strikes, Alexei said that he could not imagine that he would do this himself. He called it a radical political gesture that can be made only when you are ready to go all the way. Such a moment has obviously come for him," Maria Pevchikh, head of the investigation department of the Anti-Corruption Foundation (FBK), wrote on Twitter.
The department of the Federal Penitentiary Service (FSIN) for the Vladimir region said that Navalny was "provided with all the necessary medical care," while the head of the regional Public Monitoring Commission (a watchdog for prisoners' rights) accused him of concealing the truth.
In a statement addressed to FSIN director Alexander Kalashnikov, which was passed on by his lawyers, Navalny also complained about "torture by insomnia": he is on the preventive record for "flight risk," so at night he is woken up every hour for a check, light is shone in his face, and he is photographed.
During his time in the pre-trial detention center and the colony, Navalny has received ten reprimands for getting up 10 minutes earlier than the rest, refusing to go to exercise and watch a video lecture, and appearing in a T-shirt at a meeting with lawyers. Another 20 reports are under consideration. According to Russian law, a reprimand can prevent his release on parole and be used as a reason to place him in a punitive isolation ward.
Russian human rights activists called on Russia's human rights ombudsman, Tatiana Moskalkova, to immediately visit Navalny in the colony and defend his rights. "One gets the impression that they are slowly killing him there. Failure to provide adequate medical care and de facto sleep deprivation undoubtedly amount to torture and cruel and inhuman treatment," they said.
Also in March, sentences were passed upon the defendants in several cases initiated after recent mass protests in support of Navalny and against the arbitrariness of the authorities.
Eight people were convicted under parts 1 and 2 of Article 318 of the Criminal Code ("Use of violence against a representative of the authorities"): Vitaly Timofeyenko (Vladimir; three years in a general regime colony), Timur Salikhov (Moscow; two years in a penal colony), Alexei Milyaev (Moscow; one year in prison), Yevgeny Tugankov (St. Petersburg; one year in a penal colony), Andrei Lomov (St. Petersburg; two years' probation),Kirill Bogdanov (St. Petersburg; 1.5 years probation), Alexander Muchaev (Moscow; one year's probation) and Alexei Vinogradov (Kostroma; 1.5 years of forced labor).
Several more protesters were fined from 25,000 to 75,000 rubles ($330 to $980).
In total, following the January 23 and 31 protests, about 100 criminal cases were opened.
According to Mediazona, "these are the most massive repressions in recent years that cannot even be compared to the Bolotnaya or Moscow"
Navalny's associates, coordinators, and employees of FBK's regional headquarters are also under increasing pressure through searches and initiations of criminal cases against relatives. For instance, in Rostov-on-Don, Yuri Zhdanov, the father of FBK director Ivan Zhdanov, was arrested on criminal charges of abuse of office in a clear act of intimidation.
"I have no doubt that this criminal charge is connected with me and with what I am doing," said Ivan Zhdanov. <...> It is not the first time that they have come up with a case against my father; constant checks by the FSB, the Ministry of Internal Affairs, and the Investigative Committee began in 2016. <...> But they could not dig up anything."
On April 1, the Prosecutor's General Office opened a probe against FBK with the official purpose of "mplementing the legislation on non-profit organizations and countering extremist activities."
Read further: Crime and Exposure: What the investigation into Navalny's poisoning means for the Putin regime
Attack on Open Russia and pressure on the opposition ahead of the elections
On March 13, in Moscow, law enforcement officials disrupted the Municipal Russia Forum organized by United Democrats—a project launched by opposition politician Dmitry Gudkov and Mikhail Khodorkovsky's Open Russia movement to help opposition candidates in the elections. The forum brought together about 200 municipal deputies from dozens of Russian regions.
All participants in the event were detained and taken to police stations. Among them were Moscow's municipal deputies Yulia Galyamina and Ilya Yashin, former mayor of Yekaterinburg Yevgeny Roizman, deputy of the St. Petersburg's Legislative Assembly Maxim Reznik, Free Russia Foundation vice president Vladimir Kara-Murza, United Democrats coordinator Andrei Pivovarov, and Open Russia chairwoman Anastasia Burakova.
According to officials, the forum was held "in violation of the established sanitary and epidemiological requirements," and among those present were "members of an organization whose activities were recognized as undesirable on the territory of the Russian Federation." Administrative protocols were drawn up against the detainees for alleged cooperation with an "undesirable organization" (Article 20.33 of the Administrative Code; the maximum fine for ordinary citizens for the first violation is 15,000 rubles, or $200).
In April 2017, the Prosecutor General's Office recognized as "undesirable" three organizations associated with Khodorkovsky (they are registered in the U.S. and the UK): Open Russia Civic Movement, Open Russia, and the Institute of Modern Russia. In June 2019, the Free Russia Foundation was also blacklisted.
Opposition activists believe that the police crackdown on the congress of municipal deputies is a preemptive act of intimidation ahead of the September elections, "a warning that any activity, any event not confirmed with the authorities will be just as harshly suppressed and punished."
On March 19, security officials searched the editorial office of MBK Media (funded by Khodorkovsky), Open Russia's offices in Moscow and St. Petersburg, as well as the apartments of a number of the movement's coordinators and members. Investigative actions were carried out as part of the criminal case against Mikhail Iosilevich, a Nizhny Novgorod businessman accused of participating in the activities of an "undesirable organization" (Article 284.1 of the Criminal Code; IMR wrote about this case in detail here).
Open Russia activists are prosecuted not only administratively, but also criminally (for repeated violations of Article 20.33 of the Administrative Code). In February, Anastasia Shevchenko, a member of the movement's federal council, was sentenced to four years' probation for cooperating with an "undesirable organization" (Article 284.1 of the Criminal Code).
The case of Perpetual Protest: falsification of vandalism 
A Moscow court extended until August a ban on certain actions (a relatively new measure of restraint introduced in the Criminal Procedure Code in July 2018; Article 105.1) to members of the Perpetual Protest movement Olga Misik, Ivan Vorobyevsky, and Igor Basharimov. They are accused of "vandalism committed by a group of persons" (part 2, Article 214 of the Criminal Code).
The Perpetual Protest movement was formed on the heels of a violent police crackdown of a peaceful rally against pension reform on September 9, 2018, in Moscow. The movement has since called for a decentralized, indefinite peaceful protest, demanding the resignation of the "ineffective and corrupt president."
Perpetual Protest activists were detained several times at rallies in Moscow and other cities. Olga Misik came under the spotlight in the summer of 2019 when, during a rally against the ban on independent candidates in the Moscow City Duma elections, she read aloud the Constitution to riot police dispersing the demonstrators.
According to the investigators, on the night of August 8, 2020, Perpetual Protest activists poured light-washed paint over the booth at the entrance of the Prosecutor General's Office and hung out a banner featuring "offensive obscene statements against the Prosecutor General's Office." They face up to three years in prison.
On August 9, 2020, their homes were searched. Misik, Vorobyevsky, and Basharimov were first interrogated as witnesses in the vandalism case, then notified of being suspected of committing a crime and placed into a temporary detention center.
The next day, a court imposed a measure of restraint on all three: the defendants are now prohibited from using the Internet, leaving their homes at night, approaching government buildings, and attending public events. As a result, Basharimov is obliged to stay at his place of residence in Arkhangelsk, but needs to regularly appear at court hearings in Moscow, which is 23 hours away by train; and Misik, a student at the Moscow State University, cannot fully attend to her studies.
The prosecution's evidence of vandalism is based on black-and-white, grainy images from CCTV cameras, where "you cannot make out anything—not even clothes, let alone a face," the defense argues.
In early March, the defense also discovered signs that documents submitted by the prosecution as evidence of the putative damage had been falsified. In particular, the dates in the budget plan, allegedly drawn up for the repair of the entrance of the Prosecutor General's Office, had been corrected to match the crime's timeline. According to the lawyers, there is no corpus delicti in the case: "the prosecution failed to provide proof of damage, which must be provided under Article 214 of the Criminal Code."
Read further: How Russian courts create their own reality