April has been the busiest month this year in terms of the volume and severity of political persecution in Russia. The Kremlin launched a procedural attack to recognize opposition leader Alexei Navalny's organizations as extremist, leading to their decision to dissolve. Searches took place at the offices and homes of the editor-in-chief of the investigative project IStories and the editorial team of the independent student magazine DOXA. Show trials continue for treason charges, with pressure mounting on Ivan Pavlov, the lead attorney in these cases.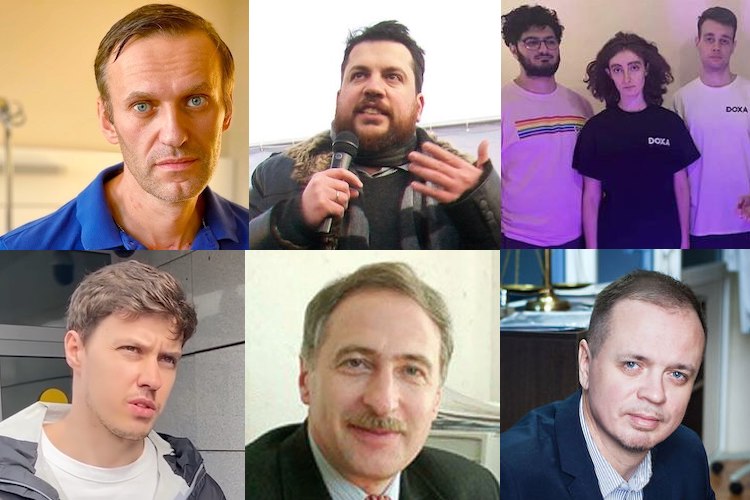 Navalny's team: Repressions against civil society 
Russian authorities continue to crack down on associates and supporters of the imprisoned opposition leader Alexei Navalny.
On April 16, the Moscow prosecutor's office filed a lawsuit with the Moscow City Court demanding that Navalny's organizations—the Anti-Corruption Foundation (FBK), the Foundation for the Protection of Citizens' Rights (FZPG) and Navalny's regional offices network—be recognized as extremist. All of these organizations would have to be liquidated.
"The actual goal of [these organizations] is to create conditions for changing the foundations of [Russia's] constitutional order, including the 'color revolution' scenario," prosecutors argued.
On April 27, the court banned FBK and FZPG from disseminating information in the media and online, organizing public events, taking part in elections and referendums, and using bank accounts. Three days later, Rosfinmonitoring (Russia's state financial watchdog) included Navalny's regional offices in its list of organizations involved in extremism and terrorism.
Russian human rights activists called these actions "a step towards civil confrontation," stressing that this "deprives hundreds of thousands of peaceful, politically active and law-abiding Russian citizens of hopes for a real dialogue with the authorities and the very possibility of achieving political change in Russia by peaceful means."
The hearing of the FBK case is being held behind closed doors, and "all the specifics and evidence have been declared a state secret, which in the context of public accusations speaks to its complete legal inconsistency," the activists argue.
As one observer noted, "the threat of recognizing FBK as extremist is, in fact, a threat of a wave of mass repressions, since many people help the fund by personal participation or with money."
On April 29, Navalny's top aide, Leonid Volkov, announced the dissolution of the regional offices network for security reasons.
At the same time, another criminal case was initiated against Navalny, Volkov, and FBK director Ivan Zhdanov on accusations of creating a nonprofit organization that infringes upon citizens' rights (Article 239 of the Criminal Code; the maximum punishment is four years in prison). Details of the new case are still unknown.
What the authorities consider "encroachment on the identity of Putin and his friends" is simply the fact that the FBK "has been talking about his graft for years," Navalny commented in response to this news on his blog. Legal experts call invoking Article 239 "exotic," as it is most often used to persecute leaders and members of destructive religious sects.
Also in April, sentences were passed in other criminal cases against members of Navalny's team. Former coordinator of the Arkhangelsk office Andrei Borovikov was given5 years in a general regime colony on an absurd charge of distributing pornography on the internet (clause "b," part 3 of Article 242 of the Criminal Code). The investigation found elements of pornography in a clip of the heavy-metal group Rammstein that Borovikov posted on his page on VK (Russia's equivalent of Facebook) back in 2014. The accusation is based on the testimony of a local office volunteer who turned out to be a police informant.
FBK lawyer Lyubov Sobol was given a suspended year of correctional labor with 10 percent of her salary to be transferred to the state in the event of violation. She was found guilty of illegal entry into the apartment (part 2, Article 139 of the Criminal Code) of the FSB officer Konstantin Kudryavtsev, who was allegedly involved in the poisoning of Navalny.
Also, persecutions continue against peaceful protesters who took to the streets on April 21 to support Navalny and speak out against the arbitrariness of the authorities. People demanded that civilian doctors be allowed to see Navalny, who is currently serving time on trumped-up charges in a Vladimir-region colony and went on a hunger strike to receive proper medical care for acute back pain and numbness in his limbs, which he had been denied. On the eve of the rallies, police conducted searches and detained activists, coordinators, and volunteers of Navalny's network.
According to OVD-Info, the number of people detained throughout Russia on April 21 exceeded 1,960 (including people detained preventively), with over 830 of them in St. Petersburg. Law enforcement officers reportedly used stun guns and tear gas against protesters.
In contrast to the winter protests, no mass detentions took place in Moscow. However, later, it became clear that the security forces simply changed their tactics: They would come to protesters' homes after rallies or summon them to police stations to draw up charges on an administrative offense. In a number of cases, protesters were placed in detention centers pending trial.
Opposition politicians, public figures, and ordinary citizens are now targets for the security forces. "People are now identified through a face recognition software. Selective police visits to ordinary protesters produce an even gloomier and more demoralizing effect on citizens than harsh detentions during a protest," the lawyers explain.
According to OVD-Info, accusations range from participation in an unsanctioned protest (based on CCTV footage) to organizing such a protest by posting or reposting information about it on social networks.
Among those arrested was Sergei Davidis, a member of the Memorial Human Rights Center's council. The court gave him 10 days of administrative arrest for organizing a public event without notice (part 2, Article 20.2 of the Administrative Code), because he retweeted Leonid Volkov's post announcing the upcoming rally.
In addition, police began investigating journalists covering the Moscow rally. Employees of both pro-Kremlin (Komsomolskaya Pravda) and independent outlets (TV-Rain, Meduza, Radio Svoboda, MBK-Media) are now under pressure. They were summoned to police stations and ordered to provide written explanation for their presence at the protests and submit proof of editorial assignments.
IStories and DOXA: Attack on independent journalism
The pressure on independent media in Russia is growing.
On April 9, FSB officers searched Roman Anin, editor-in-chief of the investigative project IStories (Important Stories), as part of a case on violation of privacy committed with the use of official position (part 2, Article 137 of the Criminal Code; the maximum punishment under this article is four years in prison).
The search lasted about seven hours. All of Anin's personal devices were seized; around midnight he was taken for interrogation to the Investigative Committee, where he refused to testify, citing Article 51 of the Russian Constitution (which protects against self-perjury). On the same evening, a search was carried out in the IStorieseditorial office. On April 12, Anin was again interrogated by the Investigative Committee.
The case, to which the journalist is currently a witness, was initiated back in 2016 at the request of Olga Sechina, the then-wife of the head of Rosneft, Igor Sechin, following the Novaya Gazeta's publication of Anin's investigation titled "The Secret of Princess Olga. How is the head of Rosneft Igor Sechin connected with one of the most luxurious yachts in the world?" At the time, Sechin won a defamation lawsuit, and the newspaper was forced to retract.
This March, Rosneft filed a defamation lawsuit against IStories over an article detailing its deal with the Italian company Pirelli. Later, it was reported that the initial defamation case against Anin had also been resumed.
Novaya Gazeta argues that "everything that is happening now with Roman Anin is [Igor Sechin's] revenge."
"I understand perfectly well that my witness status in this case is temporary—sooner or later it will most likely change to a suspect and an accused, no matter what evidence I bring in my defense," Anin said in his statement. "Like the overwhelming majority of Russian citizens, I do not trust the court and I think that if a high-ranking [official] sets before any Russian judge the task of proving that the Earth is flat, the Russian court will brilliantly cope with this task, using, for example, the Inquisition's evidence against Giordano Bruno."
In a different case against independent media in Russia, on April 14, the Investigative Committee's officers searched the editorial office of the independent student magazine DOXA, as well as the homes of its editorial team members, Armen Aramyan, Alla Gutnikova, Natalya Tyshkevich, and Vladimir Metelkin. The magazine was known for its investigations into corruption in academic circles and connections between Russian universities' leadership and the authorities. The journalists' equipment was seized; they were also interrogated.
All four DOXA defendants were charged under Article 151.2 of the Criminal Code—the involvement of minors in dangerous, life-threatening acts. They face up to three years in prison.
The case was opened in reaction to a three-minute video titled "They Can't Beat Youth" recorded in January 2021 during mass pro-Navalny rallies. In the video, DOXA editors demanded that the authorities stop pressuring students and schoolchildren, and called on young people to "not be afraid and stand aside." It was later removed at the request of Roskomnadzor, Russia's telecommunications watchdog.
The accusation is based on linguistic analysis, which identified "incentives" to participate in unsanctioned protests in this video and two other DOXA posts on Instagram.
All four defendants were put under preventive restraint ("ban of certain actions"—a relatively new measure introduced to Russian law in 2018) until mid-June. Restrictions hardly differ from house arrest: defendants are prohibited from leaving the house from 00:00 to 23:59, using the internet or any means of communication, as well as communicating, without investigators' written permission, with anyone other than lawyers and close relatives. Later, the court allowed the defendants two-hour walks in the morning.
DOXA editors were served with a total of over 110 interrogation subpoenas, requesting that they be present during the Investigative Committee's work every working day until the end of May. According to the lawyers, this potentially means face-to-face questioning, seizures of evidence, reading expertise results. "We do not know how many victims are involved in this case: the Investigative Committee could have counted 200 people as victims, and then, every day, each of them will be have to identify defendants and have a face-to-face."
One commentator described the persecution of DOXA as part of a war declared on youth by Russia's "mature authoritarian regime." This means that "only those who, if [they do] not support the government, are at least indifferent to everything, should remain in the young cohorts."
As another independent media outlet, Meduza, stated in support of IStories and DOXA, "In 2021, the Russian authorities decided to give their own definition of independent journalism. This is an activity that, in their eyes, borders on crime. Some journalists have long been mentally prepared for the fact that they will be searched, interrogated, even imprisoned. Now every employee of every independent media outlet in Russia should seriously try this on themselves."
On April 23, Meduza (the Meduza Project company registered in Latvia) was designated by the Russian Ministry of Justice as a media outlet "performing the functions of foreign agents."
High treason: Fabrication of new cases and pressure on lawyers
Russian security officials continue to look for—and find—"high treason" within the scientific community.
On April 13, a Moscow court arrested, on suspicion of high treason, Valery Golubkin, an employee of the Zhukovsky Central Aerohydrodynamic Institute and professor at the Moscow Institute of Physics and Technology. According to the investigation, he allegedly passed on classified information to one of the NATO countries.
The scientist was arrested in relation to the case of his colleague and co-author Anatoly Gubanov, who was accused of treason in December 2020. Golubkin does not admit guilt; his defense claims that he did not have access to state secrets.
On April 23, another Russian scientist, Alexei Vorobyov, associate professor at the Department of Rocket Engines of the Moscow Aviation Institute, was sentenced to 20 years in a strict regime colony (the maximum punishment under Article 275, "high treason") and a fine of one million rubles ($13,300).
The details of the case were not disclosed. However, one of the court decisions reportedly claimed that he had "extensive, stable connections" outside Russia, including in China.
In addition to treason, Vorobyov was found guilty of preparing for illegal export of military technologies from Russia (part 1, Article 30; part 3, Article 189 of the Criminal Code) and attempted smuggling of weapons (part 3, Article 30; part 3, Article 226.1). He also does not admit guilt.
Treason case proceedings are normally classified; the courts consider such cases behind closed doors, which prevents public control and denies defendants the right to full defense.
On April 29, the death of yet another scientist accused of treason was reported. In July 2018, a physicist at the Central Scientific Research Institute of Mechanical Engineering, Viktor Kudryavtsev, who was 74 at the time, was charged with transferring secret data on Russian hypersonic weapons to Belgium's von Karman Institute for Fluid Dynamics.
Kudryavtsev spent more than a year in a Moscow pre-trial detention center, becoming its oldest prisoner. Recently, his health had deteriorated sharply—he developed cancer alongside numerous chronic conditions. In September 2019, the scientist was released home on recognizance not to leave town, but without clearing the charges. In 2020, his lawyers managed to persuade the investigation to suspend the case until the defendant recovered.
According to Kudryavtsev's lawyer, his case is "an example of how the special services are killing Russian science. In the literal sense of the word."
In today's Russia, not only scientists, but also journalists are persecuted under Article 275.
On April 30, a Moscow court extended until July 7 the arrest of Ivan Safronov, a former correspondent of Russia's leading dailies, Kommersant and Vedomosti, and, at the time of the arrest, adviser to the head of Roscosmos (IMR detailed his case here). The defense submitted about 500 letters written by human rights defenders, activists, and journalists, urging the court to change the measure of restraint for Safronov—to no avail.
Safronov has been in jail since July 2020, but the nature of the charges against him has not yet been specified. The FSB reportedly suspects him of transferring secret information about Russia's military cooperation with a Middle Eastern country to the Czech special services.
Safronov's colleagues link his case to his journalism: Ivan used to cover Russia's military and space industries, but he never had access to classified information.
On April 30, the day Safronov case's case was heard in court, FSB officers searched Ivan Pavlov, one of his lawyers, and the head of Team 29, a human rights association. Pavlov was charged with unlawfully disclosing information on the pending investigation (Article 310 of the Criminal Code).
According to the security officials, the lawyer "without the consent of the investigation" handed over to Vedomosti a copy of the court warrant for bringing Safronov in as an accused, and then told the media about an anonymous secret witness.
The court issued a ban on certain actions as a preventive measure for Pavlov, who is now forbidden from using all means of communication and interacting with the witnesses in his own criminal case.
Human rights activists consider Pavlov's persecution "an act of political pressure" and "an attempt to punish a lawyer for doing his job."
Team 29 specializes in cases related to freedom of information (guaranteed by Article 29 of the Russian Constitution) and national security (Chapter 29 of the Criminal Code). In addition to Ivan Safronov, Pavlov's clients include scientists Viktor Kudryavtsev and Valery Mitko, former Inter-RAO top manager Karina Tsurcan,and others illegally accused of treason or espionage. Pavlov is also involved in the defense of the FBK in its extremism case.
According to Novaya Gazeta, "bearing in mind the extreme vagueness of the concept of a state secret in Russian law enforcement practice, as well as the secrecy of the information that constitutes a state secret, it will be easy for the investigation to stretch [the treason] article to [include] Pavlov, as was done to many of his clients."