In September, the Russian government continued its persecution of two anarchist movement members: a Chelyabinsk court handed down prison sentences to Dmitry Tsibukovsky and Anastasia Safonova for displaying a banner opposing the FSB. New criminal cases on bogus charges of extremism were opened against opposition leader Alexei Navalny and his associates. And human rights activist Valentina Chupik, who had been living in Russia under refugee status, was expelled from the country for criticizing corruption in the Ministry of Internal Affairs.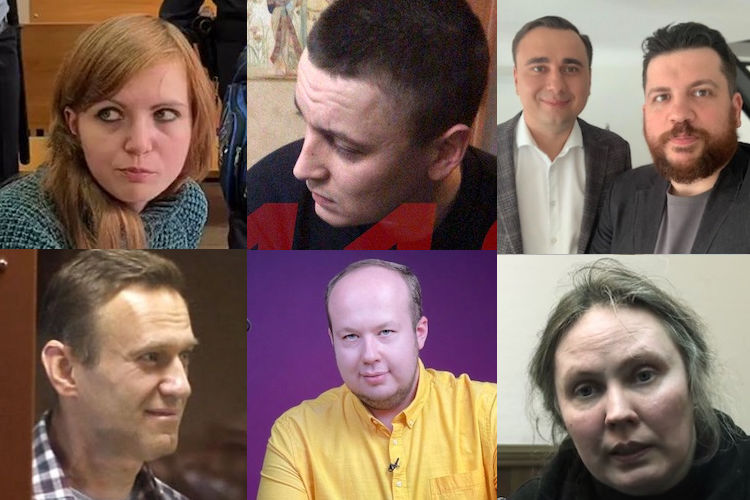 Chelyabinsk anarchists: prison sentences for protesting against the FSB's "sadistic" methods
On September 10, a court in Chelyabinsk sentenced anarchists Dmitry Tsibukovsky and Anastasia Safonova to two and a half years and two years in prison, respectively, for hanging a banner reading "FSB is the main terrorist" on the fence of the regional FSB office in February 2018.
The act of protest was held "in solidarity with the anarchists repressed throughout the country" after reports surfaced about the detention and torture of left-wing activists in Penza and St. Petersburg, who later became defendants in the "Network" case on creating a "terrorist organization" (IMR wrote about it here).
Tsibukovsky, Safonova, and several other anarchists were detained a few days after the act. Initially, they were charged with hooliganism (Part 1, Article 213 of the Criminal Code), but after six months the case was closed for lack of corpus delicti. At the time, Tsibukovsky reported that the security officers had beaten him and tortured him with an electric shocker.
In April 2020, the couple was detained again and charged with hooliganism motivated by political hatred and enmity committed by a group of persons by prior conspiracy (Part 2,
Article 213 of the Criminal Code). Tsibukovsky and Safonova were placed in a pre-trial detention center, then under house arrest, and finally banned from certain actions as a preemptive measure.
According to investigators, the defendants attacked the FSB office building "using weapons," namely, a smoke flare, which activists threw into the guarded territory surrounding the building (it landed in the snow).
The defendants did not admit guilt. "This protest action was of an exclusively peaceful nature and was aimed at expressing a protest against the openly sadistic actions employed—I'm afraid on a systematic basis—by the FSB," Tsibukovsky said during the court hearings.
The persecution of the Chelyabinsk activists is part of a repression campaign the Russian government has been leading in recent years against members of the anarchist movement.
According to the Memorial human rights center, "State authorities, primarily the FSB, cultivate the image of anarchists as a public threat, [accusing them of] involvement in terrorism and attempts to destabilize the social and political sphere… In addition to repressing activists and terminating their work, the power structures, as always, pursue an additional goal of influencing society by sending a signal that any kind of oppositional social and political activity is undesirable for the authorities and dangerous for its participants."
Navalny: new charges of extremism
The Russian authorities continue to fabricate criminal cases against opposition leader Alexei Navalny and his associates.
On September 28, the Investigative Committee reported that a new case had been initiated against Navalny, former director of the Anti-Corruption Foundation (FBK) Ivan Zhdanov, former coordinator of Navalny's regional network Leonid Volkov, and other "unnamed persons." They were accused of creating an extremist community (Part 1, Article 282.1 of the Criminal Code; maximum sentence is ten years in prison).
Navalny associates Lyubov Sobol, Georgy Alburov, Ruslan Shaveddinov, Vyacheslav Gimadi, Pavel Zelensky, Rustem Mulyukov, and "other persons" were also charged with participation in an extremist organization (Part 2, Art. 282.1; punishable with up to six years in prison).
According to the Investigative Committee, "no later than in 2014," Navalny created an extremist organization "with the goal of carrying out extremist activities aimed at changing the foundations of the Russian Federation's constitutional order and undermining public security and the state integrity."
The Committee also noted that "the illegal activities of the extremist organization were aimed at discrediting state authorities and their policies, destabilizing the situation in the regions, creating a protest mood among the population, and shaping public opinion about the need for a violent change of government, organizing and conducting protest actions that escalated into riots."
Earlier this year, the Moscow City Court recognized the FBK, the Foundation for the Protection of Citizens' Rights, and Navalny's regional network as extremist organizations.
In February, a criminal case was initiated against Navalny, Zhdanov, and Volkov on charges of creating a nonprofit organization that encroaches upon the identity and rights of citizens (Part 2, Article 239 of the Criminal Code).
Volkov and Zhdanov (both left Russia) are also accused of raising funds for an "extremist organization" (Part 1, Article 282.3). An additional case was opened against Volkov on charges of involving minors in participation in illegal actions—meaning unsanctioned rallies organized by the Navalny associates in his support (Sections "a" and "c," Part 2, Article 151.2).
Former FBK lawyer Lyubov Sobol (who also left Russia) had been previously found guilty in two criminal cases: breaking into the apartment of an FSB officer allegedly involved in the poisoning of Navalny (Part 2, Article 139), for which she was sentenced to one year of probational correctional labor; and violating pandemic restrictions in the so-called "sanitary case" (see details here), for which she received a year and a half of restriction of freedom.
In April, former FBK cameraman Pavel Zelensky was sentenced to two years in prison on charges of calling for extremism on the internet (Part 2, Article 280). The basis of the criminal prosecution case was two tweets he wrote after the self-immolation of Nizhny Novgorod journalist Irina Slavina.
Another person involved in the new extremism case against Navalny's associates is Ufa activist Rustem Mulyukov, who has nothing to do with the oppositionist's organizations. But in June 2017, he happened to speak at a rally organized by Navalny's local branch, after which he was charged with public calls for extremism (Part 1, Article 280). In February 2019, Mulyukov was sentenced to a suspended term of two years in prison.
Alexei Navalny is currently serving a sentence in the Yves Rocher case, after his previous suspended sentence was replaced in February with a real one—two and a half years in a colony—on bogus charges of parole violation.
Valentina Chupik: deportation from Russia for criticizing the Internal Ministry
Valentina Chupik, head of the Tong Jahoni NGO, which provides free legal assistance to Central Asian migrants in Russia, was detained at the Sheremetyevo airport's passport control on September 25. FSB officers notified her that her refugee status in Russia (Chupik is a citizen of Uzbekistan) had been cancelled and she had been banned from entering Russia until 2051.
Chupik spent eight days in a special detention center at the airport and was denied seeing a lawyer.
The formal reason for cancelling her refugee status was "presentation of knowingly false information or false documents." But Chupik's colleagues consider her expulsion an act of "revenge" by the Russian security officials for her harsh criticism of the Interior Ministry's work on protecting labor migrants' rights (or rather, its failure to do so), including illegal detentions and illegal police actions.
Later, Chupik cited what the officials told her during the arrest: "I was told: 'Why are you so surprised? This is due to your behavior. You say too actively that there is systemic corruption in the Ministry of Internal Affairs, you complain too much about the police, there is nothing to be surprised about.'"
Chupik's associates believe that in Uzbekistan she will face persecution, as she had to flee her home country after the mass shooting of protesters in Andijan in 2005; at the time, she had been captured by secret service officers and tortured in a basement.
On September 27, police came to the home of Chupik's seriously ill 84-year-old mother. According to OVD-Info, they intended to issue an administrative penalty to her for living there without registration, but eventually decided against it.
The Committee Against Torture sent an urgent complaint to the European Court of Human Rights regarding Chupik's deportation. On September 30, the ECHR issued a statement banning the Russian authorities from expelling her to Uzbekistan until at least October 17 (for this purpose, rule No. 39 of the court regulations was applied, which allows the introduction of temporary measures in the event of a risk of causing irreparable harm to the applicant).
On October 2, the Russian authorities allowed Chupik to fly to Yerevan, Armenia. Her representatives had also appealed to the Ukrainian authorities to grant asylum to the human rights defender and her mother.
Novaya Gazeta's article commented on the case: "Chupik is not needed ... in today's Russia: in a situation where xenophobia, again, becomes a part of the civilizational construct of the state, any person with a loyal attitude towards 'strangers' becomes inconvenient."