Page 4 of 5
Anti-corruption Blog
Myth #3: Navalny is a populist
Some claim that the anti-corruption investigations published in Navalny's blog are conducted for his own political gain. But unlike many Russian Internet populists, who shock their audience with scandalous exposures and leaks to the media, Navalny's articles are backed by the diligent labor of his small law firm's employees. Information published on Navalny's blog is the result of long investigations, thorough data collection, the documentation of uncovered violations, and of serious analysis.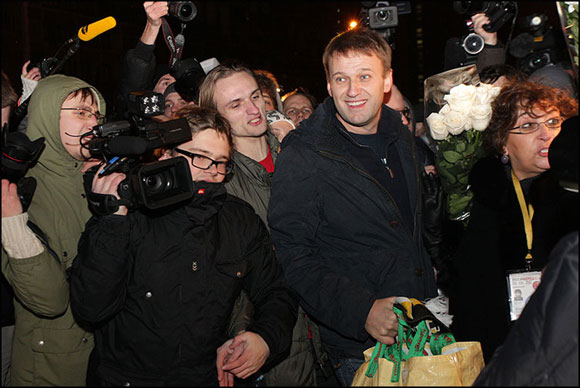 Even a superficial look at Navalny's blog posts makes it obvious that this man's goals are not to gain some abstract political points but to restore Russian citizens' violated rights and freedoms.
Navalny fights against endemic corruption at all levels of state and corporate power. He applies methodic and consistent pressure on the government, requiring it to fulfill its obligations to the people.
Alexei Navalny started his blog in the spring of 2006. Initially, his principal goal was to publish transcripts of the weekly Ekho Moskvy radio program "Urban Planning Chronicles" where he participated as a guest commentator, speaking about the work of the Committee for Protection of the Muscovites.
"Censorship was the reason I gradually got involved in writing this blog," Navalny explains in Voronkov's book. "There was no other way. Blogs of a similar format are not popular abroad because this kind of information gets published in the press there. But here, all we can do is write blogs. Abroad they have normal, functioning media. These type of scoops are shown on TV. First, my acquaintances started following me on Livejournal — political journalists, activists, et al. […] Over time my blog has become a real media outlet."
It is worth mentioning here that after Navalny graduated from [a Moscow] Law School, he also received a degree at the department of Securities and Exchange from the Finance Academy. Navalny admits that he always enjoyed following the stock markets, and then, in 2007, he ended up investing his own money into valuable securities, buying blue chips from major Russian oil companies, such as Gazprom, Rosneft, Transneft, and others. Becoming a minority shareholder allowed Navalny to request various confidential information on these companies' activities.
"After becoming a shareholder, thus discovering all the mayhem that went on inside these companies, I thought I should file a lawsuit to defend all of the minority shareholders in Russia, on the account that my rights were violated. I was being robbed by these companies," Navalny says in Voronkov's book. "From a rational perspective, should a person like me, who has $20,000 invested in stocks, sue Gazprom, VTB, Transneft and others? The answer is no. Because all these suits will cost more than the potential dividends and even more than the initial investments. I have always been revolted by these corporate robberies. But I wouldn't go to court just to get my money back. I don't conceal the fact that a large part of my motivation is to litigate on behalf of the people, which is something that most are afraid to do. The issue of oil exports from Russia is not just an issue for the shareholders of Rosneft or Surgutneftegaz. It's a matter of justice. It's about redistributing national wealth. This has always been the main thrust of my approach, even from the beginning. This is why in 2007 I began to write and send out requests to all these companies. Since I never considered my activities private, I started covering them on my blog."
Gazprom, a Russian company with a gas monopoly, became the first subject of Navalny's investigations. Navalny got interested in the purchase of gas by Mezhregiongaz, a division of Gazprom, from Novatek, a minor Russian gas company.  As a result of this transaction, Navalny explains, the sellers "earned over $50 million, just by reshuffling a few pieces of paper on their desks." Vedomosti (a major Russian newspaper) published a story about this questionable transaction, and at the same time Navalny's blog post from December 2008 became hugely popular on the Russian net. The Moscow Chief Administration of Internal Affairs (CAIA) initiated a criminal case and even brought formal charges against some of the high-profile executives of both Mezhregiongaz and Novatek, but in the end, most of the charges were dropped due to a "lack of evidence."
Navalny's second landmark blog post in November 2009 exposed a case of embezzlement in one of Russia's top banks, VTB. The post, entitled "How VTB Robs the Coffers", revealed that in 2007, VTB Leasing (one of VTB's divisions) purchased drill rigs from a Chinese partner through a dummy intermediary company. The price VTB paid for the rigs was 1.5 times the market price. Examining this questionable deal, Navalny came to the conclusion that the embezzlement was worth up to $156 million. He forwarded all the documents regarding the transaction to the Economic Crimes Directorate at the Moscow CAIA.
The Directorate then conducted its own investigation, reporting that no violations were found. (Later, however, VTB Leasing president, Andrei Konoplyov, was fired from his position.) Still, the fact that Navalny's post received massive feedback from the Russian LiveJournal community represented another serious step forward in his struggle against endemic corruption in Russian state corporations.
Navalny's "How Transneft Robs the Coffers" blog entry represents the third milestone in his struggle against corruption. The article still tops the list of the Russian LiveJournal's most popular blog posts.
Then Navalny went on exposing an even larger embezzlement scheme — the one involving Transneft, a Russian oil-transporting monopoly. The scale of this embezzlement was shocking: Navalny claimed that as many as 4 billion dollars were stolen at every stage of Transneft's construction of the Eastern Siberia-Pacific Ocean national pipeline. Navalny obtained this information from leaked reports on the internal audit conducted by Transneft and the Russian Accounts Chamber.
Navalny's post received major attention, and federal media outlets even published their own articles on the problem. Even Prime Minister Vladimir Putin was forced to make a public comment, saying that the case should be brought to the attention of federal prosecutors. But such case was never initiated. However, despite strong objections from Transneft CEOs (including President Nikolay Tokarev and Vice President Mikhail Barkov), in early 2011, the Moscow arbitration court compelled the company to give the minutes of relevant Board meetings to shareholders. Navalny called this a big victory.
Creating his own method of battling Russian corruption (now called the Navalny method) can be also considered an important victory.
Navalny's blog posts contain documents with enough evidence to file hundreds of lawsuits and initiate dozens of court proceedings. In addition, Navalny has also asked his readers to target government agencies and to file multiple complaints and requests. This should push officials do their job, he explains.