Page 1 of 3
New legislation in Russia, scheduled to be implemented before the end of the 2012, is expected to result in drastic changes in the country's education system. These changes will affect all educational levels, from pre-schools to universities, with foreseeable reforms in both the schooling and school funding of such institutions. IMR analyst Olga Khvostunova and independent journalist Xenia Prilepskaya review the upcoming reforms.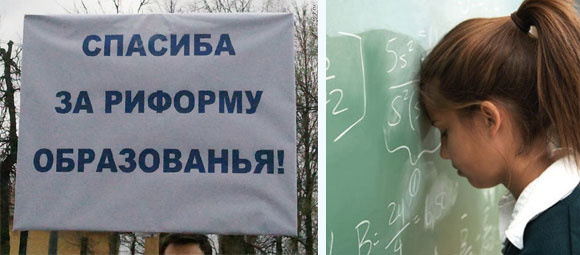 Controversial Legislation
Today, two basic laws—"On Education" (1992) and "On Graduate and Postgraduate Professional Education" (1996)—regulate Russia's educational system. As many education experts point out, these two documents were quite progressive for their time. They simultaneously lifted Soviet ideological restrictions and guaranteed educational freedom. But when in 2003 Russia joined the Bologna Group, Russian laws came into conflict with modern international educational standards. In addition, over the past twenty years education laws have been amended too many times, with the number of amendments having reached critical mass.
An educational overhaul incorporating these changes and drawing on international experience has now become popular. Since 2008, a group supervised by the Ministry of Education and Science has been developing a new education bill. The group's working draft was published on the Ministry website in May 2010. Initially, the bill was conceived as a kind of codex, amassing recent changes in the budget, tax and labor codes, and incorporating international practices. It had been planned to align with Federal Law 83-FZ of May 8,,2010, "On The Legal Status of Government (Municipal) Institutions."
The bill's first draft elicited a public outcry. Provisions were harshly criticized by schoolteachers, education experts and civil activists. Under public pressure, the Ministry published the bill's full text on zakonoproekt2012.ru, a government website created to host the public debate from December 1, 2010 until February 1, 2011. By the end of the discussion period, the document had 11,000 comments. Other sources place the number of suggested improvements the Ministry received at over 20,000.
This time around the volume of the bill increased dramatically: eight sections turned into twenty. The original 170 articles spanned 400 pages; the amendments took up an additional 600 pages. But as many debate participants admitted, the bill's text was filled with complicated legal terminology that impeded understanding. But the bill's more substantial drawback was its declarative nature. Despite the openness of the discussion, most improvements suggested by activists, scientists, educational experts, teachers, and students were ignored.
Then, in early February 2011, Sergei Volkov, teacher at the renowned Moscow school no. 57 and editor of the journal "Literature," published on his LiveJournal blog an open letter to President Dmitri Medvedev. He asked Medvedev to prevent adoption of the Ministry of Education and Science's version of the bill. Within the next two days, over 12,000 people had signed Volkov's letter, resulting in the bill being sent back for further revision. Volkov spoke out publicly and repeatedly. People would no longer tolerate empty actions disguised as reforms, he said, and were irritated by declining education levels and the government's failure to take responsibility for the problem.
Six months later, on July 26, 2012, the bill "On Education" was finally passed, On August 3, it was sent to the State Duma for approval. The first reading of the bill is expected to take place in October or November 2012. The new law may take effect in 2013.
Education Services
Below are some key provisions of the new law.
The first one introduces the concept of "educational services," turning schools into free market establishments. This, however, doesn't mean that education in Russia will now cost money. As Prime Minister Dmitri Medvedev assured the public at the end of July's open government round table, "education in Russia was and will remain free."
Medvedev's statement was also confirmed by Irina Abankina, director of the Institute of Educational Development at the Higher School of Economics and member of the working group that developed the bill. In her recent talk on Vesti TV, she mentioned that some educational services would cost money. These services include not only sought after subjects like foreign language courses, dance lessons, and judo, but also additional classes in core subjects. Officially, schools have been allowed to do this since 1992, but they couldn't access the money since profits were forwarded to local governments. Now schools will be able to retain profits and manage their finances, but they will have to become autonomous to do so (according to law 83-FZ).
"Prices for additional educational services can be determined by the head of the educational institution," Abankina explained. "The key is that payments will be made only for non-mandatory subjects. Moreover, a teacher will not get overtime for the compulsory disciplines he or she already teaches."